Manitoba Karting Association – Round Six Report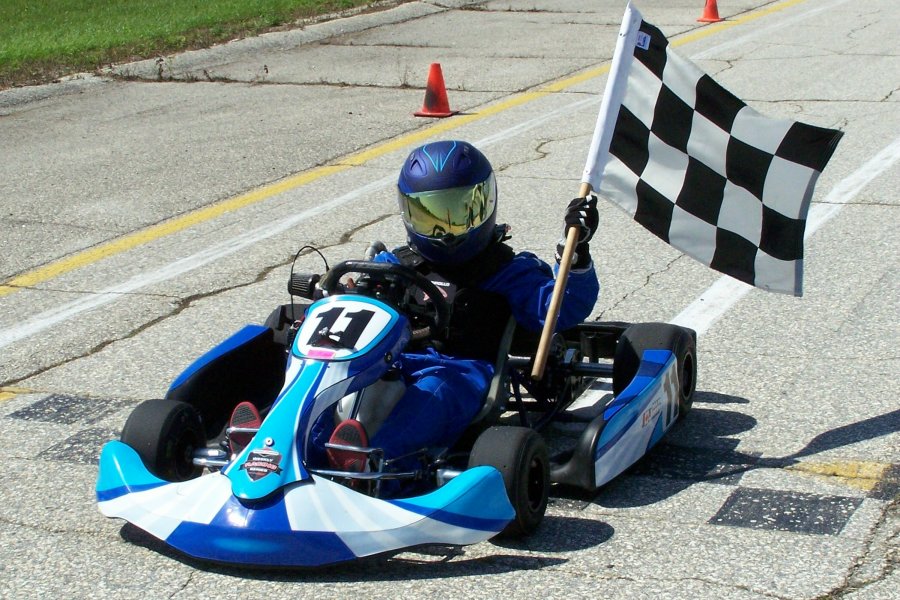 Max Jarry
The weather was very hot and sunny for Race 6 of the Manitoba Karting Championship at Gimli Motorsport Park. The sponsor for Race 6 was Ken Brown Cabinets.
Highlights of Race # 6
Senior Briggs class just keeps getting bigger with more entries and Travis MacDonald had pole position for the Final.  At the start Garrett Gulenchyn got by Travis to take the lead but by lap 10 John Buzza moved through the field to take the lead. Garrett and Travis were right behind John up to the finish while a string of karts from P4-P14 were fighting to get on the podium.  At the finish it was John 1st, Garrett 2nd and Travis 3rd.
Junior 1 Briggs was won by Josh Gill and Junior 2 Briggs was won by Max Jarry.
Micro Max had Brad Bachalo on pole and he led start to finish. Brad won with Mandy Veselinovich  2nd and Silas Gershman 3rd.
In Mini Max Curtis Veseliniovich had pole position and he led start to finish.  Rylan Despins hung onto Curtis's back bumper the whole race and tried to draft by Curtis on the last lap only to lose out by 0.09 seconds. By the chequer flag Curtis won the photo-finish with Rylan 2nd and Logan McDonald 3rd.
Junior Rotax had Stephen Bachalo on pole and he led up to lap 7 when Victoria Stutsky took over.  Stephen regained the lead on lap 12. By lap 20 Victoria got by Stephen and held on to win another photo-finish in the Junior Rotax class. At the chequered flag it was Victoria 1st, Stephen 2nd and Bryson McDonald 3rd.
Senior Rotax had Garrett Gulenchyn on pole and he led until lap 10 when Tristan Merke took over the lead. The race was a battle between Garrett and Tristan for the lead with Jeff Fulham, Morgan McDonald, Colin Farebrother and Wyatt Lajoie all challenging for P3. The race was finally won by Garrett with Tristan 2nd and Jeff Fulham 3rd.
The DD2 Rotax class had John Buzza on pole position and John took off to win by over 10 seconds. The exciting part of the race was the battle for runner up spot with Jordan Brown and Alexis Budel taking turns in P2. At the finish it was John 1st, Jordan 2nd and Alexis 3rd.
Next race is the doubleheader weekend August 15 and 16 at Gimli Motorsport Park. For more information on the MKA, visit http://www.manitobakarting.ca
Race # 6 Results:
Junior 1 Briggs
1st           # 4 Josh Gill
Junior 2 Briggs
1st           # 11 Max Jarry
Senior Briggs
1st           # 715 John Buzza
2nd          # 743 Garrett Gulenchyn
3rd           # 97 Travis MacDonald
Micro Max
1st           # 87 Brad Bachalo
2nd          # 77 Mandy Veselinovich
3rd           # 03 Silas Gershman
Mini Max
1st           # 99 Curtis Veselinovich
2nd          # 181 Rylan Despins
3rd           # 114 Logan McDonald
Junior Rotax
1st           # 288 Victoria Stutsky
2nd          # 67 Stephen Bachalo
3rd           # 218 Bryson McDonald
Senior Rotax
1st           # 343 Garrett Gulenchyn
2nd          # 366 Tristan Merke
3rd           # 331 Jeff Fulham
DD2 Rotax
1st           # 414 John Buzza
2nd          # 25 Jordan Brown
3rd           # 439 Alexis Budel
Please follow and like us: