Lemke Wins Every Round of Competition in Yamaha and Leopard Junior at USPKS
Wisconsin driver raises the bar once again at United States Pro Kart Series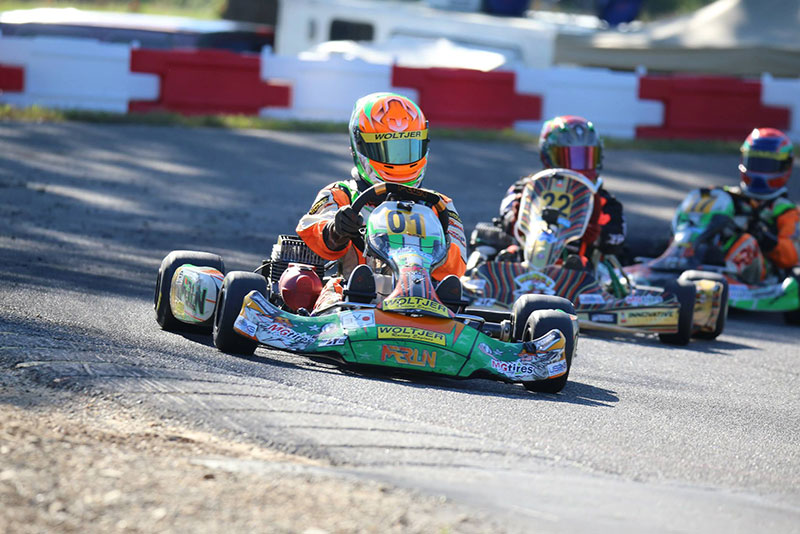 Lemke led junior competition all weekend at USPKS at Michiana (Photo: Kathy Churchill)
Brandon Lemke did what some may have considered not possible this past weekend at Michiana Raceway Park, where the United States Pro Kart Series – arguably the eastern half of the country's strongest sprint karting program – held the third leg of their four-race national program.
Only days after leading more laps than any junior driver but settling for a pair of runner-up finishes in TaG Junior at the SKUSA SummerNationals at New Castle Motorsports Park, Lemke raced his Franklin Motorsports Merlin chassis to nothing but a dominating performance at MRP.
On Saturday, Brandon qualified pole for both Yamaha 100 Junior and Leopard 125 Junior, and he proceeded to win two 10-lap heat races in each category before wheeling his Merlin to a 0.7-second win over Matthew Northrup in Yamaha Junior and a 4.2-second win over Alex Bertagnoli in Leopard Junior.
The results were exactly the same on Sunday.
Lemke scored two more pole awards, won the pair of heat races in each category and drove to both 20-lap final wins, this time by a 3.7-second gap over Collin Campbell in Yamaha Junior and he capped the weekend off with a dominating 6.3-second triumph over Zach Holden in Leopard Junior.
"I can't even describe how it feels to go out and win like we did last weekend, but it was definitely a great feeling, especially considering USPKS is such a big a competitive series. You never expect to win every qualifying round, heat race and final, but we were able to do it. It was a great weekend," Brandon commented Monday afternoon.
Lemke's tuner Jason Birdsell, a longtime championship tuner and former multi-time karting champion, said the 15-year-old racer is making very difficult accomplishments look easy in 2015.
"What Brandon did at MRP and some of the other races this year is so hard to do, but every time he's on track, he makes it look simple," Birdsell said. "His consistency in lap times was amazing. And how he can run fast lap after fast lap at the end of a 20-lap race just shows his focus and skill, and how good his Merlin chassis is right now."
Lemke's performance at MRP only continued his domination in USPKS this year. Through three race weekends, which total 12 finals, Brandon has only lost one final between Yamaha and Leopard Junior. He also swept the four finals at round two in June at Shawano, Wis., and he won three out of the four finals at the April season opener at GoPro Motorplex in Mooresville, N.C.
Brandon will enter the August 21-23 season closer at New Castle with both divisions nearly clinched in the USPKS point standings.
"I have to thank a lot of people for helping me throughout this great season we're having," Lemke added. "My parents and family for the help and support, Jason Birdsell for getting these karts as close to perfect as possible, Woltjer Racing Engines, Franklin Motorsports, Merlin Chassis, QPS Employment Group, Quickswim and Race Ready Engineering. It's a team effort."
After back-to-back national events, Lemke will now get a week off before heading to New Castle for the Aug. 14-16 Route 66 Sprint Series round four, where he'll compete in Yamaha Senior.
The next weekend (Aug. 21-23) he'll close the USPKS season at New Castle, then the team plans on traveling to Pittsburgh International Race Complex Aug. 28-30 for the final round of the 2015 WKA Manufacturers Cup Series, which Lemke leads the Pro IAME Junior points and sits second in Yamaha Junior.
Brandon Lemke is a 15-year-old national champion kart racer from Eagle, Wisconsin. Lemke is a seven-time national champion, 13-time regional champion and the last driver to win four national WKA championships in a single season, which netted him the prestigious Triple Crown award in 2013.
Lemke races his family-owned Franklin Motorsports-backed Merlin chassis in the most competitive sprint series in the country. He's proud to be sponsored by Quickswim, QPS Employment Group, Woltjer Racing Engines and Race Ready Engineering.  
For more information on Brandon, visit his official website at BrandonLemke.com and "Like" his Facebook page at "Brandon Lemke Fan Page."
Please follow and like us: