Solid Performance, No Luck of the Irish for Nicholas d'Orlando at MRP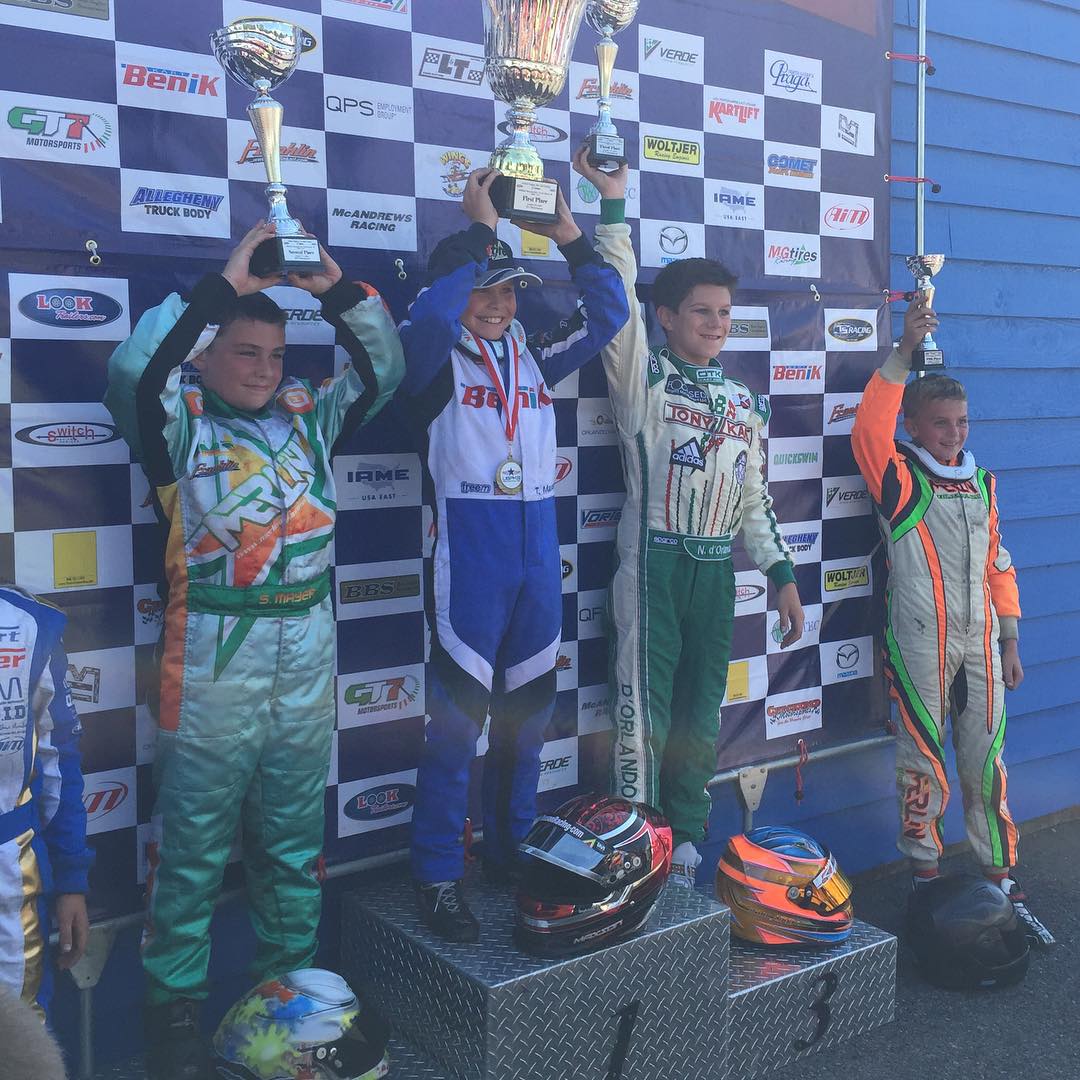 It was another solid weekend for Nicholas d'Orlando, with third and fourth place finishes at Michiana Raceway Park (MRP) in South Bend, IN for round three of the USPKS series. Nicholas was one of the fastest karts all weekend in MiniRok 60 Cadet but the luck of the Irish from nearby Notre Dame was in limited supply.
Nicholas started the weekend off with a solid qualifying effort on Saturday as he drove his No.15 KoeneUSA Tony/Kart to a P3 qualifying position, where he would start each of the two heat races.  Heat race 1 went smoothly has he finished a very close 2nd while earning fastest lap honors. Heat race 2 showed a little more challenging with a slip down a bit to sixth place. Starting from P2 in the final, Nicholas would remain in the top-three all race long. He would cross the finish line in second but was given a driving infraction penalty on the last lap and was officially scored third.
"We were fast Saturday," said Nicholas. "I had a great kart in the heat races.  Came across the finish line second. At the scales I was given a passing penalty on the last lap, putting us back in third. You don't like to be penalized but it's sometimes a part of racing and to end up on the podium with a third is still not a bad day."
Nicholas headed into Sunday on a mission.  With an impressive qualifying effort, he put his No.15 KoeneUSA Tony/Kart in P1 qualifying spot.  Maintaining his position upfront, he would go on to collect a win in Heat one and a second place in Heat two. Nicholas was the kart to beat as he started Sunday's final on the pole position.  But again, no luck could be found when a flat tire on the pace lap would force him to compete the entire 20 lap race with compromised equipment.  An impressive performance of determination and strategy would keep Nicholas in the top 5 at the checkered flag.  After some post race penalties were given out at the end, Nicholas would be officially scored fourth.
"I had a fast kart all weekend." said Nicholas. "I felt we had what we needed to have the opportunity to win.  I just could not believe the luck that we got a flat on the pace lap. I did all I could to over come it and finished with a top-five. For me it was a good weekend.  We were fast and just had some bad luck get us on Sunday. I feel good for this weekend's Grand Nationals in South Carolina."
Nicholas will head straight to Kershaw, SC this week, with their race team KoeneUSA, for the 2015 US Rotax Max Challenge Grand Nationals as he competes for his chance at a US Grand National Champion title.
DRC would like to give special thanks to their team at KoeneUSA (www.teamkoeneusa.com), including Mike Maurini, Martijn Koene, and DRC's Adam Johnson for their continued hard work, support and dedication.  And thanks to the support of their sponsors at adidas Motorsport (www.adidasmotorsport.com), Kool Nerd Clothing (www.koolnerdclothing.com), Focused Project Management (www.focusedpm.net) and Iona Preparatory School (www.ionaprep.org).
d'Orlando Racing.
d'Orlando Racing is open for sales of adidas Motorsport karting gloves, shoes and accessories, and also apparel brand Kool Nerd Clothing.  Visit their shop at www.dorlandoracingstore.com for more information.