So Cal Oval Karters Take on Perris Raceway This Saturday Night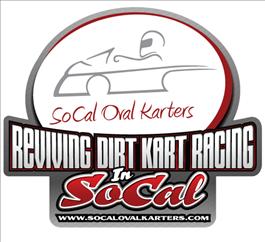 For the first time in nearly five months, the So Cal Oval Karters will return to the Perris Raceway this Saturday night, August 8th, for round #3 of the "Summer Shootout Series."  Joining the SCOK for the second race in a row will be the Speedway Sprints and Dirt Karts from John Aden's Wheel2Wheel Raceway.  Not to be confused with Perris Auto Speedway, Perris Raceway is located at 1205 Burton Road in Perris.  Gates will open at 1:00 PM and the first race will take the Kevin Winters' green flag at 6:00.
Two weeks ago when the SCOK and Wheel2Wheel racers competed together in the Grand Arena at the Industry Hills Expo Center, more than 80 entries crowded into the pits.  SCOK officials are expecting another large turnout this Saturday.
San Pedro's Rev Parker in the KT100's, Matt Drottz of Long Beach in the F200's, Matt Martis of Bonita in the SR 4Cycle's and Santa Monica's Darren Elliott in the Open class won at March 21st event at Perris Raceway which kicked off the 2015 SCOK season.  Parker, Drottz and Martis are all expected to be in action on Saturday and there is a good possibility Elliott will make the call as well.
All competing SCOK drivers will contest a pair of 10-lap heats on Saturday and a 20-lap main event.
In addition to the adult drivers, the kids will be cutting laps in the JrJr class as well.
Admission is $10.00 on Saturday to spectate and $45.00 to race.  Mandatory drivers meeting will be held at 4:30 PM and group practice will start at 5:00.
The So Cal Oval Karters would like to thank the following sponsors who help make the series possible.  Burris Racing, Cory Kruseman Sprint Car Driving School, Hubcapmike.com, Perris Auto Speedway, Professional Announcer Chappy, R&J Motorsports, THC Home Medical Services, T-MAC Racing and Yoa Racing Engines.  If you would like to become a part of the So Cal Oval Karters 2015 season, please call or E-mail Mike Nigh at (805) 857-2595 or scokart@gmail.com.
So Cal Oval Karters Point Standings
SR4 Cycle
1. Matt Martis – Bonita – 1050
2. Desiree Gaynor – Banning – 939
3. Jason Voss – Lake Elsinore – 860
4. Garret Schill – Riverside – 805 *
5. Aubrey Oppelt – Lake Elsinore – 785
KT100
1. Rob Marion – Oxnard – 983
2. Randy Truax – San Diego – 889
3. Troy Patton – Cherry Valley – 816
4. Rev Parker – San Pedro – 807
5. Tyler Wilson – Long Beach – 774
F200
1. Troy McIntosh – Lake Elsinore – 1045
2. Scott Gaynor – Banning – 965
3. Matt Drottz – Long Beach – 835
4. Steve Juilerett – Whittier – 630
5. Justin Garcia – Riverside – 620
Open
1. Cody Nigh – Camarillo – 1025
2. Steve Patton – Cherry Valley – 1010
3. Chad Griggs – Lakeside – 660
4. Norm Reynolds – San Marcos – 470
5. Darren Elliott – Santa Monica – 345 *
* = Non Member
Please follow and like us: