Michael d'Orlando Continues with a Strong Finish in USPKS at MRP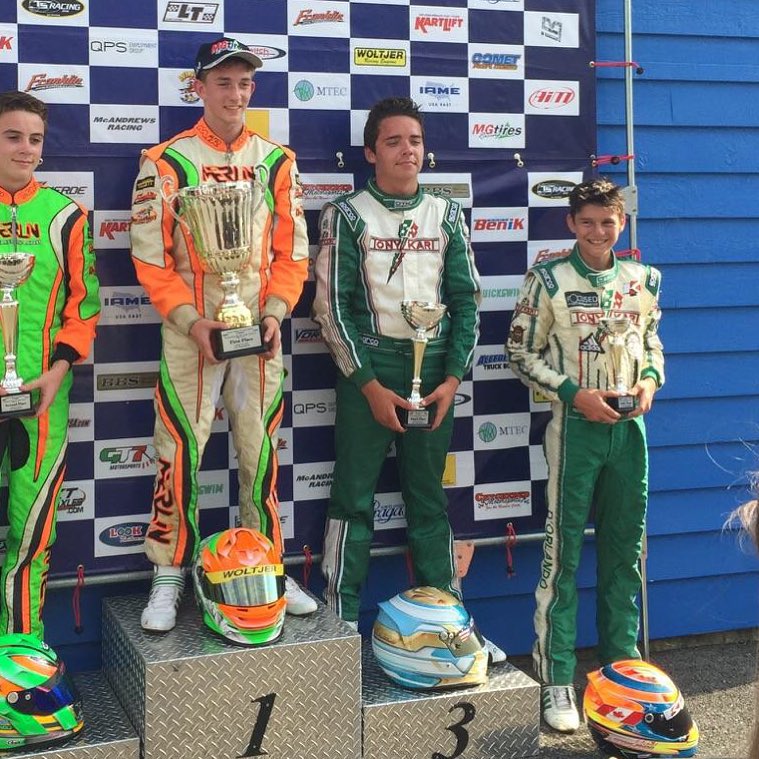 Michael d'Orlando continues to impress and improve at the Junior level as he finished last weekend's two race event with a fourth and fifth place finish at Michiana Raceway Park (MRP) in South Bend, IN for round three of the USPKS series.
Michael's weekend kicked off with a strong qualifying effort on Saturday as he drove his No.51 KoeneUSA Tony/Kart to a P3 qualifying position, where he would start both of the Heat races.  After a struggle finishing ninth in Heat race one, the luck of nearby Notre Dame showed no evidence of existence in Heat race two, as contact early on in the race sent Michael to the back far behind the rest of the field.  It was decided to end his race early to preserve tires for the final. Starting from the 12th position Michael would fight like the Irishman and make his way through the field passing seven karts and bring his No.251 KoeneUSA Tony/Kart to an impressive fifth place finish.
"Saturday started out well," said Michael. "We just did not get the finishes we were looking for in the heat races.  Had a good solid finish in the final coming from the 12th spot and I did all I could to get to the front passing as many karts as I could and ended the day finishing in fifth."
Michael headed into Sunday looking to gain some more ground.  He had another solid qualifying effort putting his No.51 KoeneUSA Tony/Kart in P4 qualifying spot for the start of both Heat races.  With a fifth place finish in Heat one and sixth place finish in Heat two, Michael would start Sunday's final up in the fifth spot.  He would keep his No.51 KoeneUSA Tony/Kart in the top-five as his eyes were focused for a podium finish but would come up short as he ended his weekend with a fourth place result.
"Sunday was a much better day," said Michael. "We were able to find more speed out of the kart. I did all I could to come away with a podium finish.  All in all, we had a productive weekend, learned a lot, and continue to gain experience. I am always wanting to get those podium results.  I feel I am getting better & better in the Junior ranks and closer & closer to the result I am used to. I feel we've been making great progress. What I learned here will help a lot heading into Grand Nationals this week in Kershaw, SC."
Michael will head straight to Kershaw, SC this week, with their race team KoeneUSA, for the 2015 US Rotax Max Challenge Grand Nationals as he competes for his chance at a US Grand National Champion title and a spot of Team USA for the Rotax Grand Finals in Portugal later this year.
DRC would like to give special thanks to their team at KoeneUSA (www.teamkoeneusa.com), including Mike Maurini, Martijn Koene, Jesse Dunham and DRC's Adam Johnson for their continued hard work, support and dedication.  And thanks to the support of their sponsors at adidas Motorsport (www.adidasmotorsport.com),Kool Nerd Clothing (www.koolnerdclothing.com), Focused Project Management (www.focusedpm.net) and Iona Preparatory School (www.ionaprep.org).
d'Orlando Racing
d'Orlando Racing has launched a new online store for sales of adidas Motorsport karting gloves, shoes and accessories, and also apparel brand Kool Nerd Clothing.  Visit their shop at www.dorlandoracingstore.com for more information.
For more information on Michael, please visit www.dorlandoracing.com. Be sure to follow Michael on Facebook (Michael d'Orlando Racing), Twitter (@dorlandoracing) and Instagram (@dorlandoracing) to stay up to date on news, information, photos and results. Go to www.dorlandoracingstore.com.
Please follow and like us: