EKN Driver Diary: Kyle Kalish – SKUSA Fikse Wheels Pro Tour SummerNationals
Breakthrough weekend for Franklin Motorsports / Merlin driver in his third ever shifterkart event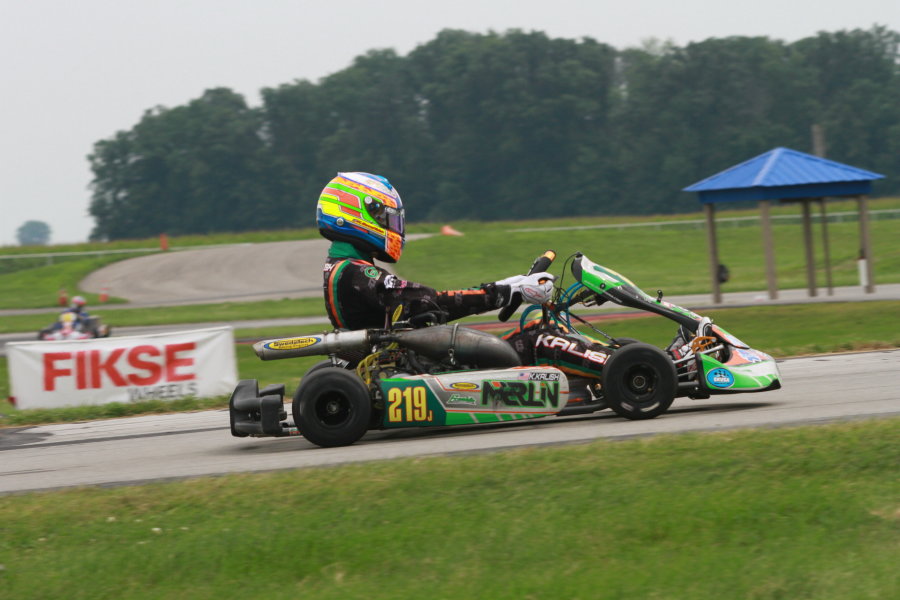 (Photo: EKN)
This year, Franklin Motorsports / Merlin driver Kyle Kalish is taking on a new category. The inaugural United States Pro Kart Series Leopard Pro champion is moving from one gear to six, taking on the challenge that is shifterkart racing. The 18-year-old from Wauconda, Illinois began racing when he was five, and has earned championships from club, regional and national. Throughout 2015, eKartingNews.com will give readers an inside look into the adjustments of going from a single-speed background to racing a Stock Moto at the national level, along with providing the great father/son relationship Kyle and his father Scott enjoy racing together.
For the last installment of the Kyle Kalish Driver Diary, which featured him returning to his Yamaha roots at the USPKS event in Shawano, Wisconsin, click HERE.
Round 2 Begins:
First off, I just have to say how excited I was to get back in the Stock Honda. In between SpringNats and SummerNat, I've driven both a Yamaha at USPKS as well as testing in a Merlin equipped with an IAME X30. While I had a lot of fun driving both, the Stock Honda has become my new passion.
The weekend started off somewhat strange and somewhat early, as we had Thursday practice! My dad and I took the road trip down to New Castle late Wednesday night, checking in at the legendary Shoe. For people unaware of what that means, the Shoe is the nickname for the Steve Alford hotel in New Castle as the hotel owned by the legendary basketball player and coach features a giant shoe in front of the hotel.
We started Thursday off with a solid Denny's Grand Slam than it was off to the track. Practice did not start till 2pm, so it was a pretty big waiting game till that point. A lot of setting up but even more just sitting around and waiting! Once we got on track, it was a few hours with seven sessions of on track practice. Overall, Thursday was a solid day for progress.
Friday was another day of progress, fine tuning the kart and engine to make sure we were ready for the races. All throughout the day, the heat and tires were creating crazy amounts of rubber on the track surface. We knew it was going to be a big challenge and really had to focus on adapting and evolving the setup of the kart to compensate for the high grip levels. Front end changes, axles changes, tread widths, all to make sure we would have the best kart for the conditions. The high humidity levels really threw us for a loop with the jetting and engine tuning, but thanks to the great help for SwedeTech Racing Engines, we were always on point. Throughout the six sessions we had on Friday, we progressed in each and every one. Optimizing all the track time, we felt really good for the races.
Race Day 1:
We threw in a top end kit Friday night, so we used the morning break in session to actually break in the motor, unlike most people. From there, it was on to qualifying. We had a fairly strong qualifying effort, resulting in a 6th place starting spot for the first heat.
From there, a bad start saw myself get swallowed up and started dropping. I knew I had a lot of work ahead of me, but I drove hard and made some solid moves and was able to recover back to my original 6th place. With a better start and some better driving, I was able to move up to 3rd place in Heat #2, which would be my starting spot for the main event.
For the Final, I was able to get a decent start off the line, and settled into 3rd place after the first lap. A lot of excitement in the opening laps really caused me to keep my eyes open. It seemed like a lot of drivers were impatient, which was their downfall as a lot of early accidents took some top drivers out of the race. I was able to keep the kart straight and stayed up front. Falling down to 4th for a little while, I kept my head down and got into 2nd place on lap 7.
It was going to be hard to catch Miguel Lopez, who was quick all day, but I kept pushing. With a few laps to go, I was able to catch Lopez and was in the lead for a few corners, but I had just used up all my tires trying to catch him. He took full advantage, passing me back and I just couldn't come back with another attack and had to settle for a 2nd place finish. It was a pretty great battle and we drove each other hard but clean, which resulted in my first SKUSA Pro Tour podium in only my second S2 race weekend.
Race Day 2:
After having my best shifter finish of the year, I was feeling really confident going into Sunday's races. I knew that with some luck, we would be able to fight for the race victory and possibly get that elusive first win of the year.
We went out for qualifying and pushed hard and was able to throw down a lap strong enough for 2nd place, my best qualifying effort since Daytona Kartweek. In the first heat, I had a decent start that slotted me into 3rd after the first lap. I made some pretty simple mistakes that cost me some time and positions on track, but I recovered and maintained for a 4th place finish. I knew that in order to challenge Lopez for the main event win, I would need to have a really good 2nd heat. Thankfully, that it is what we did. I pushed hard and kept moving forward, and was able to recover back to 2nd place to start the main event on the front row.
Starting on the front row, a few first lap battles cost us some positions and fell back to 4th place. But, the top 4-5 drivers were all nose to tail, so I knew I could battle my way back up. I was able to quickly recover back to 3rd place, but it was going to be a tough battle for the win. The 2nd place kart didn't want to make it easy for me and an unnecessary battle for 2nd place cost us a lot of time to Lopez. But, I kept pushing and did everything I could. Sadly, Miguel drove a great race and I was unable to catch him. I had to settle for another 2nd place on the weekend but I was still pretty happy with the result. While it would've been amazing to pick up a win, two 2nd place finishes gave us a great points weekend, putting us tied for fourth in the championship standings heading to Las Vegas.
The Debut of a Legend:
An opportunity was given to me to race a Legends car at the final round of the Bojangles Summer Shootout down in Charlotte, NC and I was super pumped to make my car debut. So within hours of getting home north of Chicago from New Castle, Indiana, I was on a plane headed down to Charlotte to meet up with the Mayer family. My Franklin Motorsports teammate Sam Mayer has been racing in the full Summer Shootout schedule, and he would be my teammate for the Legends car as I was racing his backup car.
For my first time racing a car, and my first time racing an oval, I was really pleased with my performance. I struggled in qualifying both days, so I had to work my way up from the tail of the field both days.
Starting 19th out of 21 on Monday, I took advantage of the yellow flag restarts and some risky passes to get as high up as 6th place before settling into a 10th place finish. To get a top-10 finish in my first car race and my first oval laps against drivers that have been in the car all summer was pretty satisfying.
On Tuesday, I struggled once again in qualifying trying to find that limit and would have to start 18th out of 20. But unlike Monday, we had one caution and went green for almost the entire race. A caution on the first lap was all we would see, so I did the best I could but just lost the group ahead of me after getting held up by a few drivers. I was only able to get up to 15th. I felt that we had another top-10 car, but the track position and cautions just didn't fall our way.
Racing the Legends car was an amazing experience and I had a blast! The racing is was such a different experience and I was so grateful to get the opportunity.
Thank you:
Over the course of 6 days, I was able to drive some great vehicles and accomplish some pretty amazing things.
The SKUSA Fikse Wheels Pro Tour SummerNationals was a weekend to remember and it was a high point in this new part of my career. The Franklin Motorsports team had a solid weekend of racing, with countless drivers up front fighting for wins. We had new drivers debuting with the team, as well as the return of a Franklin Motorsports veteran and one of my best friends, Emerson Reed. He's been out of the kart for a while, but he got readjusted to the Merlin quickly and was super quick all throughout the weekend. It was great to see him and the rest of the Reed family, who have all been there for me and supported me for as long as I can remember.
My Dad and I worked hard all weekend and it really showed. Without him, my career would have never been what it was and I'll forever be grateful for all he has done for me. Franklin Motorsports / Merlin USA gave me a great chassis for the weekend, just as they have done throughout my entire career. A big thank you to SwedeTech for giving me some wicked horsepower that pulled us down the long New Castle straightaway with ease. Also, thank you to my other sponsors and supporters: EMCO Chemical Distributors, GO Designs, Minus 273, and ONE Race Gear.
A huge thank you to the Mayer Family, Tyler Green and TyMark Racing for all their help and support in my Legends debut. They gave me all the help and resources I needed to have a successful debut, and I can't thank them enough. Also, thanks to Steve Welk for lending me some Nomex racing gear so that I could run!
What's next for me? College. I leave for college August 20, so I am still unsure what my next race will be. We will do our best to race SuperNationals in November, but we will just have to see if my schedule will allow it. But no matter when my next race is, I can't wait to drive.