Top Kart USA Scores Well at McLaughlin Motorsports Nationals
Three wins and 17 podiums on the weekend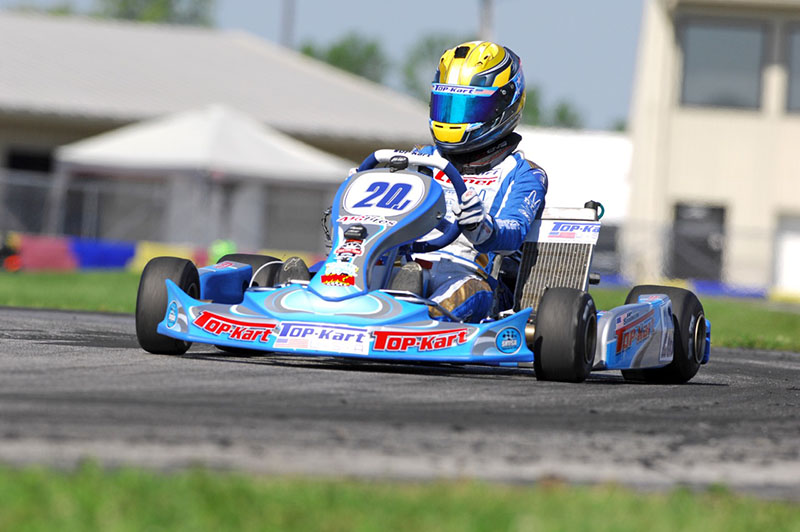 Three more wins for Top Kart USA in WKA Manufacturers Cup competition (Photo: www.OTP.ca)
Drivers of blue and white Top Karts saw a lot of checkered flags at round three of the World Karting Association (WKA) Manufacturers Cup series, held July 17-19 at New Castle Motorsports Park. Top Kart USA brought home three wins and seventeen podium finishes at McLaughlin Motorsports Nationals in New Castle, Indiana.
"With New Castle Motorsports Park being centrally located in the Midwest, many kart racers can call this track their home track," said Blake Deister, co-owner of Top Kart USA. "That gave a very equal playing field to a majority of the top drivers in each class. We were happy to pull off three final event victories on Sunday, given the close finishes in every race over the course of the weekend."
In the Kid Kart class, it was a Top Kart 1-2, with Ben Maier taking the top step of the podium and Danny Dyszelski IV finishing second.
"We are really beginning to push strongly toward the Kid Kart racers, because they are the future of our sport," said Bill McLaughlin, owner of Top Kart USA. "Providing them with a phenomenal chassis to continue winning these big national races is a huge success to us, and we look forward to continuing to provide a chassis that performs well at the most introductory level of kart racing."
Alexander Kardashian ran two classes, finishing seventh in Pro Leopard Senior. In Pro X30 Senior, Kardashian qualified on pole and finished second. Teammate Abby McLaughlin finished ninth.
In Pro TaG Sportsman, Jason Welage, Connor Ferris and Kaden Wharff finshed 2-3-4. Ferris started the race on pole.
Welage and Ferris also had strong showings in Swift Cup. Ferris started on pole, finishing fifth. Welage won the race. Teammates Tyler Ferris, Eil Trull, Owen Mahle, Riley Erikson and Jamie Newton all showed consistent speed, finishing inside the top-21.
Mahle and Trull, along with teammate Elliot Cox, also competed in Yamaha Rookie. Mahle finished second. Cox took fourth place, and Trull finished seventh.
In Yamaha Sportsman, Welage once again brought his blue and white machine home near the front of the pack, finishing second. Tyler Ferris took second in the race. Teammates Jack Gerzabek, Andrew Bische, Kyle Ford, Riley Erickson and Emil Shultz all ran well, each finishing the race inside the top-18.
Zach Holden and JP Southern Jr. finished third and fourth respectively in Pro IAME Junior. The duo also performed exceptionally in Yamaha Junior, with Holden taking second and Southern Jr. taking third. Teammate Austin Schultz finished 14th in Yamaha Junior.
"With this being our first year in junior classes at national events, we are striving each weekend to stay on top of our driving and setup," said JP Southern, father of JP Southern Jr. "Looking forward to the last and final event at Pitt Raceway in August, we have great momentum to keep us in the lead for the championship in the Yamaha Junior class."
In Yamaha Senior Pipe, Dakota Pesek put on a dominant display, winning the race from the pole position.
About Top Kart USA – Top Kart USA is located in Indianapolis, Indiana and is a distributor for the Top Kart product line. Housing a national level race team and competing in the World Karting Association and SuperKarts! USA programs as well as throughout the regional level in the Midwest, Top Kart USA is continuing to evolve and develop Top Kart dealerships throughout the United States. Supported by Top Kart importer Grand Products, Top Kart USA is owned and operated by McLaughlin Motorsports.