So Cal Oval Karters Results from The Grand at the Industry Hills Expo Center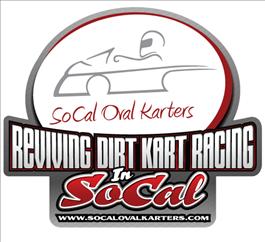 The So Cal Oval Karters and the gorgeous Grand Arena at the Industry Hills Expo Center combined for a great afternoon of racing last Saturday.  In addition to the So Cal Oval Karters contesting round #2 of the "Summer Shootout Series," the Speedway Sprints and Dirt Karts from John Aden's Wheel2Wheel Raceway were also on hand giving fans a fun and diverse day of competition.
Fortunately for competitors and fans, the race was at The Grand Arena and the overhead roof held the scorching Southern California sun at bay and provided ideal track conditions for all of the competitors.
A fine field of 40-So Cal Oval Karters showed up for the exciting day of racing.  From the JrJr Class featuring the youngest competitors in the club to the Opens and everything in between, the racing was tight all afternoon long.
Point leader Matt Martis of Bonita got the job done in the SR 4 Cycle class when he came from the pole to win his fifth main event in seven starts in 2015.  Lake Elsinore's Jason Voss, John Leonhart of Norwalk, Lake Elsinore's Aubrey Oppelt, who crashed in her first heat race, and Mason Wilson of Torrance chased Martis to the checkered flag.  Oppelt, who started 10th in the 20-lap main, was the "Hard Charger."  Martis and La Verne's Danny Morheiser won the 10-lap SR 4 Cycle heat races.
Long Beach racer Chris Gibb flexed his muscle in the KT100's winning both of his heat races and then his first SCOK 20-lap main event of 2015.  Saugus karter Jeff Hinz finished second to Gibb's #88 followed by college student Mitchell Collins of Orange, Tyler Wilson of Torrance and Cherry Valley's Troy Patton who has one win this season.  Gibb's win stopped the three-race win streak of Oxnard's Rob Marion who ended up ninth.  Patton was the KT100 "Hard Charger" picking up five spots.  In addition to the two heat race wins by Gibb, Marion and San Pedro's Rev Parker, who did not start the main, also won 10-lap preliminaries.
In the F200's Troy McIntosh won his third main event in his last four starts.  The Lake Elsinore racer took the Craig Zimmerman checkered flag ahead of Menifee resident Don Amigliore, Scott Gaynor of Banning, Riverside's Justin Garcia and pole sitter Jason Morheiser of La Verne who earlier in the day won both of F200 heats.  Amigliore picked up three spots and was the main event "Hard Charger."
Cherry Valley's Steve Patton made it two in a row in the Open class when he got to the checkered flag in front of Matt Jones of La Mirada, Joe Gibb of Long Beach, San Diego State college student Cody Nigh of Camarillo and Mike Fox.  Gibb and Nigh won the heats and Jones was the "Hard Charger."
All four of the point leaders coming into Saturday's race, Martis, Marion, McIntosh and Nigh, maintained their position on top of their respective heaps after the exciting day of racing.
The younger set was on hand as well and getting in their laps in the JrJr category.  Karters taking part were A.J. Thornell of Riverside, Caden Cane of San Pedro, Whittier's Tristan Jullerat and Jacey Voss, Kevin Sherman & Troy McIntosh Jr. who all reside in Lake Elsinore.
The So Cal Oval Karters have this weekend off, but they return to action with Round #4 of the "Summer Shootout Series" at the Perris Raceway on Saturday, August 8th.  Gates will open at 2:00 PM with racing at 6:00.
The So Cal Oval Karters would like to thank the following sponsors who help make the series possible.  Burris Racing, Cory Kruseman Sprint Car Driving School, Hubcapmike.com, Perris Auto Speedway, Professional Announcer Chappy, R&J Motorsports, THC Home Medical Services, T-MAC Racing and Yoa Racing Engines.  If you would like to become a part of the So Cal Oval Karters 2015 season, please call or E-mail Mike Nigh at (805) 857-2595 or mailto:scokart@gmail.com.
SR 4 Cycle
1. Matt Maris – Bonita
2. Jason Voss – Lake Elsinore
3. John Leonhart – Norwalk
4. Aubrey Oppelt – Lake Elsinore
5. Mason Wilson – Torrance
6. Garrett Schill – Riverside
7. Danny Morheiser – La Verne
8. Kevin Flores
9. Ryan Sherman – Lake Elsinore
10. Desiree Gaynor – Banning
KT100
1. Chris Gibb – Long Beach
2. Jeff Hinz – Saugus
3. Mitchell Collins – Orange
4. Tyler Wilson – Torrance
5. Troy Patton – Cherry Valley
6. Mike Collins – Orange
7. Ted Marshall
8. Cesar Gazca
9. Rob Marion – Oxnard
10. Matt Drottz – Long Beach
11. Randy Truax – San Diego
DNS – Rev Parker – San Pedro
F200
1. Troy McIntosh – Lake Elsinore
2. Don Amigliore – Menifee
3. Scott Gaynor – Banning
4. Justin Garcia – Riverside
5. Jason Morheiser – La Verne
6. Matt Drottz – Long Beach
Open
1. Steve Patton – Cherry Valley
2. Matt Jones – La Mirada
3. Joe Gibb – Long Beach
4. Cody Nigh – Camarillo
5. Mike Fox
6. Norm Reynolds – San Marcos
Jr Participants
A.J. Thornell – Riverside
Troy McIntosh Jr. – Lake Elsinore
Caden Cane – San Pedro
Tristan Jullerat – Whittier
Jacey Voss – Lake Elsinore
Kevin Sherman – Lake Elsinore
SR4 Cycle
1. Matt Martis – Bonita – 1050
2. Desiree Gaynor – Banning – 939
3. Jason Voss – Lake Elsinore – 860
4. Garret Schill – Riverside – 805 *
5. Aubrey Oppelt – Lake Elsinore – 785
KT100
1. Rob Marion – Oxnard – 983
2. Randy Truax – San Diego – 889
3. Troy Patton – Cherry Valley – 816
4. Rev Parker – San Pedro – 807
5. Tyler Wilson – Long Beach – 774
F200
1. Troy McIntosh – Lake Elsinore – 1045
2. Scott Gaynor – Banning – 965
3. Matt Drottz – Long Beach – 835
4. Steve Juilerett – Whittier – 630
5. Justin Garcia – Riverside – 620
Open
1. Cody Nigh – Camarillo – 1025
2. Steve Patton – Cherry Valley – 1010
3. Chad Griggs – Lakeside – 660
4. Norm Reynolds – San Marcos – 470
5. Darren Elliott – Santa Monica – 345 *
* = Non Member
Please follow and like us: