Top Kart USA Continues Winning Ways
One win, four podiums at SKUSA Summer Nationals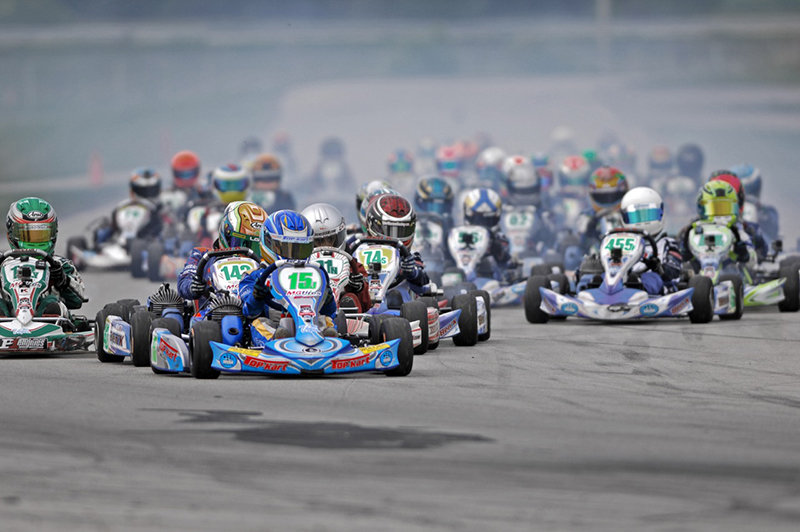 Jason Welage was victorious for Top Kart in the TaG Cadet division (Photo: www.OTP.ca)
Top Kart USA drivers added a few more trophies to their collections at past weekend's Superkarts! USA (SKUSA) Fikse Wheels Pro Tour SummerNationals, held July 24-26 at New Castle Motorsports Park in New Castle, Indiana. Team drivers earned one win and four podium finishes over the course of the hot weekend that provided teams and competitors challenges in each and every on track session.
"With a great focus on our chassis in all categories from Cadet to Junior to Shifter, we were on top of the charts in each class at some point in the weekend," said Blake Deister, co-owner of Top Kart USA. "Due to unforeseen racing conflicts, the flow of the weekend changed for some of our drivers. Overall, the chassis were adapting very well to the high grip and rubber situations. The ability to keep our chassis free and rolling smoothly was an essential part to our success at this event."
In a large TaG Senior field, Top Kart USA drivers were consistent all weekend. Marco Maestranzi was the top finisher on a blue and white chassis, finishing eighth on Saturday and 17th on Sunday. Nick Ramirez finished 16th on Saturday but failed to make the checkered flag on Sunday. Alexander Kardashian brought home a top-25 finish on Sunday after a difficult Saturday. Abby McLaughlin, in her second ever race competing in the extremely competitive TaG Senior field of 50+ entries, was consistently in the fast group throughout the entire weekend with a strong qualifying position on Saturday. Sunday, having been run over by a fellow competitor affected the rest of the day's performance, McLaughlin still pulled off making it to the final event with the stacked field.
The TaG Cadet field featured 44 karts, making Top Kart USA's results in the class even more impressive. Jason Welage stood atop the podium on Saturday and brought his kart home fifth on Sunday. Connor Ferris earned a pole position on Saturday, finishing 14th. He ran seventh on Sunday. Ty Gibbs finished inside the top-25 on both Saturday and Sunday. Teammates Owen Mahle, Elliot Cox, Jamie Newton and Riley Erickson all showed consistent speed over the weekend.
"Jason's competitiveness and ability to adapt to racing conditions while on track has been a huge reason for his success as a driver this season," said Greg Welage, Jason's father. "Working with the boys at Top Kart USA, who provide such a great chassis platform to race with, makes winning a little bit easier for us. We couldn't be happier with the way our kart handled throughout the entirety of the weekend, and we look forward to continuing our momentum up to South Bend for USPKS this weekend."
In TaG Junior, J.P. Southern Jr. finished fifth on Saturday. Sunday proved to be frustrating, and he was unable to finish the race. The only other Top Kart driver in the class was Savannah Fitzgerald, who finished 23rd on Sunday after having a premature end to her day on Saturday.
In shifter classes, Top Kart USA fielded two entries. Josh Early competed in S5, finishing sixth on both Saturday and Sunday. Jonathan Kotyk, a newcomer to the Top Kart chassis, finished third on Saturday and eighth on Sunday in S1.
"Only having driven the Top Kart Shifter chassis at two events thus far, I believe that the team has come a long way in such a short time period," said Kotyk. "They are developing a top of the line performing shifter kart chassis. The team's work this weekend allowed me to earn a spot on Saturday's podium before setting quick time in heat race two on Sunday. As we continue developing for future events, you can expect the package to be up toward the front consistently."
"Faced with the largest race on the schedule so far this season, our Top Kart drivers did an exceptional job battling corner by corner to progress their track position," said Bill McLaughlin Sr., owner of Top Kart USA. "With four podiums to end the weekend, this is yet another successful weekend for our team."
About Top Kart USA – Top Kart USA is located in Indianapolis, Indiana and is a distributor for the Top Kart product line. Housing a national level race team and competing in the World Karting Association and SuperKarts! USA programs as well as throughout the regional level in the Midwest, Top Kart USA is continuing to evolve and develop Top Kart dealerships throughout the United States. Supported by Top Kart importer Grand Products, Top Kart USA is owned and operated by McLaughlin Motorsports.