Sabré Cook Prepares for a Busy Few Months
Talented female to travel the world for motorsports events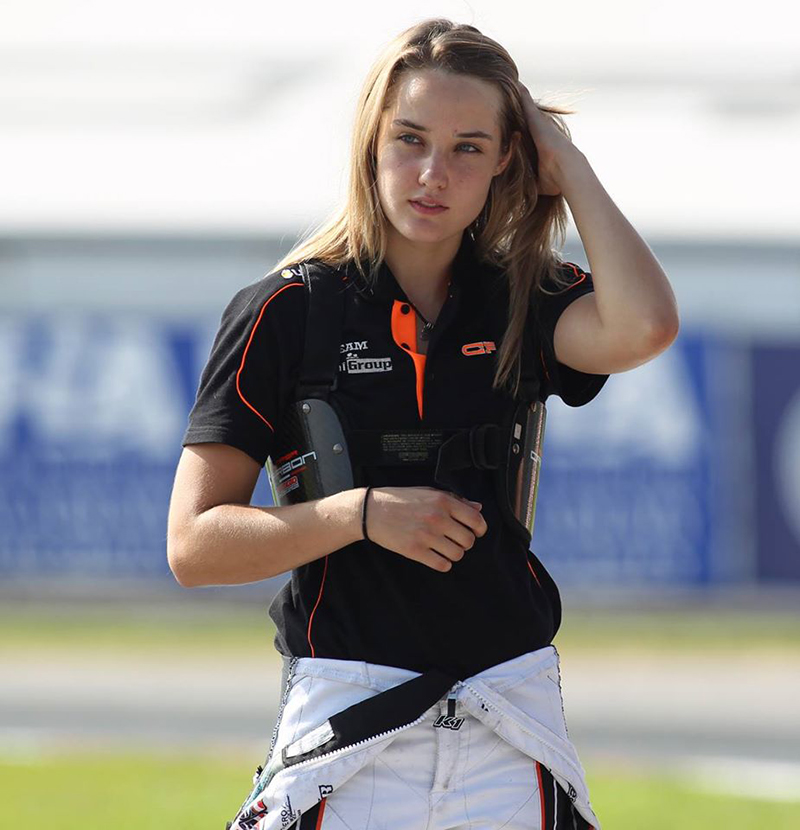 Sabré Cook has a busy last half of 2015. (Photo: FotoSport.cz)
One of ten finalists, Sabré Cook, will take a series of grueling tests over the next two days to compete for only two spots in the Infiniti Performance Engineering Academy in Nashville, Tennessee. If selected she would be moving to Europe for twelve months to take part in the internship of a lifetime on the Red Bull Infinity Racing Team and Formula One program.
But that's not the only thing on her plate as she sets her sights upon the Cold Stone United States Rotax Grand Nationals at the Carolina Motorsports Park in Kershaw, South Carolina. Sabré will, however, not be aboard her familiar CRG, she will be competing for PSL Karting , competing aboard a BirelArt chassis, the same chassis that she will use later in the year at the Rotax Max Challenge Grand Finals. After capturing the 2015 Rotax Challenge of the Americas Championship in the DD2 category and solid finishes in both US Open races in the Elite Shifter class, Cook looks to add to her 2015 success in the "Palmetto State" of South Carolina.
"It is a busy few months for me but I would not have it any other way," explained Cook from her home in Grand Junction, Colorado. "Racing is in my blood and it is what I love to do. I have an opportunity of a lifetime with Red Bull but I also get to continue what is passionate to me in karting."
Cook is not done there. The 2015 KZ World Championships is also on the schedule this year, as she will make her return to the European karting scene, Sabré became the first female in history to make the 34 driver final out of 109 entries in KZ in 2014. Sabré will then compete in final round of the U.S. Open Karting Championships October 25-31st where she currently sits 3rd in the national point standings in Elite Shifter. Finally the young and promising female will return overseas and represent her country at the Rotax Max Challenge Grand Finals in Portimao, Portugal as part of Team USA.
Cook continued, "I am very excited about everything that is coming up in the last half of this year. As always, I will work hard to continue to have success. I can not thank my family and supporters for all their help and hard work in getting me to where I am today."
Sabré Cook would like to thank the following for their continued support: , MG Tires, Viceroy Resorts, AIM Sports, SwedeTech Racing Engines, Grand Junction Motor Speedway, New Line Racing, Bell Helmets, Brett King Design, Holeshot Chain Systems, Sniper Alignment Systems, and Tillett Seats.
About Sabré Cook:
Sabré Cook is a rising female motorsports star. Completing her eleventh year in karting, the 20-year old earned the Superkarts! USA S2 Semi-Pro Stock Moto championship in 2012. Growing up at the Grand Junction Motor Speedway, Cook has developed up the karting ranks and is nearing the top level. Over the course of her career, she has earned six Colorado State Championships, two TAG World Championships, a SKUSA Mountain Region title, represented USA at the Bruno Grana International Trophy event in France, and competed all across North America while maintaining a 4.1 GPA during her high school career. Sabré is a junior at the prestigious Colorado Scholl of Mines with an impressive 4.0 GPA. Sabré enjoys basketball, golf, acting, singing, volunteering and is a member of the National Honors Society and the Future Business Leaders of America.
Visit www.sabrecook.com to learn more about this promising driver.
For more information on CRG USA, please contact them at 855.TEAM.CRG or via e-mail to Stacey@CRG-USA.com.