Michael d'Orlando Earns a Top-5 Finish at Rotax Summer Shootout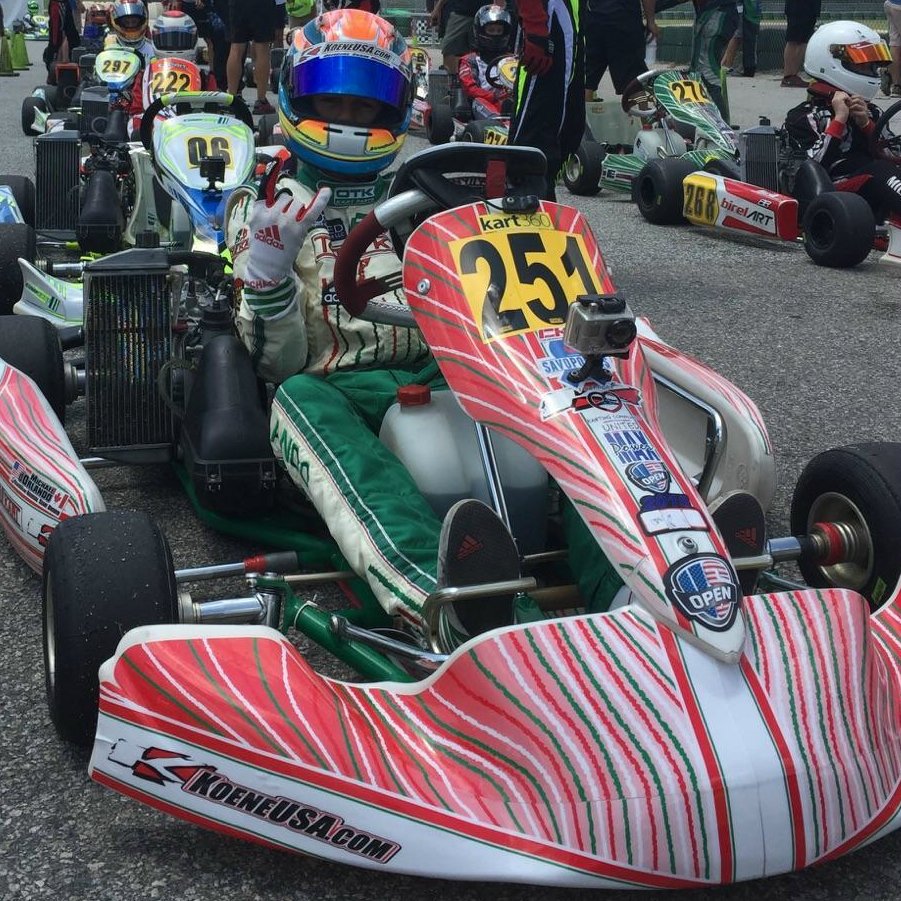 After only 6 months in the junior ranks, stand-out kart racer Michael d'Orlando knows exactly why 'they' consider junior to be oneof the most competitive classes in karting.  The competition is fierce with experienced racers as old as 16 years, but 13-year-old Michael continues to impress with solid results.
Michael d'Orlando brought home a fifth place finish in Sundays final at this weekend's Rotax Summer Shootout in Kershaw, SC.  Although the race weekend did not start off as hoped on Saturday with a difficult 9th place qualifying result and eventually finishing the day in 10th.
Putting Saturday's struggles behind him, Michael and his No.251 KoeneUSA Tony/Kart team would get their groove back earning a strong 5th place qualifying effort.  Slipping two spots in the pre-final, Michael would drive forward with focus and determination to finish up the weekend with a fifth place finish in the day's main event.
"I learned a lot this weekend," said Michael. "Saturday I just could not find my groove.  Things picked up for me on Sunday, I qualified better and started to get my groove back.  Finishing up in fifth but running as far up as 4th, I learned a lot of information for when we return for the Grand Nationals coming up in three weeks."
With this past weekend's race dubbed as the 'Unofficial Tune-up' for the 2015 Cold Stone US Rotax Grand Nationals, Michael will return to the same track layout that they ran here at Carolina Motorsports Park this weekend, in three short weeks for the Grand National event August 8 & 9th.  With a strong experienced field expected to attend, all eyes will be on the prize for a spot on Team USA and a ticket to the Rotax Grand Finals in Portugal later this year.
d'Orlando Racing would like to Thank their team of KoeneUSA including team manager Mike Maurini, engine builder Martijn Koene and Michael's tuner/mechanic Jesse Dunham for their ongoing support and  leadership.  Additionally, special thanks to their sponsors at adidas Motorsport, Iona Preparatory School, Kool Nerd Clothing and Focused Project Management.
d'Orlando Racing
 d'Orlando Racing is open for sales of adidas Motorsport karting gloves, shoes and accessories, and the apparel brand, Kool Nerd Clothing.  Visit their shop at www.dorlandoracingstore.com.
For more information on Michael, please visit their website at  www.dorlandoracing.com. Be sure to follow him on Facebook (Michael d'Orlando Racing), Twitter (@dorlandoracing) and Instagram (@dorlandoracing) to stay up to date on news, information, photos and results.  Or contact Sherri d'Orlando at info@dorlandoracing.com or 917-952-0243.