So Cal Oval Karters Racing at The Grand at the Industry Hills Expo Center Saturday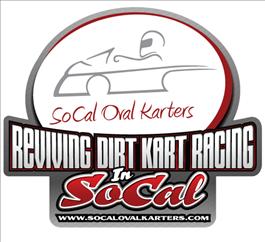 The So Cal Oval Karters open the second half of their 2015 season with round #2 of the "Summer Shootout Series" in The Grand Arena at the Industry Hills Expo Center this Saturday afternoon, July 25th.  Joining the stars and karts from the SCOK will be the Speedway Sprints from Wheel2Wheel Raceway in Victorville.  Spectator gates will open at noon and the first race will be at 1:00 PM.
The Grand has been home to Wednesday night Speedway Motorcycle racing dating back to 2003 and is known as one of the most modern and beautiful facilities in California.  The roof over the venue will keep the famous Southern California Sun away from both the competitors and the fans on Saturday.  The SCOK will be making its only stop at the modern facility that also hosts boxing, rodeo, equine events, concerts, cultural festivals and more.
On the power of four wins in the first half of the season Matt Martis leads the SR 4Cycle Class heading into Saturday's race.  The fast Bonita driver carries a 65-point lead over Banning's Desiree Gaynor.  Third spot in the championship standings currently belongs to Jason Voss of Lake Elsinore.
Oxnard's Rob Marion carries a three-race win streak and the point lead in the KT100's into Saturday afternoon's affair.  Rev Parker, who won the series opener at the Perris Raceway where the series returns to on August 8th, is second to Marion with San Diego's Randy Truax currently holding down the third spot.
In the F200's Lake Elsinore's Troy McIntosh, winner of two mains this season, leads the points over Banning's Scott Gaynor and Matt Drottz of Long Beach.
In the Open Class, college student Cody Nigh of Camarillo leads the championship hunt going into Saturday's show.  Steve Patton, who won the last race on July 4th at John Aden's Wheel2Wheel Raceway, is second in the title chase with Lakeside's Chad Griggs third.
All racers will contest heat races and main events on the tight Grand Arena dirt oval on Saturday.  The pit gate will open at 9:00 AM for the competitors.
The Industry Hills Expo Center is located at 16200 Temple Avenue in the City of Industry.  For more information on the venue, please visit the website at: http://www.industryexpocenter.com/index.html
The So Cal Oval Karters would like to thank the following sponsors who help make the series possible.  Burris Racing, Cory Kruseman Sprint Car Driving School, Hubcapmike.com, Perris Auto Speedway, Professional Announcer Chappy, R&J Motorsports, THC Home Medical Services, T-MAC Racing and Yoa Racing Engines.  If you would like to become a part of the So Cal Oval Karters 2015 season, please call or E-mail Mike Nigh at (805) 857-2595 or mailto:scokart@gmail.com.
Wheel2Wheel Raceway Results
SR4 Cycle
1. Matt Martis – Bonita – 870
2. Desiree Gaynor – Banning – 805
3. Jason Voss – Lake Elsinore – 690
4. Garret Schill – Riverside – 655 *
5. Aubrey Oppelt – Lake Elsinore – 625
KT100
1. Rob Marion – Oxnard – 845
2. Rev Parker – 807
3. Randy Truax – San Diego – 757
4. Troy Patton – Cherry Valley – 661
5. Tyler Wilson – Long Beach – 614
F200
1. Troy McIntosh – Lake Elsinore – 865
2. Scott Gaynor – Banning – 800
3. Matt Drottz – Long Beach – 685
4. Steve Juilerett – Whittier – 630
5. Justin Garcia – Riverside – 460
Open
1. Cody Nigh – Camarillo – 865
2. Steve Patton – Cherry Valley – 830
3. Chad Griggs – Lakeside – 660
4. Darren Elliott – Santa Monica – 345 *
5. Don Amigliore – Menifee – 320
* = Non Member
2015 So Cal Oval Karters Winners
KT100: 3/21 Perris Raceway Rev Parker, 4/11 Wheel2Wheel Raceway Troy Patton, 5/16 Wheel2Wheel Raceway Brody Roa, 5-30 Perris Auto Speedway Road Course Rob Marion, 6-20 Perris Auto Speedway Rob Marion, 7/4 Wheel2Wheel Raceway Rob Marion
F200: 3/21 Perris Raceway Matt Drottz, 4/11 Wheel2WheelRaceway Jason Morheiser, 5/16 Wheel2Wheel Raceway Troy McIntosh, 6-20 Perris Auto Speedway Troy McIntosh, 7/4 Wheel2Wheel Raceway Jason Morheiser
SR 4 Cycle: 3/21 Perris Raceway Matt Martis, 4/11 Wheel2Wheel Raceway Matt Martis, 5/16 Wheel2Wheel Raceway Jason Voss, 5/30 Perris Auto Speedway (road course) Matt Martis, 6-20 Perris Auto Speedway Jason Voss, 7/4 Wheel2Wheel Raceway Matt Martis
Open: 3/21 Perris Raceway Darren Elliott, 4/11 Wheel2Wheel Raceway Chris Gibb, 5/16 Wheel2Wheel Raceway Cody Nigh, 5-30 Perris Auto Speedway (road course) Mike Collins, 6-20 Perris Auto Speedway Cody Nigh, 7/4 Wheel2Wheel Raceway Steve Patton