Manitoba Karting Association – Round Five Report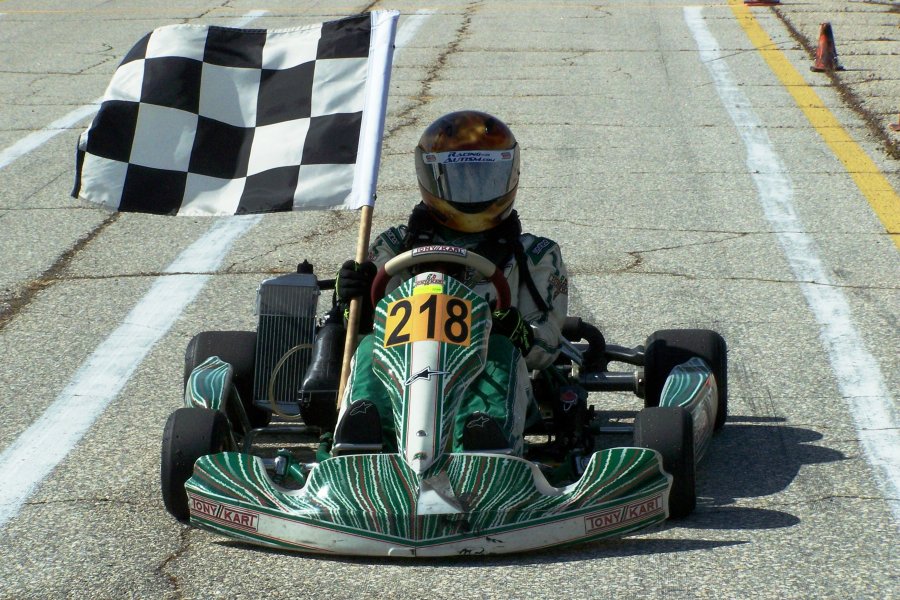 Bryson McDonald
The weather was very hot and sunny for Race 5 of the Manitoba Karting Championship at Gimli Motorsport Park. The sponsor for Race 4 was BRE Karting.
Highlights of Race # 5
Junior 1 Briggs was won by Ethan Clace with Josh Gill 2nd. Junior 2 Briggs was won by Bianca Bovino with Max Jarry 2nd
The Senior Briggs class had Garrett Gulenchyn on pole but after the first corner mayhem with karts everywhere Garrett still held the lead. P1 –P6 were in a heated battle and by lap 14 several of the drivers changed position with Stephen Bachalo taking the lead. At the finish it was Stephen 1st, John Buzza 2nd and Michael Copp 3rd.
Micro Max had Brad Bachalo on pole and he led flag to flag. At the finish it was Brad 1st, Mandy Veselinovich 2nd and Tiana Bovino 3rd.
In Mini Max Logan McDonald had pole position but lost his chain at the start.  Curtis Veselinovich won with Rylan Despins 2nd and Bianca Bovino 3rd.
The Junior Rotax final was the most exciting race of the day. Bryson McDonald was on pole but Bryson and Stephen Bachalo changed the lead several times on each lap. Neither would give an inch as they drove through several corners side by side. At the finish Bryson won taking his first karting win with Stephen 2nd.
Senior Rotax had Garrett Gulenchyn on pole and he led until lap 10 when Tristan Merke got by him. Tristan won with Garrett 2nd and Jeff Fulham 3rd.
The DD2 Rotax class had John Buzza on pole position and John took off again leaving P2 – P5 to battle it out behind him. At the finish it was John Buzza 1st, Jordan Brown 2nd and Gord Paetkau 3rd.
Next race is Sunday July 26 at Gimli Motorsport Park. For more information on the MKA, visit http://www.manitobakarting.ca
Race # 5 Results:
Junior 1 Briggs
1st # 30 Ethan Clace
2nd # 4 Josh Gill
Junior 2 Briggs
1st # 20 Bianca Bovino
2nd # 11 Max Jarry
Senior Briggs
1st # 67 Stephen Bachalo
2nd # 27 John Buzza
3rd # 95 Michael Copp
Micro Max
1st # 87 Brad Bachalo
2nd # 77 Mandy Veselinovich
3rd # 17 Tiana Bovino
Mini Max
1st # 99 Curtis Veselinovich
2nd # 181 Rylan Despins
3rd # 20 Bianca Bovino
Junior Rotax
1st # 218 Bryson McDonald
2nd # 67 Stephen Bachalo
Senior Rotax
1st # 366 Tristan Merke
2nd # 343 Garrett Gulenchyn
3rd # 331 Jeff Fulham
DD2 Rotax
1st # 414 John Buzza
2nd # 25 Jordan Brown
3rd # 360 Gord Paetkau