Critical Points Race for WKA Manufacturers Cup Series Heading to McLaughlin Motorsports Nationals at New Castle
12 championship chases head to New Castle Motorsports Park in Indiana for July 17-19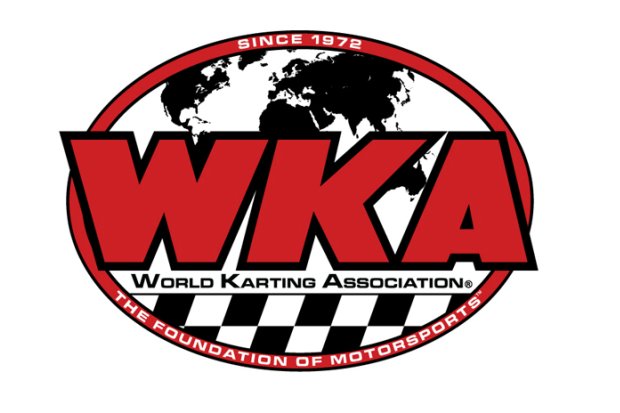 If ever there was a time to get up on the wheel in the battle for a national title in the Bridgestone Manufacturers Cup Series, this weekends McLaughlin Motorsports Nationals at New Castle Motorsports Park in Indiana would be just that time. With just one race left till the Top Kart USA Grand Nationals in late August at Pittsburgh International Sprint Complex, this weekends event is paramount for many competitors, not just for the title, but for the many jockeying for positioning in the top 10 in the overall standings.
While Caleb Gafrarar enjoys a healthy margin over runnerup Adam Brickley in the CRP Racing Kid Kart Class, the battle for third is a good one between Sofia D'Arrigo and Briggs and Stratton Raceway Park winner Benjamin Maier, with just 25 points separating the 2 competitors. Fresh off his 5th place run at Badger, Sam Corry, the #5 driver in the standings, has some ground to make up, but still has some time to make an impact deeper in the top 5.
In one of the many tight battles for a championship, just 80 points separate Donald Whorton II from runnerup Nick Snell in the New Jersey Sprint Series Yamaha Rookie Sportsman class. Whorton was able to pad his lead in Dousman, Wisconsin with a 3rd place run while Snell wound up 12th in the weekends rundown. Lucas Smalecs 5th place run in Dousman keeps him alive for a title, while Owen Mahle still has some work to do to figure in the title hunt.
While fans are keeping a sharp eye on the Yamaha Rookie Sportsman battle, an even closer watch needs to be kept on the Comet Kart Sales Yamaha Sportsman class, where Jason Welage holds a 50-point margin over Pauly Massimino. While Welage has found victory lane in several classes, his consistency has kept him atop the standings in this class, with 3rd place points man Gage Rogers winning at Daytona, while Massimino took down Go Pro Motorplex, and Aiden Harrington made it 3 races and 3 faces at Dousman, Wisconsin. Also in the hunt are Madison Campeau and Tyler Ferris to name just a few of the many who will be vying for the top shelf of the podium this weekend.
While Welage has been leading the points in the DRT Racing Pro TaG Sportsman class this year, he's recently also been raking in the money, taking the most recent $500 to win prize in Wisconsin. And again, looking over his shoulder, there sits Massimino waiting to pounce, just 45 points back in 2nd. Tightly bunched behind this duo stands Luca Mars, fresh off a second place run in Wisconsin. Gage Rogers and Madison Campeau have also been joined at the hip, on the track and in the standings recently. Campeau ran one of her best races to date, taking third in Wisconsin, with Rogers on her bumper, while Campeau is bump drafting behind Rogers in the standings in the battle for 4th and 5th.
Competitors in the Pro TaG Sportsman Class will once again be running for a $500 to win payday this weekend, with $250 for second, and a set of Bridgestone Tires going to the third place finisher.
One of the brightest, and most competitive new classes in 2015 has been the IAME USA sponsored Swift Cup class. Run as a Local Option class this year, many of the names already mentioned in the Junior classes have added this class to their resume, and thus have made it one of the best races to watch in the weekend.  Currently Pauly Massimino leads the standings by 85 points over Connor Ferris with Jason Welage, the most recent winner in Wisconsin trailing the lead duo. Other competitors in this class, loaded for bear this weekend, include Tyler Ferris, Luca Mars, Nick Snell, Wisconsin runnerup Kyle Thome, and a host of others.
While John Paul Southen Jr holds a 145-point lead in the Woltjer Racing Engines Yamaha Junior class, the battle for second is a deadlock behind the Wisconsin winner with Zach Holden and Brandon Lemke in a virtual deadlock for the second spot. Holden fell into a tie for second in the standings, following his 9th place run in Wisconsin, while Lemke came home second to Southern. Geo Bromante and David Malukas are 2 other drivers still looking to shake the top five in the standings up.
The battle between Lemke and Holden far exceeds 1 class though, as Lemke comes to New Castle, holding a 95-point edge over Holden in the KartSport North America Pro IAME Junior Class. Lemke took down the win at Badger while Holden took 4th in the event. In between the 2 drivers in the final rundown in Wisconsin were Geo Bromante and Alex Bertagnoli. Bertagnoli currently sits 3rd in the title hunt with David Malukas, Jack Miller, John Paul Southern Jr, Abby McLaughlin, Bromante, Austin Schaff, and Drew Lindley currently the top 10 in the standings. This class will again be vying for a $500 payday, with $250 for second, and a set of Bridgestone Tires to the third place finisher.
In Senior competition, the Zero Error Racing Yamaha Senior Pipe Class sports by far the tightest battle of all classes, with just 20 tallies separating series leader Dakota Pesek from Derek Hughes. While TJ Koyen played the spoiler, winning in Wisconsin, Pesek and Hughes were a tight second and third in the event, making for a great run in Indiana this weekend.
Nick Landi brings the points lead into New Castle in the HYTORC of Texas Pro Leopard Senior Class, sporting a 127 point edge over Dustin Stross, with Olivia Horn, Jacob Donald, and Austin Osborne the current top 5. While in the Tillotson Pro X30 Senior class, Alexander Kardashian leads Stross by 90 points, with Derek Dignan a few points back in third. However, Andrick Zeen, the driver who swept both the Pro Leopard and Pro X30 Senior classes in Wisconsin, is expected to also be on hand for another shot at the $1,000 payday in both classes. Second place will receive $500 with the third place finisher in both events getting a set of Bridgestone Tires.
So while many points battles are tight, another great challenge to these competitors will be the early arrival of many SKUSA competitors, getting prepared for their SummerNationals the following weekend at New Castle, driving the weekends entry list up, and pegging the barometer with regards to heated competition.
Activities for the McLaughlin Motorsports Nationals begins Friday 9am with a full day of practice for all classes. On Saturday, activities begin on track at 8:30am with 1 round of practice, followed by qualifying and three rounds of heat races, making for a full day. On Sunday, following a round of practice at 8:30am, drivers will begin their Pre Finals, followed by the Finals for the weekend.
For more information on this weekend McLaughlin Motorsports Nationals, click here.