Manitoba Karting Association – Race # 4 Report
Hot and sunny conditions perfect for Gimli Motorsports Park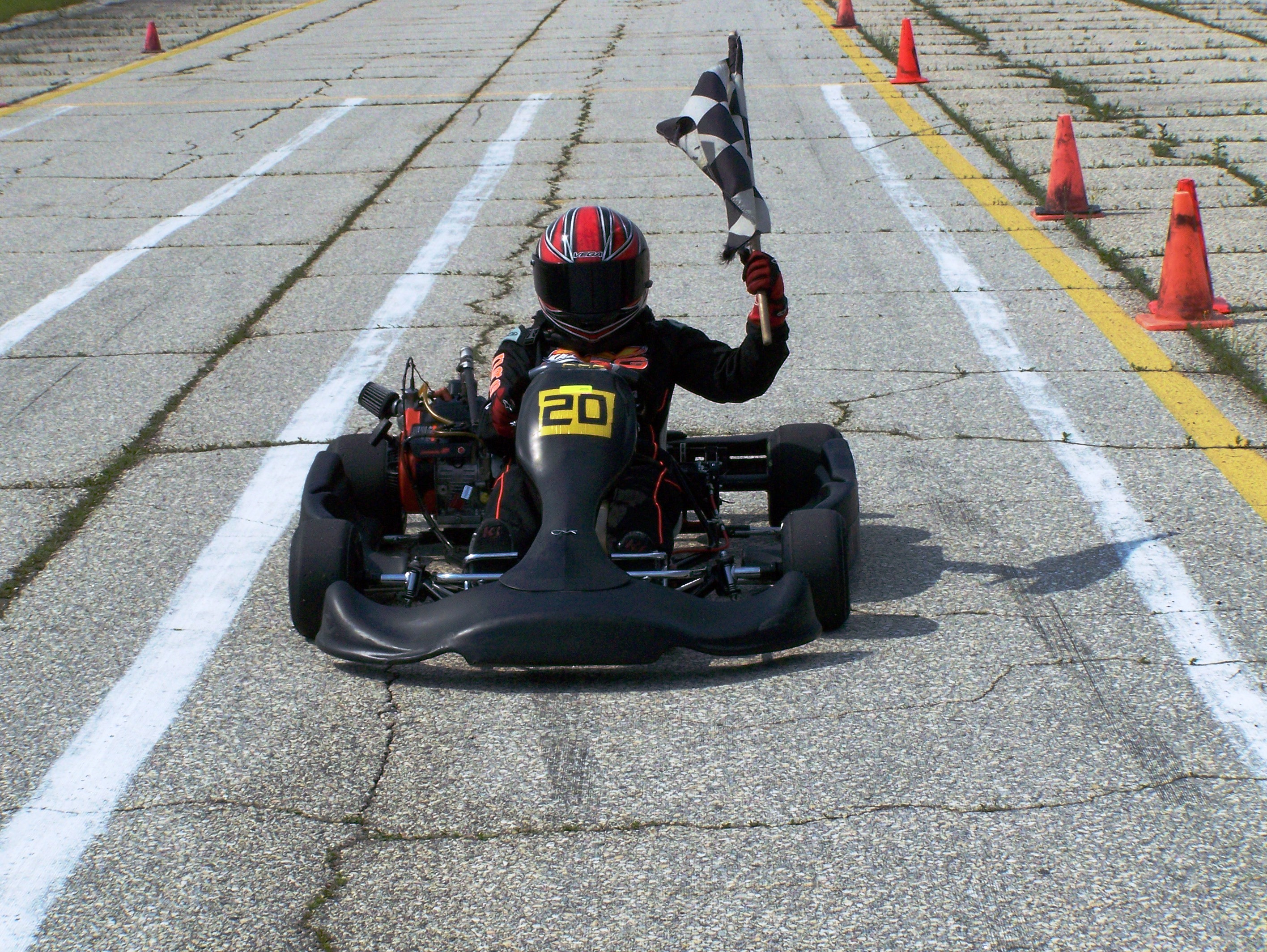 Bianca Bovino won the Junior 2 Briggs LO206 class at the fourth MKA event of 2015
Manitoba Karting Association – Race # 4 Report
The weather was hot and sunny for Race 4 of the Manitoba Karting Championship at Gimli Motorsport Park. The sponsor for Race 4 was Lake of the Woods Insurance. 
Highlights of Race # 4
Junior 1 Briggs was won by Ethan Clace with Josh Gill 2nd. Junior 2 Briggs was won by Bianca Bovino with Max Jarry 2nd and Jared Malanchuk 3rd.
The Senior Briggs class had John Buzza on pole and usually starts with a long line of karts. This time the whole class broke up into pairs and fought amongst themselves. John had Garrett Gulenchyn on his back bumper behind them Stephen Bachalo had Jeff Fulham on his tail. Further back Michael Copp and Terry Bamford were duelling back and forth. At the finish it was John 1st, Garrett 2nd and Stephen 3rd.
Micro Max had Brad Bachalo on pole and he led flag to flag. At the finish it was Brad 1st, Tiana Bovino 2nd and Nicole Schellekens 3rd.
In Mini Max Curtis Veselinovich had pole position and he led start to finish but this time Rylan Despins stayed on his bumper throughout the race and he tried to draft by on the last lap. It was close but Curtis won with Rylan 2nd and Logan McDonald 3rd.
Junior Rotax had Victoria on pole and she lead start to finish.  Victoria won with Jaedin Wright 2nd and Stephen Bachalo managing to finish 3rd with a bent axle.
Senior Rotax had Garrett Gulenchyn on pole and he led with Jeff Fulham behind battling with Morgan McDonald for 2nd place. At the finish it was Garrett 1st, Jeff 2nd and Morgan 3rd.
The DD2 Rotax class had John Buzza on pole position and John took off with Jordan Brown right behind him. The battle in the race was for the last podium spot with Gord Paetkau and Alexis Budel fighting over P3.  Alexis got by on lap 17, at the finish it was John 1st, Jordan 2nd and Alexis 3rd.
Next race is Sunday July 12 at Gimli Motorsport Park. For more information on the MKA, visit http://www.manitobakarting.ca
Race # 4 Results:
Junior 1 Briggs
1st           # 30 Ethan Clace
2nd          # 4 Josh Gill
Junior 2 Briggs
1st           # 20 Bianca Bovino
2nd          # 11 Max Jarry
3rd           # 7 Jaedin Wright            
Senior Briggs
1st           # 715 John Buzza
2nd          # 743 Garrett Gulenchyn
3rd           # 67 Stephen Bachalo
Micro Max
1st           # 87 Brad Bachalo
2nd          # 17 Tiana Bovino
3rd           # 41 Nicole Schellekens
Mini Max
1st           # 99 Curtis Veselinovich
2nd          # 181 Rylan Despins
3rd           # 114 Logan McDonald
Junior Rotax
1st           # 288 Victoria Stutsky
2nd          # 7 Jaedin Wright
3rd           # 67 Stephen Bachalo
Senior Rotax
1st           # 343 Garrett Gulenchyn
2nd          # 331 Jeff Fulham
3rd           # 391 Morgan McDonald
DD2 Rotax
1st           # 414 John Buzza
2nd          # 25 Jordan Brown
3rd           # 439 Alexis Budel