WSK Night Edition – Enthusiasm by Night in Adria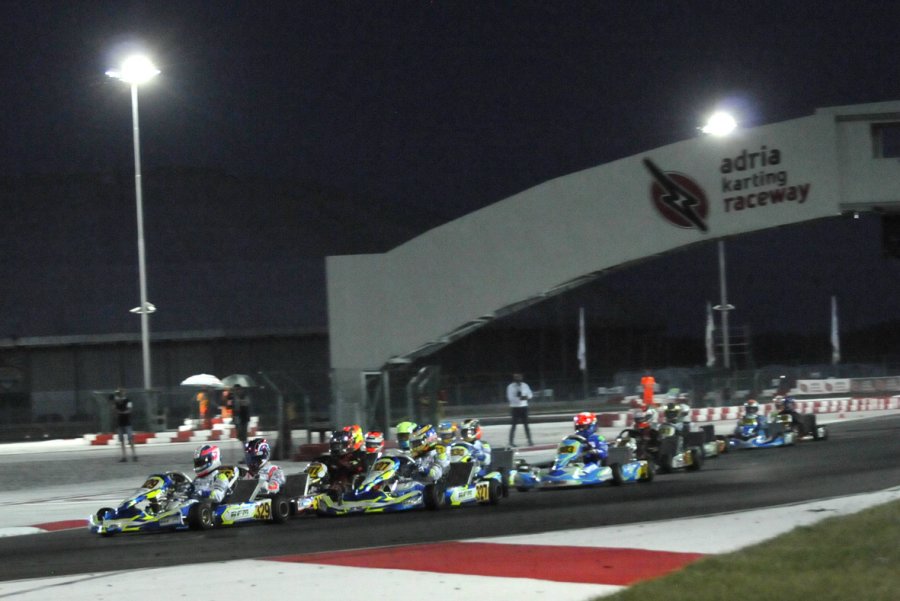 (Photo: Press.net Images)
Nights in Adria are having a peculiar appeal thanks to the WSK Night Edition, which is taking place at the Adria Karting Raceway. The first phases of this single-round event promoted by WSK for the 2015 season were characterized by the high level of competitiveness of the 110 entrants. The nightly setting is making the whole event even more spectacular and thrilling. The first qualifying heats, which took place thanks to the excellent lighting system of the north Italian facility, showed how tough the competition is going to be in all the categories admitted to the race. In particular, the 60 Mini and the KF Junior seem to be the most uncertain, with lots of drivers who can aim at victory. The number of possible winners might even grow larger after the second series of heats on schedule this afternoon. Then, with the series of Prefinals today at 06.20pm, we will have clearer ideas about the names of the favourites before the crucial moments of the Finals, on schedule at 09.30pm until Midnight, with live timing available on the official website www.wsk.it. Tonight we will know the names of the kings of the WSK nights in Adria.
Uncertainty reigns in 60 Mini
The Italian Leonardo Marseglia (Zanardi-TM-Vega) set the fastest time in qualifying but then, in the heats, other drivers made themselves conspicuous. Among them the Norwegian Dennis Hauger (CRG-TM-Vega) and the Italian Mattia Michelotto (Energy-Iame-Vega), as well as other Italians such as Jacopo Guidetti and his team-mate Alessandro Balzarotti (both on Evokart-Iame-Vega), who won one race each yesterday.
Lorandi leads in KF
The Italian Leonardo Lorandi is the current leader in KF, after setting the best time in qualifying and winning yesterday's first heat. The Italian  Jacopo Gheno (on Tony Kart-Vortex-Vega as well as Lorandi) is right behind the leader and seems to be his most dangerous rival.
Thonon first in KZ2
The Belgian Jonathan Thonon (Praga-Parilla-Vega) has been the leader in KZ2 since qualifying, where he set the fastest time ahead of the Italian Moreno Di Silvestre (DR-TM-Vega). Thonon also won the firts heat beating the French Kevin Breysse into second position.
Watt and Sargeant are the drivers to beat in KFJ
It is a battle between Europe and America the one which is going on in KF Junior. The Danish Noah Watt achieved the fastest lap and won the first heat, while his team-mate, the American Logan Sargeant (both on FA Alonso-Vortex-Vega) won two heats. The Brazilian Felipe Drugovich (Kosmic-Vortex-Vega) joined the leading pair thanks to his victory in the last heat: with these results it is hard making a prediction for the two remaining heats, which will establish the grids for the final phase on schedule this evening.