Warren McIlveen Returns to Pole Position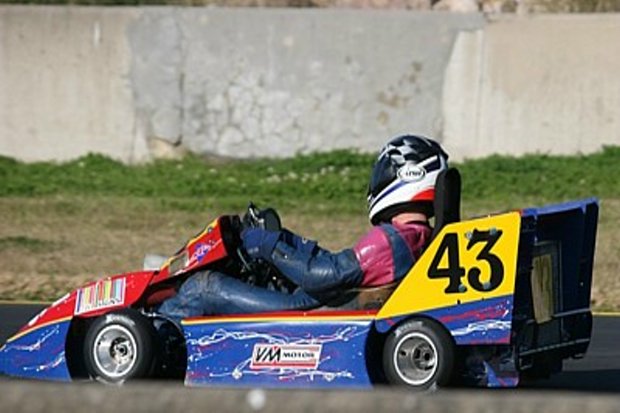 Seven time 250 International champion Warren McIlveen has taken pole position after an incredibley tight qualifying at Round 1 of the Rockpress Coach Design Australian Superkart Championships at the Shannons Australian Motor Racing Nationals. McIlveen set a 1:28.6010 in the first sessions in the Stockman Superkarts/Mac's Marine Stockman-VM. Ilya Harpas was second fastest in the Your Amigo Anderson-DEA at 1:28.6460 until the second session where Russell Jamieson in the Coach Design Anderson-DEA squeezed in between the two, setting a 1:28.6403, just five thousandths of a second ahead of Harpas. The top three are covered by four hundreths of a second. Just two tenths behind is reigning champion, Gary Pegoraro (Dunlop Kartsport/BRC Engines Anderson-BRC).
"Q1 was fine," said McIlveen. "Much better low down power through the gears. Handling is really good, excellent even. We couldn't go faster in Q2 because we had both rear tyres deflate."
Kristian Stebbing (KJB Accountants & Business Advisors Anderson-DEA) is just six tenths behind Pegoraro with Matt Bass (Top Torque Engines Anderson-BRC) a further five tenths behind. Bass did not set a time in the first session after cutting a tyre on his first flying lap. Jason Smith (TecHome.com.au/Middleton's Printing Anderson-DEA) is seventh, struggling with a high end misfire robbing him of pace. Anton Stevens (Ciscos/Art Motorsport/KPI PVP-FPE), Martin Latta (MJR Bricklaying/Slipstream Signs Anderson-DEA) and Paul Clarke (North Shore Boats Anderson-BRC) complete the top ten.
Jordan Ford stunned the Superkart paddock with 1:31.0011 in the 250 National class. Three seconds under the lap record in the Peter Ford Catering/Burbank Homes Anderson-Yamaha. The young sprintkarter has made the transition to long track racing with aplomb, setting lap times good enough for eighth position on the grid amongst the 250 International class karts. The team kept the kart in the pits during the second qualifying session, safe in the knowledge the 4.5 second gap was not going to be bridged. Dan Lewis was second in the end (Lewis Plumbing Anderson-Gas Gas), cutting the gap down to 3.6 seconds. Ford's team mate Dale Williams (Slipstream Signs/Burbank Homes Anderson-Yamaha) was third fastest, six tenths behind Lewis with John Pellicano (Giova Racing Avoig-KTM) completing the second row of the grid ahead of team mate Aaron Cogger (Avoig Superkarts/Rat Pack Racing Avoig-KTM). After being fast on Friday, V8 Touring Car Series winner Justin Ruggier was unable to set a time in qualifying in his first experience of Superkart racing. The Anydoor and Gates Avoig-KTM had a cold seizure in the first session then lost electrical power in the second.
"Awesome feeling to be P1," said Ford. "We just need to work now on finishing the races."
125 National pole was swapped around before finally claimed by Mark Robin at sub-record pace in the Colourite Painting Stockman-Honda. He finished three tenths of a second clear of Paul Campbell (Redback Racepaint ACT Avoig-Honda) with reigning class champion Garry Haywood (Bakker Superkarts/Ringwood Kart Centre Bakker-Honda). Jeff Reed (Stockman Superkart Stockman-Honda) was fast early but fell to fourth as qualifying progressed. Nine-tenths of a second cover the top four.
"Very happy," said Mark Robin of his first career pole position. "The track's great. The resurfacing at turn 4 has made all the difference. The kart is great, this was WWarren McIlveen's 1997 championship winning 125."