Team Benik Successful in Shawano
Multiple wins and podiums across two weekends of racing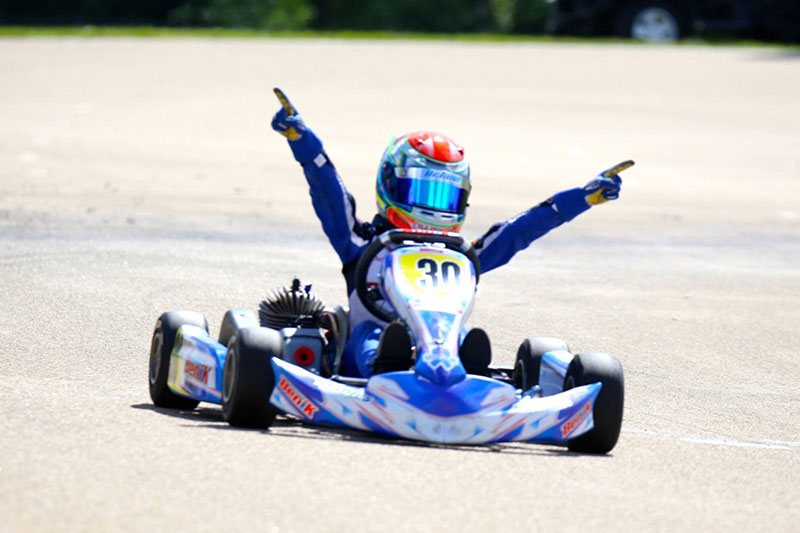 Lachlan DeFrancesco scores a dominant victory in Mini ROK (Photo: Energy Racing)
Two weekends of racing brought two weekends of success for Team BENIK in Shawano, Wisconsin.
The weekend of June 13-14 brought the Route 66 Sprint Series to US Air Motorsports Raceway. It was the biggest event in the series' history, and Team BENIK led the field in several classes. In Saturday's Mini ROK final, team newcomer Reece Gold took first place, with teammate Lachlan DeFrancesco crossing the line second. James Egozi, who qualified second, finished in fourth place.
On Sunday Gold and DeFrancesco traded places, with Lachlan taking the checkered flag for the win and Reece taking the second step on the podium.
After the success of the Route 66 weekend, Team BENIK turned its attention to USPKS competition June 19-21.
On Saturday, Lachlan DeFrancesco ran second in Yamaha Cadet after leading the entire race. He was running in the lead with only two corners to go, but was passed by Jason Welage at the last minute. DeFrancesco also ran second in Mini ROK on Saturday.
Sunday brought two wins for Team BENIK, in Yamaha Cadet and Mini ROK.
Reece Gold started on pole for Sunday's Yamaha Cadet race. After a first lap incident and another on the restart, the race was postponed to allow drivers to repair damage. When the race restarted, Tyler Maxson took the lead and would remain there, winning the shortened final. Three of the top six finishers were Team BENIK drivers.
In Mini ROK, qualifying brought a BENIK 1-2, with Lachlan DeFrancesco on pole and Reece Gold starting second for the first heat race. Gold took the win in heat one, with DeFrancesco taking first place in the second heat. In the final, DeFrancesco started 11th, taking the lead on lap two and running away from the field for the win. Reece Gold and Tyler Maxson finished in the top-five, giving Team BENIK three of the five podium spots.
For more information on BENIK Kart, please contact Nick Mitchell or Ben Cruttenden via e-mail to Info@Benik-Kart.com or by phone at 754.206.4870. For all West Coast Sales, please contact Nash Motorsportz at 951.233.3431 or via email to nashmotorsportz@yahoo.com or through their Facebook at www.facebook.com/pages/Nash-Motorsportz/302987366497945. BENIK Kart can also be found online at www.BENIK-Kart.com, Facebook at www.facebook.com/BenikKart and Twitter at @kartBENIK.