SSM Super One Series Round 5: Glan y Gors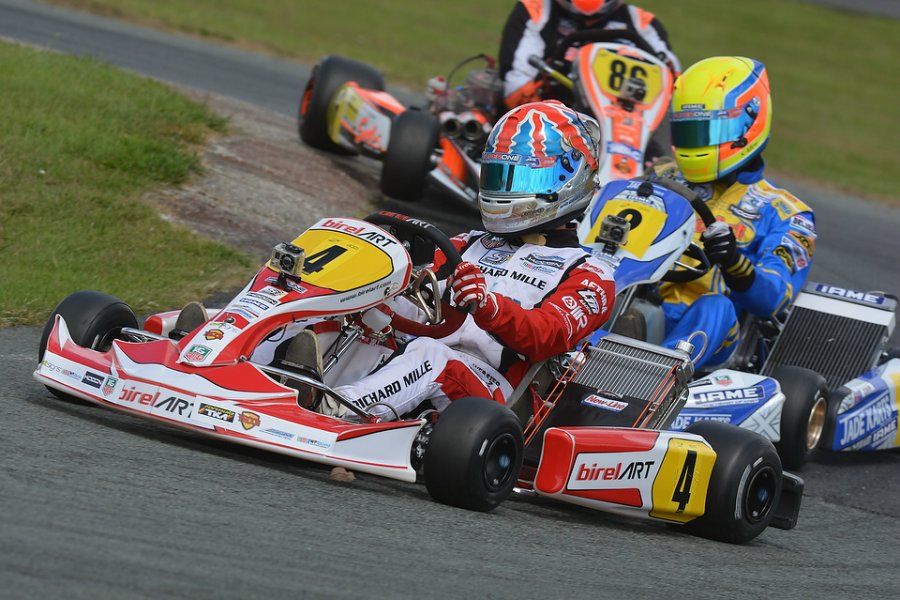 Sam Webster (Photo: kartpix.net)
IAME MSA British Cadet Kart Championship
Jonny Edgar recovered strongly from a poor first heat result to slice through to win both finals in the usual cat and mouse lead battle. Although Dexter Patterson led the first wet final briefly, Edgar quickly established himself at the front of the first wet final to hold off challenges from Joseph Taylor and Owen Marlow.  Taylor ran up the grass on the inside after the start but recovered strongly. The second final with a dry track was more of a lottery with Taylor leading initially before Patterson came to the front.  With four laps to go, Edgar attacked with his winning move and keeps his lead in the standings over Patterson.
Final 1: 1 Jonny Edgar (Synergy); 2 Joseph Taylor (Synergy); 3 Owen Marlow (Zip); 4 Klaas Kooiker (Zip); 5 Harry Thompson (Zip)
Final 2: 1 Edgar; 2 Taylor; 3 Dexter Patterson (Zip); 4 Finlay Bunce (Zip); 5 Brandon Martland (Zip)
ABkC Junior TKM National Championship
Although Matthew Graham had been quickest in the timed qualifying with Jack Davidson just sixth it was Kristian Brierley and Graham who won honours in the heats.  Meantime Matthew Round-Garrido- second in timed qualifying – was excluded from the meeting for having ceramic axle bearings under the rule of no exotic materials. Graham's other heat was not so good so whilst Brierley lined up on pole for the first final alongside Joseph Reeves-Smith, Graham was on grid 5. But Brierley led the first lap but came off at the last corner leaving Graham to lead all the way only to be penalised a lap for gaining an unfair advantage.  Matthew Taylor had slotted into second in the opening melee, but dropped behind Ryan Edwards mid race and the pair were taken by eventual declared winner and runner up Jack Davidson and Christopher Whitton. For the second final that pair remained out front all the way, whilst Graham stormed through from the back for third.  Taylor only lasted three laps due to a broken axle whilst Reeves-Smith was given a five place penalty, dropping him to ninth.  Graham hangs onto his points lead from Matthew Taylor and Sam Fowler.
Final 1: 1 Jack Davidson (Tonykart); 2 Christopher Whitton (Tal-Ko); 3 Ryan Edwards (Tonykart); 4 Matthew Taylor (Tonykart); 5 Sam Fowler (Jade).
Final 2: 1 Davidson; 2 Whitton; 3 Matthew Graham (Jade); 4 Fowler; 5 Lewis Griffiths (Jade).
ABkC TKM Extreme National Championship
Matt England was completely dominant throughout the weekend taking a maximum score although Kyle Sproat chased him hard in both the finals.  James Ogden had been second in both heats, but when the conditions  turned drier it was Sproat who improved, leaving Ogden to settle for fourth in the first behind Al Paterson and third in the second final. Paterson did not finish the second final.  And of course England is comfortably ahead in the points table.
Final 1: 1 Matt England (Tal-Ko); 2 Kyle Sproat (Tonykart); 3 Al Paterson (Tonykart); 4 James Ogden (Tonykart); 5 Grant Edgley (Tal-Ko).
Final 2: 1 England; 2 Sproat; 3 Ogden; 4 Owain Rosser (Jade); 5 Edgley.
ABkC MiniMax National Championship
In one of the most fiercely contested classes for the 11 to 15 year olds it was William Pettit who made the early running, topping timed qualifying and winning both heats on Saturday.  Tom Wood had been close in the first one, not quite so close in the second but lined up on the front row with Keirn Jewiss and Axel Charpentier right behind.  But Pettit was late to the grid and fell away to 19th as Wood led the first lap before passing the baton to Connor McCarthy who had made the decision to use wets.  The latter kept his cool stretching out a five second lead over the slick shod Fin Kenneally and Jewiss. Bethany Abbott and Rufus Hunt made up a huge number of places for fourth and fifth using their wet weather tyres.  Pettit got back to tenth but amazingly took the lead on the first lap of the second final with an alleged jump start.  He led all the way, mostly from Tom Canning, but both were given five place penalties for gaining unfair advantages for jump starts.  Pettit unsuccessfully appealed his penalty.  That left Kenneally winning from Charpentier and Jewiss.  Jewiss hangs onto his points lead over Charpentier and Wood.
Final 1: 1 Connor McCarthy (Tonykart); 2 Fin Kenneally (Kosmic); 3 Kiern Jewiss (Tonykart); 4 Bethany Abbott (Tonykart); 5 Rufus Hunt (Tonykart).
Final 2: 1 Kenneally; 2 Axel Charpentier (Tonykart); 3 Kiern Jewiss (Tonykart); 4 Joe Turney (Tonykart); 5 Tom Wood (Tonykart).
ABkC Junior Max National Championship
Oliver York had the edge on his rivals for timed qualifying and the first heat whilst Dean MacDonald came to the front for the second heat, York only 15th.  MacDonald therefore claimed pole for the first final over Zak Fulk, Jack McCarthy and Tom Gamble.  But MacDonald had a poor start, falling well back as Fulk, McCarthy and York traded the lead.  McCarthy retrieved the lead from York with four laps to run and held the rest off for the win with Jonathan Hoggard nipping past York at the end.  Although Hoggard very briefly had the lead for the second final, except for a couple of laps in the middle when York went ahead, it was all about McCarthy and his second final win.  Scott Symons and Fulk were in a dead heat for second, the verdict given to Symons whilst MacDonald could do no better than tenth. McCarthy stays in the points lead from a steady Harrison Thomas and MacDonald.
Final 1: 1 Jack McCarthy (Tonykart); 2 Jonathan Hoggard (Tonykart); 3 Oliver York (Kosmic); 4 Scott Symons (Tonykart); 5 Zak Fulk (Tonykart).
Final 2: 1 McCarthy; 2 Symons; 3 Fulk; 4 York; 5 Hoggard.
ABkC Senior Max National Championship
Brett Ward had dominated the class leading all the way but was then excluded from the meeting for a technical non-compliance on the ignition system.  So Connor Hall and Luke Knott were awarded the heat wins, Marsh lining up on the front row for the first final alongside Ward with Gary Donnelly and Hall behind.  Ward soon took up the running in the first final heading up Marsh for the first half and Hall for the second half.  Donnelly and Knott were elevated to the podium positions.  For the second final Ward led all the way, firstly from Donnelly and then from eventual declared winner Connor Hall with Knott getting third after the exclusion.  Marsh leads the championship from Knott, Hall and Donnelly.
Final 1: 1 Connor Hall (Tonykart); 2 Gary Donnelly (Tonykart); 3 Luke Knott (Tonykart); 4 Sam Marsh (Alonso); 5 James Johnson (Tonykart)
Final 2: 1 Hall; Donnelly; 3 Knott; 4 Marsh; 5 Scott Mackrell (Kosmic)
KZ1 MSA British Kart Championship
Sam Webster and Henry Easthope shared the heat wins at the north Wales circuit, but it was Webster who scored both final wins.  The closely following Easthope could find no chink in Webster's defence whilst Adam Glear completed the podium for the first final and Scott Allen the second after beating Glear off the start.  Allen still leads the championship standings but only 6 points ahead of Easthope.
Final 1: 1 Sam Webster (ART/TM); 2 Henry Easthope (Sodi/TM); 3 Adam Glear (CRG/Maxter); 4 Scott Allen (Gold/IAME); 5 Dan Kelly (Sodi/TM).
Final 2: 1 Webster; 2 Easthope; 3 Allen; 4 Glear; 5 Kelly.