Jak Crawford Soars to Victory High in Colorado
Crawford's First Rotax Mini MAX Win was an Impressive Performance at the US Open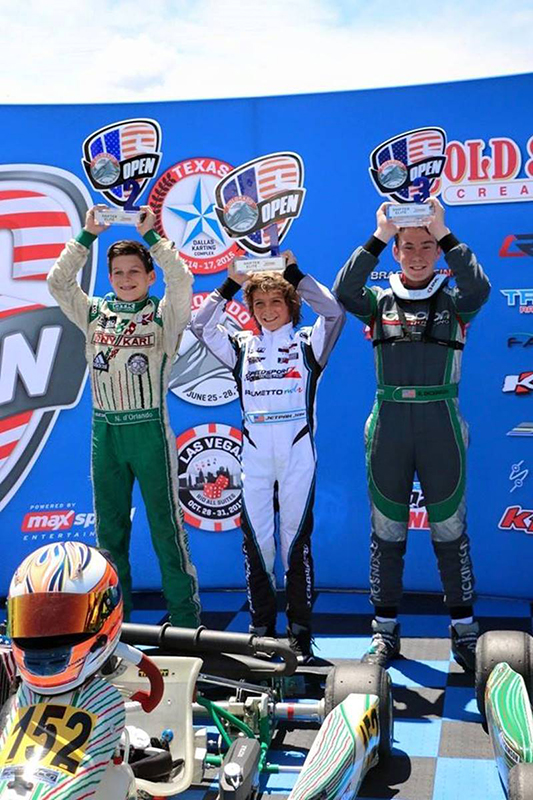 Jak Crawford is all smiles on the podium after taking the win at the second round of the US Open in Rotax Mini MAX
(Photo: Nicola Crawford)
It was decided that Jak Crawford would race the US Open series less than two weeks before the seriescommenced in Dallas, Texas in mid-May. Seems like a good, hasty decision after the recently held second event of the 2015 program in Grand Junction, Colorado with Jak now holding a Team USA ticket for the 2015 Rotax MAX Challenge Grand Finals (RMCGF) event in November in Portiamo, Portugal. Jak is also one more weekend away from receiving the same Team USA ticket for 2016 if he can hold his championship points lead thru the US Open event in Las Vegas this October.
As the Rotax Mini MAX representative from the USA at the 2015 RMCGF in Portugal, Crawford will not be able to compete on the track, the youngest classes from non-host countries are not allowed to race, but Jak will be a member of Team USA and receive the other Team benefits, including an expense paid trip for two. This is an extraordinary feat for the young kart pilot who is less than two months into his eligibility period for the Mini MAX class.
Crawford's golden ticket for Team USA was punched with an impressive win in Colorado. Most everyone knows that Jetpak Jak can wheel a kart around the track as fast as anyone, but to win in the Mini MAX class at events like the US Open, everything has to come together. The chassis was consistent again all week but the strong engine lacked speed down the long, downhill back straight when the heats began Friday afternoon. Nevertheless, in the first heat Jak was in second with three corners to go when he made a driver's mistake and finished fourth. This mistake would end up costing him the inside front row pole position for the main event.
The next day, Saturday, looked like the toughest day with three heat races scheduled. The first heat race ended in another second place finish for Crawford but when the afternoon rolled around, Jak had fixed his driving line thru the uphill esses and the engine guru had found that speed for the portion of the track where the motor was lacking. Jak would win the next two heats that day with impressive pace in both.
Winning the main event on Sunday was not as easy as Jak made it look. After arriving at the track in the morning, a long week of 100+ degree temperatures had taken a toll and Jak fell ill. Luckily, the Mini MAX main race event did not begin until 2:00pm. Without any food in his stomach, but instead a lot of liquids including Pedialyte and a few cat naps later, Jak would have a shaky warm up session. Jetpak was challenged to focus more than ever for the upcoming, long 16-lap main event in the excessive heat that would test his concentration skills, especially being ill.
The first two laps weren't perfect. His off pole start would force him to settle for fourth position out of turn one. At the top of the esses he attempted a pass for third, but instead fell back to fifth. This poor decision would force him to concentrate more and find his inner focus with a front field that has getting away. The next lap he would move into fourth and sit there for a few laps as he stalked the three leaders. He found his race pace alone in fourth and got into a rhythm. It's exactly what the doctor ordered. He picked up fast lap after fast lap and the next two drivers with two more laps. Then with still over nine laps to go, Jetpak set his sights on the leader who was approximately ten kart lengths ahead.
With six laps to go he passed the leader cleanly and Jak's rear bumper would never feel any pressure from the talented driver behind him as the race wound down without drama. It was an all-around team win, but Jak was clearly channeling an athletic champion's mentality. He was exhausted by the end. With this arms shaking he was barely able to hoist his trophy over his head and then needing help from the officials to push his kart thru the scale line. A well-deserved win was his to enjoy as he started to feel better the next day.
Jak would like to thank his fellow Rotax Mini MAX competitors as well as MAXSpeed Entertainment for hosting an event with unrivaled rewards. Jak would also like to thank the following people and sponsors for their continued support: OMP, Palmetto MDR, Speedsportz Racing Park, Alan Rudolph Racing Academy, Chris Hatfield, Precision Works Racing Engines, Rolison Performance Group, Kevin Glover Karting, and Seth Nash of Nash Motorsportz who was not present but has engineered a Mini MAX chassis setup that has stood the test of time this season with little need for change.
For more information on 'Jetpak' Jak, or to place sponsorship or calendar inquiries, please contact Nikki Crawford at nikocraw@gmail.com. Also, be sure to like 'Jetpak' Jak Crawford on his Facebook page at www.facebook.com/jetpakjakcrawford.