So Cal Oval Karters Racing July 4 at Wheel2Wheel Raceway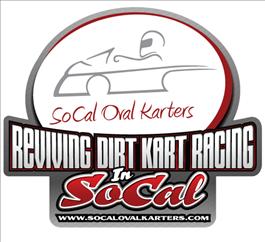 The So Cal Oval Karters club will be celebrating Independence Day on the racetrack when it journeys to John Aden's Wheel2Wheel Raceway on the San Bernardino County Fairgrounds in Victorville this Saturday, July 4th.  In addition to the stars and karts from the SCOK, the Speedway Sprints and the local Dirt Karts will also be racing and there will be a festive holiday fireworks show on the fairgrounds.
Saturday's holiday race will be the third of five trips for the So Cal Oval Karters to the High Desert track in 2015.  Thus far in the first two races on the 1/8 of a mile banked dirt oval there have been no repeat winners.  Troy Patton of Cherry Valley and Buena Park's Brody Roa have split the first two races in the KT100's.  In the F200's, Jason Morheiser of La Verne and Troy McIntosh of Lake Elsinore have the initial wins.  Bonita based racer Matt Martis and Lake Elsinore's Jason Voss have notched the victories in the first two outings in the SR 4 Cycles and Long Beach driver Chris Gibb and Camarillo's Cody Nigh have claimed winner's trophies in the first two Open Class races.
Spectator gates will open at 4:00 PM on Saturday with the first race at 5:00 PM.  For the racers, the pit gate will open at 2:00 PM.
The So Cal Oval Karters would like to thank the following sponsors who help make the series possible.  Burris Racing, Cory Kruseman Sprint Car Driving School, Hubcapmike.com, Perris Auto Speedway, Professional Announcer Chappy, R&J Motorsports, THC Home Medical Services, T-MAC Racing and Yoa Racing Engines.  If you would like to become a part of the So Cal Oval Karters 2015 season, please call or E-mail Mike Nigh at (805) 857-2595 or scokart@gmail.com.
2015 So Cal Oval Karters Winners
KT100: 3/21 Perris Raceway Rev Parker, 4/11 Wheel2Wheel Raceway Troy Patton, 5/16 Wheel2Wheel Raceway Brody Roa, 5-30 Perris Auto Speedway Road Course Rob Marion, 6-20 Perris Auto Speedway Rob Mario
F200: 3/21 Perris Raceway Matt Drottz, 4/11 Wheel2WheelRaceway Jason Morheiser, 5/16 Wheel2Wheel Raceway Troy McIntosh, 6-20 Perris Auto Speedway Troy McIntosh
SR 4 Cycle: 3/21 Perris Raceway Matt Martis, 4/11 Wheel2Wheel Raceway Matt Martis, 5/16 Wheel2Wheel Raceway Jason Voss, 5/30 Perris Auto Speedway (road course) Matt Martis, 6-20 Perris Auto Speedway Jason Voss
Open: 3/21 Perris Raceway Darren Elliott, 4/11 Wheel2Wheel Raceway Chris Gibb, 5/16 Wheel2Wheel Raceway Cody Nigh, 5-30 Perris Auto Speedway (road course) Mike Collins, 6-20 Perris Auto Speedway Cody Nigh