EKN Driver Diary: Kyle Kalish – United States Pro Kart Series Shawano
Back to his roots for Franklin Motorsports / Merlin driver, jumping aboard a Yamaha powered machine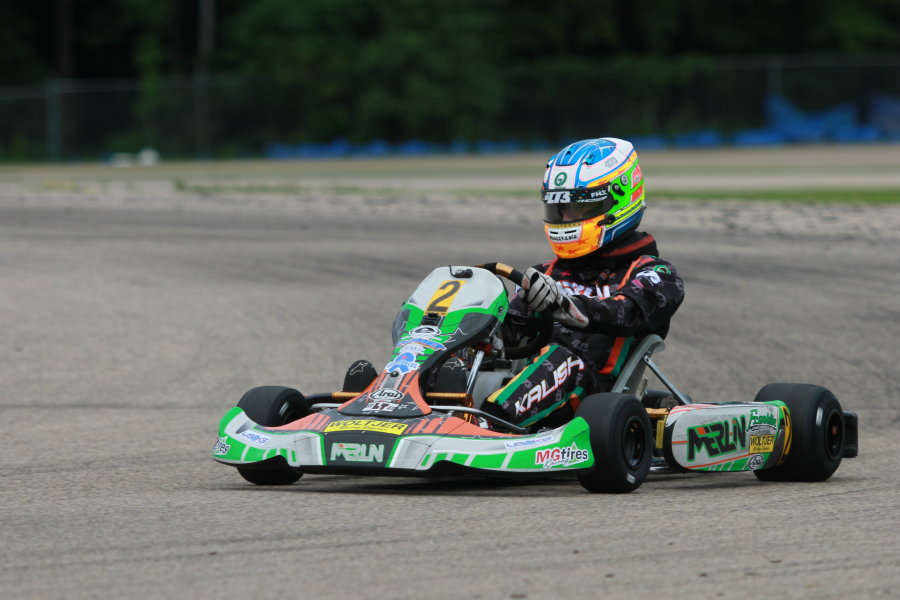 Kalish goes back to his roots, racing Yamaha at the USPKS Shawano event (Photo: EKN)
This year, Franklin Motorsports / Merlin driver Kyle Kalish is taking on a new category. The inaugural United States Pro Kart Series Leopard Pro champion is moving from one gear to six, taking on the challenge that is shifterkart racing. The 18-year-old from Wauconda, Illinois began racing when he was five, and has earned championships from club, regional and national. Throughout 2015, eKartingNews.com will give readers an inside look into the adjustments of going from a single-speed background to racing a Stock Moto at the national level, along with providing the great father/son relationship Kyle and his father Scott enjoy racing together.
For the previous installment of the Kyle Kalish Driver Diary from the SKUSA SpringNationals event, click HERE.
While this season was about my new transition to shifter racing, it was more importantly about having fun. I'll be heading off to college soon so my racing schedule will start to become smaller and smaller, so I wanted to make sure this year was a memorable one. When USPKS announced that they would be visiting the US Air Motorsports Raceway (formerly the USA International Raceway) in Shawano, I knew that it was an event that we would have to squeeze into our schedule. So after talking to my dad and to Jamie Sieracki at Franklin Motorsports, it was decided that we break out our old Yamaha and take a shot at the Yamaha 100 Pro class!
Preparation:
Since my dad works, it was my responsibility to make sure that the kart was built, prepped, and ready to go for the weekend. That all started with a Tuesday trip up to Franklin Motorsports with my teammate Brandon Lemke. I would talk more about Brandon, but I think everyone in the karting industry knows who this guy is (Editor Note: EKN Driver of the Month April 2015).
We got up to the shop and started cleaning and prepping the Merlin MR29 that I would be campaigning for the weekend. This chassis is the same model I ran all throughout juniors in the 100cc categories and if you've ever talked to me, you know how in love I am with this kart. It was a long day of getting the kart ready, seat put in and myself fitted properly and all the other little bits and pieces that needed to be done before the kart could hit the track. And even though it was a long day, we had Taylor Swift, among others, playing on Pandora at the shop. She always makes hard work go by quicker. After we finished the kart, we packed it in the trailer and headed over to the Lemke home for a night of PS4 before heading to Dousman to get a few laps in before the race weekend.
Brandon and I headed out Wednesday morning to our home track of Briggs & Stratton Raceway Park, home of Badger Kart Club. Once we got there and unloaded, I hit the track. The first session I took it pretty easy and wow, it had been awhile since the last time I was in the Yamaha! After a few sessions, I was starting to get the hang of it and by the end of the day, which we had run probably 4 or 5 sessions, I was running pretty good times for the Wednesday zero grip conditions. The biggest thing was the braking and trying to get comfortable with only a rear brake. You can't just hammer it into corners like the shifter so relearning how to be smooth and efficient under braking was pretty difficult. But overall, it was a good day and it really helped me prepare for the weekend ahead.
Sporting @eKartingNews and #minus273 with my new visor strips done up by Oktane Visual pic.twitter.com/cu1GbJvEcM

— Kyle Senna Kalish (@KyleKalish19) June 19, 2015
Friday Practice:
As we went out for the first round of the day, I knew it was going to be one crazy learning curve trying to relearn the Yamaha. I would have to go from the shifter, which is all about heavy braking and going as deep as possible, to driving a Yamaha, which is all about being smooth and keeping momentum. While I began to get the hang of things pretty quickly, that first session was pretty brutal. But because of the way the Yamaha is, every mistake I made was so obvious and dramatic that I knew exactly what I needed to fix. And throughout the day, that was how it was. I would make my mistakes, but I knew how to fix them. I was making fewer and fewer mistakes each session out there and by Round Four, I was back to feeling comfortable and wasn't questioning my driving. Once Happy Hour finished up, we were only a few tenths off the fastest time and had pretty old tires, so we felt good going into the next day of racing.
To finish out the day, Bill Lemke and I were partners in the annual USPKS Corn Hole tournament. And if you were there, you know I had some lucky shots! It was a blast and somehow, some way, Bill and I finished the tournament in 4th place. Based on my performance, I'm going to need some practice before I head off to college in the fall!
Race Day 1:
Sadly, we knew it was going to rain on Saturday, it was just a question of when and how much. We planned for the worst and hoped for the best when strapping all our stuff down! But, we did need to focus on racing at some point. Morning warm-ups went okay, but qualifying was pretty brutal. We qualified 13th but was over a second off. We made up some pace in the opening heat race, but finished 12th. Still in the dry, we realized that due to how much weight was needed on the kart and how far back the seat had to be, we had too much weight in the rear which was causing us to bind up in the rear. But thanks to the usual luck that every karter faces, by the time we went to make these changes, it had already started to rain.
We made a few changes, with the most notable inserting a stiffer axle for the second heat but it sadly started raining halfway through the race. The kart was pretty sketchy, but managed to finish seventh. With the main event being in the rain, we knew we would have a good package. I started the main mid-pack, but I started to move forward as quickly as I could. I was in the top-five, running down point leader Brandon Jarsocrak and TJ Koyen, who were 2nd and 3rd at the time by lap 7. With about two laps to go, I was able to get on their bumpers. I tried to make it as exciting as I could, which was pretty easy in the rain. Because I wasn't fighting for points, it was either 2nd or 4th for me, all or nothing. It didn't work out too well, and I had to settle for fourth. Overall, it was a solid day and a solid redemption for the struggles we were having in the morning.
Race Day 2:
After the comeback we had on Saturday, I felt good about the day. And with it being Father's Day, I wanted to give my dad some well deserved hardware in addition to the Cubs tickets I got him. We moved some weight to the front and put the stiff axle back in and we automatically saw the difference in performance that we needed in the dry. We struggled a tad bit in qualifying, but the gap had shrunk a large amount. We started 9th for both of the heats and had two decent finishes that would line us up 6th for the Final. I fell back to 7th at the start but started moving forward pretty quickly. On lap 8, I was able to slot into 3rd and had the speed to lead the race. The one thing keeping me out of the lead was my Yamaha racing, as it still wasn't up to par like my driving was. A simple racing mistake and a bad pass attempt saw me fall back to 5th and lose the draft of the lead group. I was able to catch up a little bit on the last lap but still was unable to make a pass attempt and thus, had to settle for 5th place. Luckily, my dad wasn't too upset considering it seemed like I was the only one who wanted to pass in the lead group before the final lap.
At the end of the weekend, I was able to reflect with my dad and we both concluded it was a lot of fun. Obviously I wanted to win, but coming away with two podiums was pretty great too. It was well noticed that I hadn't raced in a Yamaha kart in a while because the race craft is so much different than any other class in the world. I improved throughout the weekend and it was a good surprise for myself to see I could still run up front and as well as I did. To be honest, I need to get back to banging gears! The shifter is still so much more fun and I can't wait to race again at the SKUSA Fikse Wheels Pro Tour SummerNationals.
I would like to thank my dad for spending his Father's Day weekend with me and allowing me to run, Jamie Sieracki and Franklin Motorsports for supplying the always reliable Merlin chassis, Woltjer Racing Engines, Brandon Lemke, Minus 273, GO Designs, EMCO Chemical Distributors, and ONE Race Gear for all their continued support!