Top Kart USA Shines in Shawano
Two wins, two poles and 11 podiums in last weekend's USPKS competition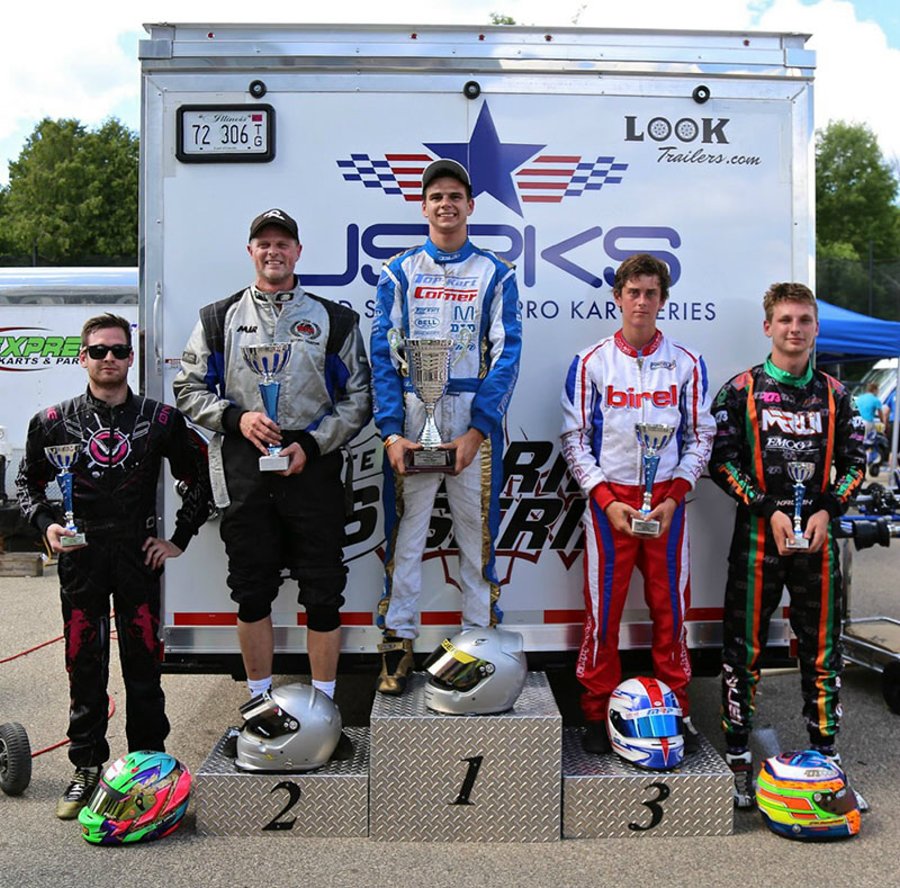 (Photo: Kathy Churchill)
Continuing a string of successful weekends, Top Kart USA brought home several trophies from rounds  three and four of the United States Pro Kart Series (USPKS), held in Shawano, Wisconsin June 19-21.
"With many great competitors challenging for the front field action this weekend, our team was a strong contender in every class," said Bill McLaughlin Sr., owner of Top Kart USA. "Several of our drivers had never been here before, and it gave them a great opportunity to learn the technical, elevated track at a quick pace. Our drivers were able to adapt to the track layout and conditions very quickly, which gave us the opportunity to pull off a couple of wins and more podiums."
In Yamaha Cadet, Jason Welage took the top step of the podium on Saturday, scoring Top Kart USA's first victory of the weekend. He piloted his blue and white kart to a fourth place finish on Sunday. Teammate Emil Schultz came back from Saturday's DNF to finish in the top-20 on Sunday.
The second of the weekend's two wins came in Yamaha Pro. After qualifying on pole for race one and finishing fifth, Dakota Pesek came back to take the win in race two. Teammate Killian Keaveny struggled in race one, coming home 18th. He fought hard and came home eighth in race two on the weekend.
"The Yamaha Pro class was one of the most competitive classes at the event, and it always has a great field of drivers," Pesek said. "Many of them are very experienced and have been around karting most of my career, some longer. It is an honor to race against these guys and a testament to our experience that we could have a completely clean race and run the full distance. Going from first to fifth and back to first within just a few short laps makes for an exciting day and all that much more worth the victory."
In Vortex Mini Rok, Jason Welage and Kaden Wharff held their own. Both were consistently fast on the weekend, with Welage taking seventh place in the first race and ninth in the second. Wharff finished 17th in race one and 12th in race two.
Owen Mahle scored back-to-back podium finishes in Yamaha Rookie, taking third on Saturday and fifth on Sunday.
In Yamaha Junior, Zach Holden also scored back-to-back podiums, finishing second on Saturday and third on Sunday.  Teammates JP Southern Jr. and Dalton Peak also had strong weekends. JP Southern Jr. finished eighth on Saturday and brought home another podium for Top Kart USA on Sunday, finishing fourth. Peak was consistent all weekend, bringing home two finishes inside the top-12. Austin Schultz and Sheldon Mills both suffered DNFs on Saturday but rallied on Sunday, each finishing inside the top-12.
"With the roller coaster of a year it has been, this event was great all the way through," said Holden. "The chassis and engine made it a smooth and fun weekend. Hard work from the team pays off, and I'm looking forward to bringing home some more podiums at the races still left in 2015!"
In Leopard 125 Pro, Jonathan Kotyk finished 14th on Saturday, improving to a 12th place finish on Sunday.
In Leopard 125 Junior, Zach Holden took pole position and two more podium finishes, finishing second on Saturday and fourth on Sunday. He was the only Top Kart USA driver in his class to finish on Saturday. On Sunday, teammates Abby McLaughlin, Connor Tebbe and Sheldon Mills fought back, each finishing in the top-14. Myles Rowe was also unable to complete the race on Sunday.
"The weather definitely played a bit of factor in the race weekend results, but we were able to keep many of our drivers in  contention for podiums and wins," said Blake Deister, co-owner of Top Kart USA. "Saturday was mostly rain and Sunday was completely sunny, so team Top Kart USA had to work hard on strategy. We made strong efforts and ended with a successful weekend overall."
About Top Kart USA – Top Kart USA is located in Indianapolis, Indiana and is a distributor for the Top Kart product line. Housing a national level race team and competing in the World Karting Association and SuperKarts! USA programs as well as throughout the regional level in the Midwest, Top Kart USA is continuing to evolve and develop Top Kart dealerships throughout the United States. Supported by Top Kart importer Grand Products, Top Kart USA is owned and operated by McLaughlin Motorsports.