EKN Driver Diary: Troy Castaneda – Asian Karting Open Championship Macau
NorCal driver receives opportunity to compete overseas in Asia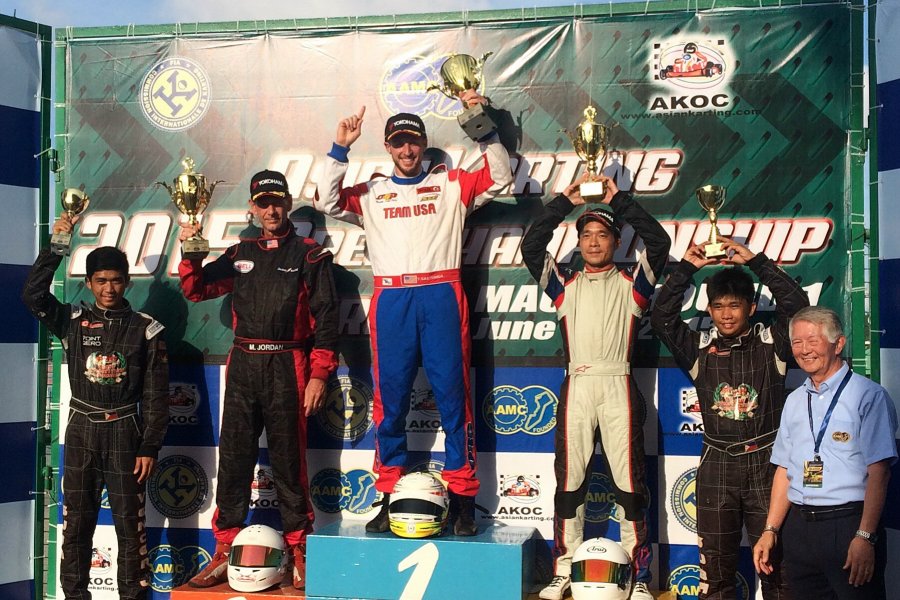 Troy Castaneda on top of the podium in Macau
Karters in the United States have dreams to race around the world. Only a few get the chance to do so, and a limited number can produce results worthy of promoting. Most of the time, drivers head east to Europe, trying to compete with or against the factory drivers and teams at the top level of the sport. Recently, NorCal native Troy Castaneda was offered the opportunity to compete at the recent Asian Karting Open Championship in Macau on June 5-7, and was able to provide eKartingNews.com with his experience racing on the other side of the Pacific Ocean.
Castaneda is a 25-year-old that has a lot of experience in kart and car racing. In 2009, Troy was among the top DD2 drivers in the United States, and earned a ticket to be part of Team USA at the Rotax Grand Finals in Egypt. Trouble in the Prefinal put Castaneda shotgun in the 34-kart field, and drove to an amazing fifth place result. He returned the following year after winning the Rotax Challenge of the Americas championship, performing as one of the top drivers at the world Rotax championships in Italy. Unfortunately, issues in the Prefinal relegated him down the order once again, placing 23rd in the Final. Since, Castaneda has competed in car and open wheel events around the globe, including a stint in the Indy Lights series back in 2012. Today, he is focused on expanding his career as a model and actor while keeping busy coaching and instructing in racing and the flying trapeze.
Recently I received a message from a Filipino based karting team asking if I was going to be available and interested to race in the opening round of the Asian Karting Open Championship that would be held in Macau.  As soon as I read the request, I was immediately overjoyed at the opportunity, but then a bit of uncertainty and hesitancy filled my body.  It has been 7 months since I last touched the steering wheel of any racing vehicle.  Not only that, but this also meant that I would have to start beating my head against a wall, aka 'cold calling to find sponsorship'.  I've been involved in racing for 10 years, started out in karts in Sonoma Raceway and worked my way up into Indy Lights.  I haven't been behind the wheel consistently since 2012 and not because of lack of will or effort, by any means.
The last time I raced was in November of 2014, which is what led me to race in Macau this last weekend.  I was invited to compete in the final round of the Asian Karting Open Championship near Manila in the Philippines.  I was invited through a friend that I met and coached for a couple years after I began karting, who I remained in contact with.  During my week in the Philippines, I made many great new friends and was able to come away with a second place finish.  This was my first time back in a kart in two years.
I contemplated for a couple days whether I wanted to jump head first into this again and, in the end, my passion decided for me and thus I was completely focused to race in Macau.  At this same time, I was moving apartments in Los Angeles and on my final trip to drop everything off, at approximately 2:30 am Friday morning, I left LA to head north as my flight was leaving out of San Francisco on Saturday.  As there are no direct flights to Macau, I flew to Hong Kong and after the 14-hour flight, I took a train to my hotel where I would stay for the next couple days before taking the ferry to the island of Macau.  Over the next couple days in Hong Kong, I took some time to take in the sights, but also was focused on progressing my modeling career.  Through out the 8-hour inner city hike, I was able to stop by and check out a handful of agencies, one of which accepted me for representation – something I am extremely thankful and excited for!  No matter what it is, I'm always looking to progress and I've been getting more into modeling over the last year as not only a way to hopefully make some money, but also increase my exposure and marketing presence for potential sponsorships and partnerships.  So with this new agency in Hong Kong, if something starts to come together in Asia, I could stay in Hong Kong and continue modeling as my racing career also continues to progress.
Wednesday morning was upon me before I knew it and was on a train heading back into the center of Hong Kong to the Ferry Terminal.  Within 30 minutes of my arrival, I was on a 2-hour ferry headed to Macau.  With the Hong Kong skyline slowly fading into the cloudy horizon, I arrived at the island in the early afternoon and hopped on a bus for a hotel that was near to mine.  Once I finally made it to the hotel, I checked in, grabbed my first meal of the day and eagerly took a taxi to the track.  Waiting for me was my mechanic, who was assembling my kart, as well as many of the other Filipino mechanics who I had met when I raced in Carmona (Philippines) in late November.  This was the first time since that race I had touched and even seen a kart.  The greeting I received open armed and although there was a huge language barrier, the smiles on everyone's faces was enough.  No testing was allowed Wednesday or Thursday, so I took the time to walk the track and re-introduce myself to the kart and learn about the Vortex KZ engine. This would also be only my second shifter race to date and my first ever time at the facility.  I anxiously awaited Friday morning's first practice.
Clear skies and blazing hot sun beating down through the 80% humidity were the conditions when it was time to suit up.  I wish I could describe the feeling I had coursing through my body while out on track.  It really was being one with the kart; slowly increasing cornering speed, braking later on that final bit of tracking, rotating the kart with just the right amount of slip angle to set up for the exit of the corner as you slowly roll on to the throttle without spinning the rear tires, up shifting all the way down the straight before just lifting to take next high speed right, the undulations of the track adding grip to the kart then taking it away with on off camber right hand hairpin.  Pushing the limit every corner, every lap, searching for that perfect line and speed.  At the end of Friday practice, I had made my mark as a true competitor for the weekend, consistently being one of the fastest drivers.
Saturday was another day of practice only, with 3 ten-minute sessions.  The Kartodromo de Macau (Colane Karting Track) has quickly and easily become one of my favorite karting tracks of all time.  Aside from having a mechanic, I also had the opportunity with a driver coach.  One of the most interesting things was communicating between all of us, trying to explain what the chassis was doing, what I wanted it to do, what they saw and what we needed to do to move forward.  The language barrier at times was difficult, but in the end we were able to communicate enough to get the point across.  My driver coach was able to speak quite a bit of English, but the mechanic was not so there would be two conversations happening almost all the time.  Along with listening and pretending to understand Tagalog, in the background over the loudspeaker would be a strongly accented English speaking Chinese woman switching back and forth to Cantonese calling the next group to the grid.  I have never been one to feel lost in other languages in the sense of because I don't know it, I feel out of my element.  For me, it is quite the opposite and only enhanced and motivated me even more.  It was a constant reminder of where I was, halfway around the world doing what I love.
After a full day of testing, becoming more acclimated to the track and the kart, I was ready for race day.  As soon as I stepped off the bus, Sunday morning at the track, I soon realized it would be the hottest day I had experienced while in Macau.  My body already becoming a little sore as no matter how in shape you are, or think you are, racing will always work you in ways you could never train.  My nerves and excitement are slowly building as the clock ticks down for qualifying.  We make a small tweak after morning warm up to get everything perfect.  I let the field of karts out of the grid before I calmly entered the track, giving myself space for some clear laps.  Within the first flying lap, I feel the change we made may not have been in favor of chassis performance.  I keep my head down and continue getting quicker.  I drop three tenths on the next lap and at the same time I catch traffic.  I make a pass in the inside of the fast right left uphill sweeper, hoping not to lose any time.  I cross the finish line and lost half a second that lap.  I decide I don't want to use anymore tire and pull into the pits which ends my qualifying run as there are no hot pits.  When the results came in, I had qualified 2nd, less than one-tenth off the pole position time.  Our group was combined in two classes, all KZ, but the difference were tires. We ran on Yokohoma tires while the other class ran on a Vega tire compound.  Out of the whole group, I would be starting the 15-lap Prefinal in 6th.  After changing back the setup to where it was previously, it was going to be down to my driving.  I put in my headphones and waited until it was time for the Prefinal.
Having not been in a race in almost a year, I was anxious to get going.  After the warm-up lap we filed in line for a rolling start.  The lights went out and off we went!  The driver in front of me missed a shift or just bogged, which caused me to make a little contact with him, but I avoided a bigger shunt by quickly darting right, around the outside of him for the almost flat out turn one.  At the exit of turn 1, I was 4th overall and 1st in class.  As we headed down the long straight I was hot on the heels of 3rd and made the dive into the hard braking right hand hairpin to overtake for 3rd.  I held the position for the next couple laps before the tire advantage took over and I was relinquished of the 3rd position.  As my tires came up to temp, I found the kart almost unmanageable to drive.  I was missing apexes, oversteering through the entry and middle of the corner.  Sure enough, 2nd place was on my bumper.  I couldn't get it together, my driving just wasn't there, something was off and in the left hand, 3rd gear left hander, he dove to the inside.  I wasn't going to give the position up without a fight and hung on around the outside.  On the exit of the corner, the other driver got a bit excited and, in a lower gear, throttled out hard which caused the rear tires to spin and the kart to oversteer into my kart.  From my left rear tire, along the side pod to the left front tire and just over my braking foot, he did a complete 180 spin.  Still rolling, I downshifted, dropped my right two tires in the grass to swerve around and throttled out maintaining first place in class and 4th overall.  I continued the rest of the 7 laps with a bent steering shaft which didn't seem to affect my already slower than normal times.
After the race, I had a chat with my driver coach.  I was completely overdriving.  I was so anxious, excited, happy, focused, self pressured to perform, I almost drove myself to a DNF.  The break between Prefinal and final felt like eternity, plenty of time to over-think what I did and what I was going to do.
The grid is set and so is my mind.  Starting fourth overall, I'm again on the outside for turn 1.  As soon as the green flag drops, I waste no time to make my point clear.  I give a little assist to the driver and front of my and we train through turn 1 together into first and second overall respectively.  I dive into the inside for turn 2 and take over the lead.  I am only there for a handful of laps before the softer, gripper Vega tires build up enough heat and more traction.  I make a small fight against them as they pass, but I don't want to risk getting taken out by someone in a different class.  I had already proved what everyone thought wouldn't be possible by leading both classes in an inferior tire compound.  The Final was the best session I had all week and that indescribable feeling was coursing through me.  I was focused, relaxed, consistent and fast, setting one of my fastest laps of the weekend on my last lap.
I had won!
I had traveled 7,000 miles using almost every form of transportation available, hopped back into a kart for the first time in 7 months and won.  I could not wipe the smile off my face.  The satisfaction, the knowing that this is my true passion, the experience of two of my favorite things; traveling and racing.  I built great friendships over this weekend as well.  I learned some Tagalog, Cantonese and had the opportunity to do all of it in a new place I had never visited before.
I am so thankful and grateful for all of this.  I continued to learn so much over my travels and gained some great new perspective.  Special thanks to my driver coach Papa Elson and my mechanic Jesse Nonu.  Thank you to everyone at AKOC and AAMC for such great hospitality and welcoming me into the Championship.
While I was in Macau, I had the chance to talk about the rest of the racing season.  I was informed that at the end of the year, in December, there will be the final round once again taking place in Macau.  This is something I have never heard of, but the Macau government actually owns the track and encourages more racers to join.  Each driver to join this race will be given a subsidy as well as hotel accommodations.  This is an amazing deal and if you've been involved in karting for several years, you will know this completely unheard of.  I encourage everyone to check it out and feel free to contact me with any questions.  I can help organize things with the series and the team.
As quickly as the podium ceremony seemed to have finished, I was already back in Los Angeles arriving at 3am Monday morning after a 6 hour drive from Sacramento.  The hustle never stops, back to castings and the hunt to get back into a seat ASAP. To find out more about me, check out my Facebook, Twitter, and Instagram accounts or visit troycastaneda.com.