Two Wheels to Four: Driver of Week, Ben Stroud Shifts from Motocross to Karting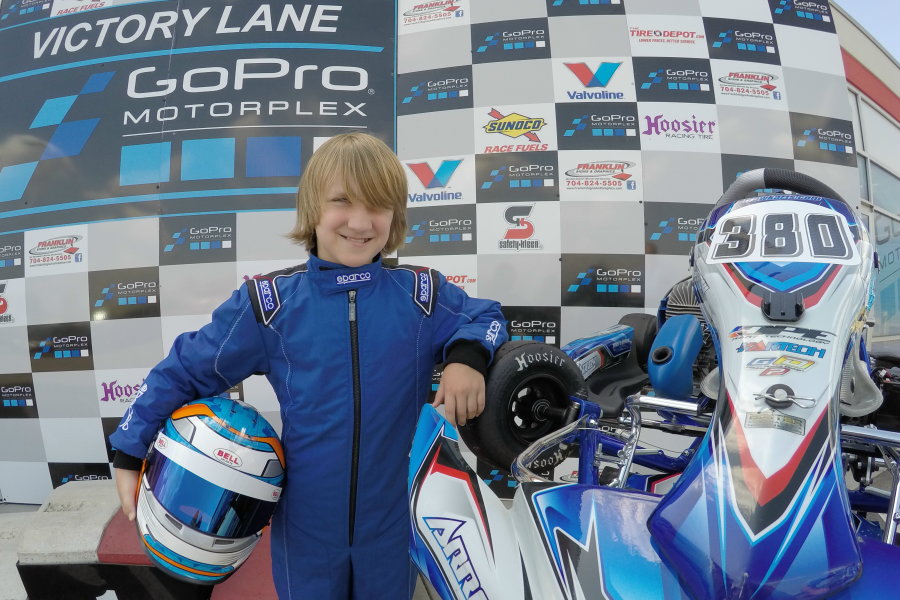 Ben Stroud
GoPro Motorplex Karting Challenge Presented by Hoosier Racing Tire Driver of the Week, Ben Stroud is a karting rookie, participating in his first year in the HMS Motorsports IAME Mini Swift division. However, Ben is no stranger to driving fast or high levels of competition, but his experience comes on two wheels, not four.
Ben has over 3 years of experience racing motocross. Just last February, he competed in the KTM Jr Supercross Challenge in conjunction with the Dallas Supercross event attended by nearly 30,000 fans. He was one of 14 motocross riders chosen to compete based on good grades in school and his racing resume. However, that was his last real motocross race. The following Christmas, Ben asked Santa for a kart and his request was granted.
Although, he tenderly admits the driving styles from motocross to karting as well as the environment in general are completely different, Ben has fallen in love with karting. In just a five short months, he has made tons of new friends at the track, shaved nearly a second off of his lap times and is adamantly recruiting his friends (more so, their parents) to the sport of karting.
We sat down with Ben as Driver of the Week to see how he is adjusting to racing on four wheels in his first year karting:

Fast Facts:
Name: Ben Stroud
Birthday: October 13
Age: 9
Hometown: Cornelius, NC
School: Fourth Grader at Cornelius Elementary
Hobbies/Interests: Football, RC Cars and playing with his dogs
Favorite Food: Sushi
Years Racing: First-year karting, 3 years prior experience in motocross
Chassis/Engine: Arrow X4, IAME Mini Swift

Q&A:
Q: What do you want to be when you grow up?
A: I think a veterinarian or a Formula 1 driver.
Q: Who are your biggest fans at the track?
A: Definitely my mom and dad. My aunt and grandma come to watch me too. They tell me to "go fast!"
Q: How did you get started motocross racing?
A: When I was six, Santa brought me a motorcycle for Christmas and after a few months I didn't want to just ride it around the yard anymore. I wanted to race.
Q: So, how was racing at the Dallas Supercross? Were you nervous?
A: We raced on the same track as the professional riders and there were really big 'whoops' and I was kind of nervous. But, I got to meet some of my favorite riders.
Q: Then how did you get involved with karting?
A: My friend's dad brought me to GoPro Motorplex because he knew some people that worked here. I was racing a lot at a few of the indoor rental kart places and I did the Junior Rentals when you had them here. I saw other kids racing their own karts while I was here and I wanted one, so I asked Santa.
Q: How did you decide on the IAME Mini Swift Division
A: (Dad helped answer this one): Since we were coming from motorcycles, we skipped the Briggs Division and John, Eric and Brandon at KartSport kart shop helped us get Ben settled into a new kart and advised us on the best division. It definitely has been a good choice and fits the bill for Ben wanting to go fast.
Q: How does karting compare to motocross?
A: It's a lot of fun and I think I go faster in karting. I don't really miss anything about motocross. Well, I did already get my kart airborne in a practice session (laughs). I also like the starts in karting. I didn't like the start gates in motocross.
Q: What do you like most about GoPro Motorplex?
A: I like all of the friends I have met while racing here.

Q: What is your biggest accomplishment in karting so far?
A: Last week, I got my best lap time ever. I got a 54.950s lap and I had been running in the 55's. That's closer to what the leaders are running.

Q: What do you hope to accomplish in karting this year?
A:  I'm working on racing together in a group and drafting. In motocross, you have to pass them and get away from them. So, it's hard to get used to riding together in a group.
Q: What would you tell other kids who are thinking about starting in karting?
A: You can go really fast and have fun!
NEXT UP: Round 5, Saturday, June 27:
Round 5 of our 10-round club series will be on June 27. Round 5 will feature 10 professional karting divisions, as well as the Rental Kart division. Each segment of the Karting Challenge consists of two practice sessions, qualifying and two finals per division. The race day starts at 8:30 a.m. and Spectator Admission is free! Competitors can pre-register in advance at a discounted rate on MotorsportReg.com. For more information on the Karting Challenge series, CLICK HERE>> (http://www.gopromotorplex.com/racing/default.cfm?cid=56753)
2015 Driver of the Week Program:
The Driver of the Week program is new for the 2015 Karting Challenge Presented by Hoosier Racing Tire. The goal of this program is to spotlight our club series karters each week leading up to a Karting Challenge race. Each "Driver of the Week" will be chosen at random by blind draw from Driver Bio forms that are returned. Each "Driver of the Week" will represent one of our 10 divisions. Competitors can click here to complete a Driver Bio Form>> (http://www.gopromotorplex.com/assets/Driverbioform.pdf)