Tough Weekend for Nicholas d'Orlando at United States Pro Kart Series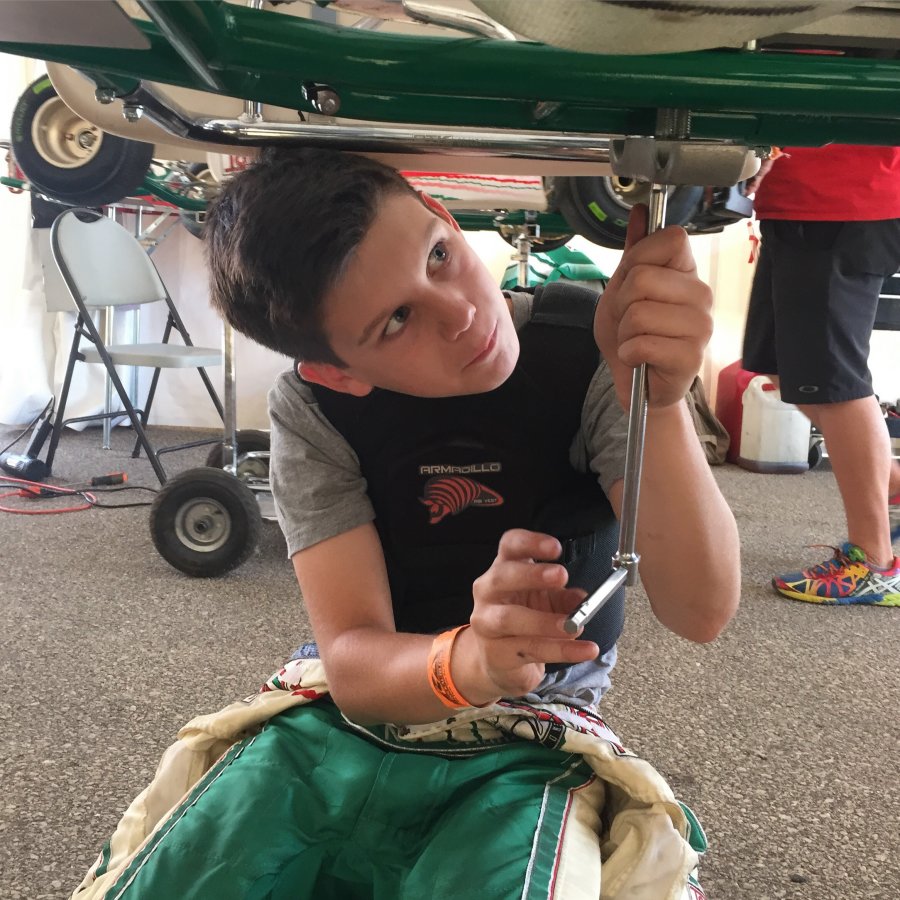 Nicholas d'Orlando
It was a challenging race weekend for Nicholas d'Orlando at the United States Pro Karting Series in Shawano, WI with its share of ups and downs.   Heading into the weekend as the series leader in the MiniRok Cadet class, with no previous experience at US Air Motorsports and limited track time for the single practice day, Nicholas would take on a tough field of MiniRok drivers with more experience at one of the most technical tracks in the country.
Saturday's round three action started out strong for Nicholas as he was top-10 in qualifying and heat's.  After starting in the seventh spot, Nicholas worked his way back up the field to finish second in the main event for Saturday's USPKS MiniRok race. But the celebration was short lived unfortunately when a failed post-race technical inspection for a spark plug removed him from the official results.
"It was a battle all day," said Nicholas. "Through qualifying and heats it was tough as we made some adjustments to my kart for the final. I had a good kart and worked my way from seventh spot to finish second. Then to find out we were disqualified after post-race tech is very frustrating."
After the team's efforts to protest the notification of changes in regulations from one race in the series to the next, and the cause of the technical infraction, was declined, Nicholas regained focus for Sunday's battle.
Sunday's round four action saw Nicholas drive hard all day but unfortunately didn't get the results he was looking for. He qualified third but in heat one an incident sent him down the order forcing him to fight back just to finish 14th.  Heat two was shortened to a sprint of six-laps due to timing constraints on the day, and he finished third.  He would regroup and start sixth for the shortened 12-lap final holding on to that position to finish in sixth spot for the day.
"Sunday did not start out well," said Nicholas. "I was running third in heat race one when I got hit going into the corner spinning me out.  We tried everything we could for the final but it just wasn't there for us today.  The weekend's results were not the finishes I was looking for and we lost ground on points but that's racing and we will get them next time."
The next race for Nicholas, and team KoeneUSA, will be the round two of the Rotax US Open on June 26th-28th where he will head to Grand Junction Motor Speedway in Grand Junction, CO.
DRC would like to give special thanks to their supporters and sponsors at Iona Preparatory School, Kool Nerd Clothing, adidas Motorsport and Focused Project Management. A special thanks to their race team of KoeneUSA, especially Mike Maurini  & Martijn Koene, , and DRC's Adam Johnson, for their continued hard work and support.
d'Orlando Racing Corp.
For more information on Michael or Nicholas d'Orlando, please visit www.dorlandoracing.com. Be sure to follow Michael and Nicholas on Facebook (Michael d'Orlando Racing or Nicholas d'Orlando Racing), Twitter (@dorlandoracing) and Instagram (@dorlandoracing) to stay up to date on news, information, photos and results.