#OperationGrassroots – Briggs LO206 Racer Jadyn Daniels
Young North Carolina girl shows dedication to passion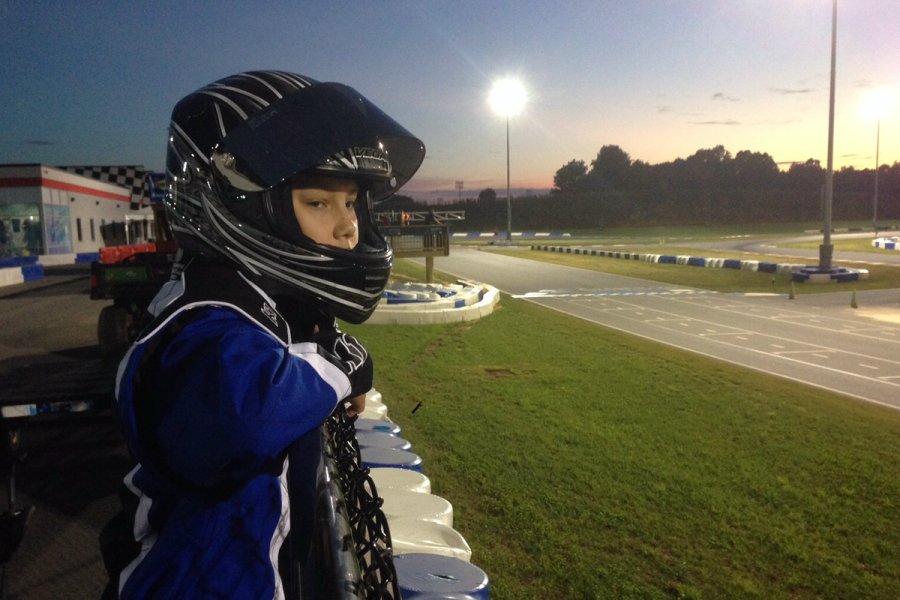 Jayden Daniels
It's not every day that you hear of a young kid doing extra chores, odd jobs for neighbors, and selling their own personal items, all to buy their own race kart.  In a time where most kids would rather watch TV, play video games, or text their friends on their iPhones, hearing news of a 10-year-old girl putting in the work and pawning off personal possessions to chase a dream is extremely refreshing. But that's exactly what a young driver out of Concord, NC did to get what she wanted.  Meet Jadyn Marie Daniels.  This young fifth grader put in the time and effort, saved up her money, and purchased her own used kart, an Arrow AX-9 powered by a Briggs LO206 four-cycle engine, to compete in the LO206 Cadet class at GoPro Motorplex in Mooresville, NC.  This is one of those feel-good stories that makes you proud to be a karter.
Jadyn was born on January 8, 2004 in Charlotte, NC, but now resides in Concord, NC (right near the famed Charlotte Motor Speedway) with her father Jeff and mother Jessica, along with her three dogs, two cats and a hamster. It's a full house, for sure.  Daniels is in the fifth grade at Carl A. Furr Elementary, where she is a consistent honor student, with her favorite subject being math.  When she's not at the racetrack or constantly thinking about racing, she enjoys roller skating, gymnastics, drawing and running.  She didn't start out in racing, although it's all she's talked about since she was a little girl.  Jadyn played some club soccer because she loves to run, did a little gymnastics that she picked up quickly and some baseball with a boys team, because let's face it, what girl doesn't like to excel at a typical men's sport.  She was forced to choose one sport due to the high cost and, of course, she chose karting!
This is not your typical case of karting being pushed onto a child, or of a family being able to quickly 'tool up' to go racing when their child decided they'd like to 'try it'.  Jadyn didn't go beg Mom and Dad for money to race, she went out and earned it herself.  To buy her first kart, she did chores and yard work, not only at her house, but at other family members' houses as well.  She sold her Nintendo and Nintendo DS, and asked her parents to take the money they we're spending on her other sports to put it into her karting.  Once she had accumulated the money she needed, Jadyn bought herself a used Arrow AX-9 chassis from Kartsport North America and is now running the LO206 Cadet class at the GoPro Motorplex, where she's already putting herself on the podium.  Now she originally wanted to race Bandaleros, being that she is in the NASCAR capital of the world, but the associated costs were a little too high.  So her parents took her out to the new kart track in Mooresville, where she ran a rental kart and fell in love.  She loved how she let take out some of her aggression by making a great pass and, of course, being a girl in a male-dominated sport…beating the boys!
We asked her parents how they feel about what Jadyn did to raise the money, how she's progressed, and how they enjoy the sport as a family.
"We are very proud of Jadyn," confirmed Jeff and Jessica Daniels. "It's difficult for adults, let alone eleven-year-olds, to follow through with their goals no matter how big or small. It's very rewarding to see her learning valuable life lessons at such a young age.  As for her progress, it's far beyond what we expected!  She is learning very quickly, and after five rounds of the Karting Challenge at GoPro Motorplex, things are starting to 'click' for her as a driver. She's telling us what she needs done on the kart, and we feel she just may grab that elusive first win soon!"
"Our family life has really changed since karting, and we now spend our weekends practicing and preparing for the next big event," Jeff continued.  "Nothing is more rewarding than being a racing family. It's hard work and sometimes that means we do without other frivolous fun activities so that we can put our extra money into karting.  It's truly a team effort for me, my wife and Jadyn; and we love every minute of it.  I'd say that we have fully committed to helping Jadyn chase her dreams. We know we are creating memories for us all that will last a lifetime."
Since the season started for the Karting Challenge at GoPro Motorplex, Jadyn has had numerous top-five finishes in heat races and a couple thirds, which have landed her on the podium.  As well as logging solid finishes, each week, her lap times are getting quicker and quicker. The learning curve is steep and she is meeting every new challenge.
Since no one in her family has raced before, Jadyn's racing heroes are Jeff Gordon and Chase Elliott.  True to form, her aspirations are to become a professional racecar driver and to be the first girl to win the Daytona 500.  What else does she think about when she's not racing? More racing, of course!  After we heard some words people chose to describe her, which included 'competitive, active, fun, a thrill seeker and compassionate', there's no doubt that the sky is the limit for this aspiring young female driver.