Manitoba Karting Association – Race #3 Report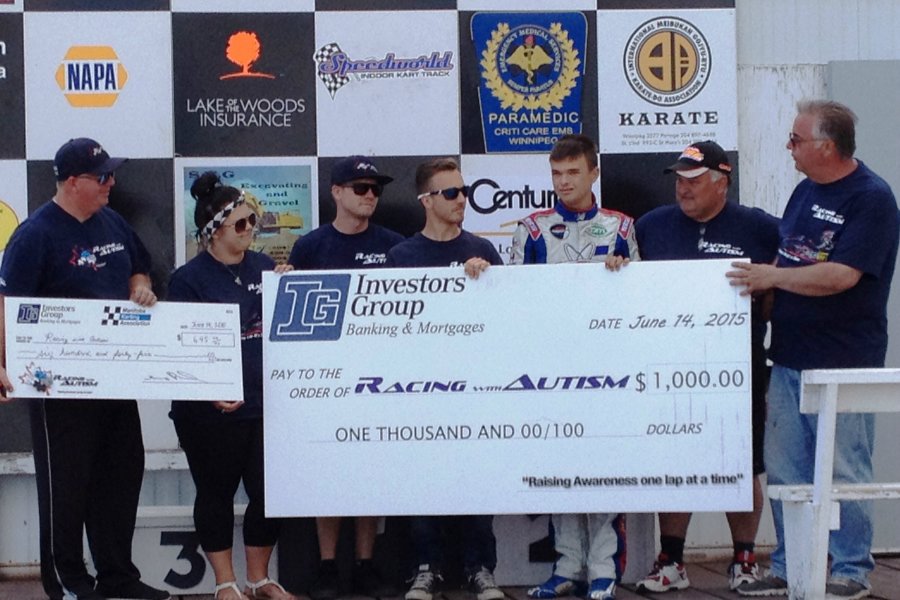 The weather was hot and sunny for Race 3 of the Manitoba Karting Championship at Gimli Motorsport Park. The sponsor for Race 3 was the Investors Group.  The Manitoba Karting Association hosted some special guests this weekend. Austin Riley with his family and race team made a stop on their Racing with Autism Tour. The Manitoba Karting Association and Investors Group managed to raise approximately   $ 1600 for Racing with Autism. You can find more details on Austin Riley at http://racingwithautism.com/
Highlights of Race # 3
Junior 1 Briggs was won by Ethan Clace with Josh Gill 2nd. Junior 2 Briggs was won by Jaedin Wright with Max Jarry 2nd.
Senior Briggs class just gets bigger every race with more entries and Travis MacDonald had pole position for the Final.  By lap 9 John Buzza got by Travis to take the lead.  Behind Travis P3 –P7 were fighting for the last podium spot. At the finish it was John 1st, Travis 2nd and Cole Manning on the last lap getting 3rd.
Micro Max had Mandy Veselinovich on pole and Brad Bachalo got by on lap 1 to take the lead. Silas Gershman moved up through the field to get by Mandy on lap 8. At the finish it was Brad 1st, Silas 2nd and Mandy 3rd.
In Mini Max Curtis Veselinovich had pole position and he lead start to finish. Behind Curtis, Rylan Despins and Logan McDonald fought over second place. By the chequer flag Curtis won but the photo finish for 2nd place went to Rylan with Logan 3rd.
Junior Rotax had Stephen Bachalo on pole and he lead up to lap 5 when Victoria Stutsky took over.  Stephen regained the lead on lap 20 and held on to win with Victoria 2nd and Bryson McDonald 3rd.
Senior Rotax had Garrett Gulenchyn on pole and he lead until he retired on lap 19. Tristan Merke took over the lead to win with Morgan McDonald 2nd and Jeff Fulham 3rd.
The DD2 Rotax class had Austin Riley joining in on his Racing with Autism Tour. John Buzza had pole position and John took off with Austin right on his rear bumper throughout the race. At the finish it was John 1st, Austin 2nd and Jordan Brown 3rd.
Next race is Sunday June 28 at Gimli Motorsport Park. For more information on the MKA, visit http://www.manitobakarting.ca
Race # 3 Results:
Junior 1 Briggs
1st # 30 Ethan Clace
2nd # 4 Josh Gill
Junior 2 Briggs
1st # 7 Jaedin Wright
2nd # 11 Max Jarry
Senior Briggs
1st # 715 John Buzza
2nd # 97 Travis MacDonald
3rd # 927 Cole Manning
Micro Max
1st # 87 Brad Bachalo
2nd # 03 Silas Gershman
3rd # 77 Mandy Veselinovich
Mini Max
1st # 99 Curtis Veselinovich
2nd # 181 Rylan Despins
3rd # 114 Logan McDonald
Junior Rotax
1st # 67 Stephen Bachalo
2nd # 288 Victoria Stutsky
3rd # 218 Bryson McDonald
Senior Rotax
1st # 366 Tristan Merke
2nd # 391 Morgan McDonald
3rd # 331 Jeff Fulham
DD2 Rotax
1st # 414 John Buzza
2nd # 420 Austin Riley
3rd # 25 Jordan Brown