A Podium Finish for Michael d'Orlando at the United States Pro Kart Series in Shawano, WI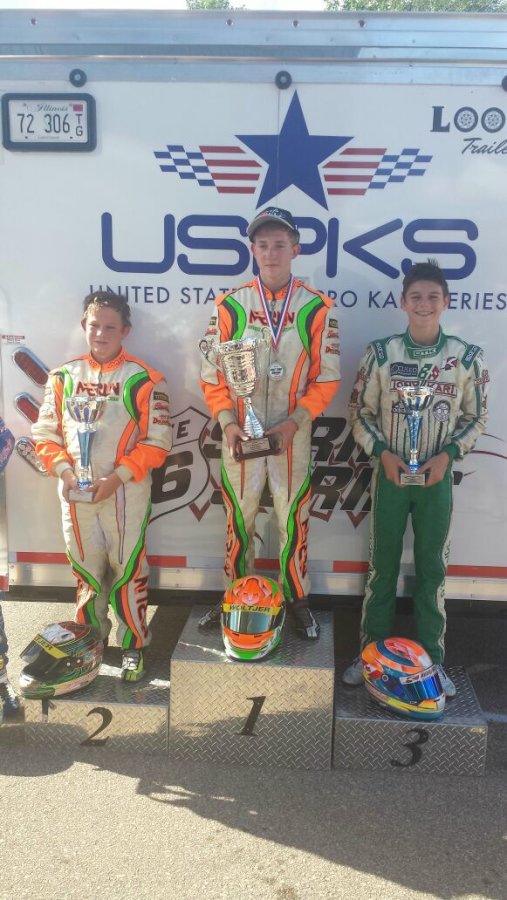 It wasn't easy for Michael d'Orlando as he brought home his first podium finish in the junior ranks at US Air Motorsports in Shawano, WI this weekend. Overcoming a non-qualifying time on Saturday and a flat tire in the heat races on Sunday, Michael finished off rounds three & four of the USPKS series in the Junior Leopard class with a fifth and third place result.
With no previous experience at US Air Motorsports and only one day of practice with limited laps on Friday, Saturday's round three of the United States Pro Karting Series (USPKS) kicked off with a little bad luck for Michael after an incident in qualifying prevented him to post a time and forcing him to start both heat races from the tail of the field.   He fought back throughout the days heat races and finished the final with an impressive fifth place result after starting 11th on the grid.
"I was proud of the fifth place finish on Saturday," said Michael. "I kept focused and tried not to let the issue in qualifying bother me. This is a very tough Leopard Junior class, and it's even tougher with getting limited track time compared to some of my competition.  I feel more and more confident and it showed in Saturday's final. To end up fifth, I was proud of that finish."
Sunday's round four action saw Michael yet again overcome adversity as he earned his first top 3 finish in the junior ranks. Bad luck would show its ugly head with a flat tire in heat 2. That would not discourage Michael as he had a great drive in the final coming from the ninth starting spot to finish in third.
"My goal was to finish in the top-three in this weekend's Junior Leopard class", said Michael. "I did that. This was a big step. I scratched and clawed my way back yet again. I didn't give up and it feels good to be on the podium but it will feel even better when I get back to victory lane. It was a great weekend and I am looking forward to next weekend in Grand Junction, CO."
The next race for Michael and his race team KoeneUSA, will be round two of the Rotax US Open on June 26th-28th at Grand Junction Motor Speedway in Grand Junction, CO.
DRC would like to give special thanks to their supporters and sponsors at Iona Preparatory School, Kool Nerd Clothing, adidas Motorsport and Focused Project Management. A special thanks to their race team of KoeneUSA, especially Mike Maurini, Martijn Koene & Jesse Dunham, and DRC's Adam Johnson, for their continued hard work and support.
d'Orlando Racing Corp.
For more information on Michael d'Orlando, please visit www.dorlandoracing.com.  Be sure to follow us on Facebook at 'Michael d'Orlando Racing', Twitter (@dorlandoracing) and Instagram (@dorlandoracing) to stay up to date on news, information, photos and results.