Decisive Races in Brandon for the European CIK-FIA KF and KFJ Championship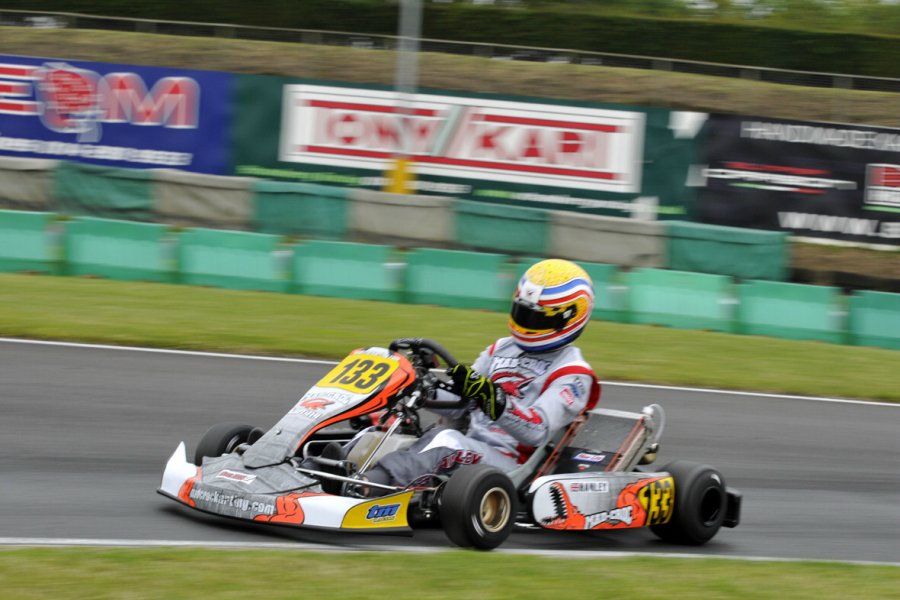 Ben Hanley (Photo: Press.net Images)
Everything must be perfect if you aim at becoming a motorsport champion, and all the 108 drivers taking part in the second round of the CIK-FIA European KF & KFJ Championship arrived in Brandon (GB) with this intention. Today, the British facility hosted the Qualifying Heats of the event and all top names of international karting have realized how tough it is to fend off the attacks of the underdogs.  The official teams are providing excellent assistance to their drivers and the race towards the title is getting more and more uncertain. Both the titles will be awarded in the last round of the Championship in Kristianstad, in Sweden, next 26th July. This is a further reason to follow the live streaming provided by the official websites www.cikfia.tv and www.cikfiachampionship.com. The recap of the weekend will be broadcast next week by Motors TV.
Verschoor threatens Hanley in KF
After yesterday's fastest time, the Dutch Richard Verschoor (Exprit-Vortex-Vega) confirms to be the most dangerous rival for the current leader of the Championship, Ben Hanley (Croc-TM-Vega). The Brit won three heats today, as well as Verschoor. The Prefinal is going to be absolutely gripping, with the two leaders filling the slots of the front row. Hanley is the pole-sitter, giving that he scored a second place as fourth result. Second row for the Spanish Pedro Hiltbrand (CRG-Parilla-Vega) and the Russian Alex Vartanyan (Tony Kart-Vortex-Vega), winners of a heat each. The Danish Nicklas Nielsen (Tony Kart-Vortex-Vega) spoilt his excellent performance (he won two heats) with a retirement in the last race of the day. This issue made him drop back to the fifth row.
Lindh grabs the  pole in KF Junior
Today's ten Heats had seven different winners. It is a further proof of how uncertain and thrilling this category is. Thanks to his three successes, the Swedish Rasmus Lindh (Ricciardo-Parilla-LeCont) will be the pole-sitter of the Prefinal. Next to him the British Clement Novalak, ahead of the Indonesian  Presley Martono (both on Tony Kart-Vortex-LeCont). The second row is completed by the Spanish Marta Garcia Lopez (FA Kart-T-LeCont): these last three drivers scored a victory each today. Third row for the Danish Christian Lundgaard (Tony Kart-Vortex-LeCont): he won twice, but did not perform well in the remaining two heats he took part in. The other winners of the day, with a success each, were the Danish Noah Watt and the Chinese Sun Yueyang (both on FA Kart-Vortex-LeCont). Tomorrow, the temperature on track is going to be high, but it is not going to be because of the weather.