Brandon Hosts the European CIK-FIA Championship for KF & KFJ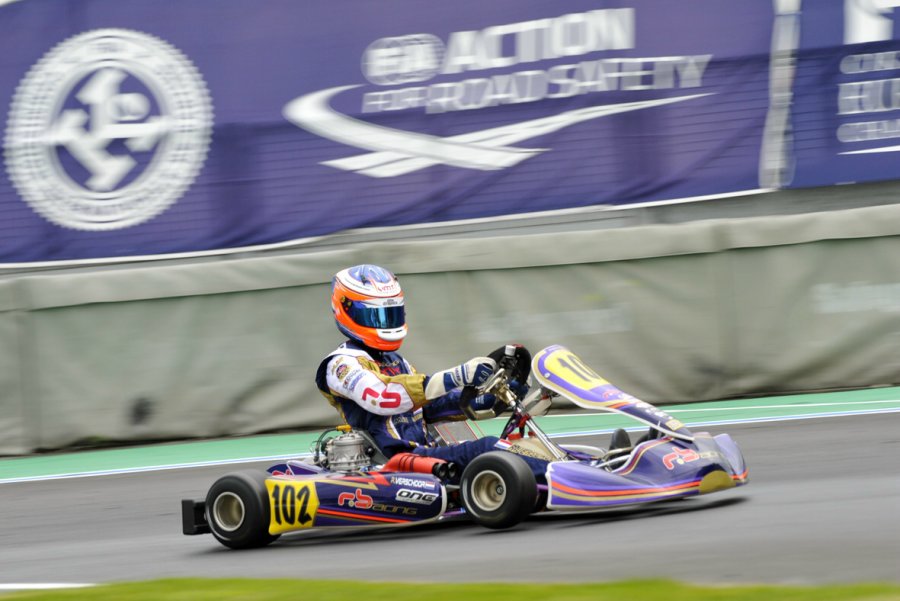 Richard Verschoor (Photo: Press.net Images)
The European CIK-FIA KF and KFJunior Championship arrives in Brandon this weekend. The village near the town of Grantham, in Lincolnshire, hosts the second out of three rounds of the season. The battle for the leadership is going to be harsh: this is, in fact, the event which leads directly to the final rush for the two European titles, which is going to take place in Kristianstad (Sweden) in one month. This is the reason why the English entrepeneur Paul Fletcher, the owner of the PF International Circuit, has decided to make some further improvements even though the 1,382 metres of his racetrack can boast excellent safety standard. The new kerbs at the first fast bend of the track have made it both safer and more spectacular. The race, thanks to WSK Promotion, will be available on the Internet live in streaming on www.cikfia.tv and www.cikfiachampionship.com. Also the public of the facility in Brandon will be able to see the live streaming thanks to the mega screen installed along the track. Next week, Motors TV will broadcast the recap of the whole event of the European CIK-FIA Championship.
Pole Position in KF for Richard Verschoor
Thanks to his 54"188, the Dutch Richard Verschoor (Exprit-Vortex-Vega) is the pole-sitter. He is just 48 milliseconds ahead of the Danish Nicklas Nielsen (Tony Kart-Vortex-Vega) and 56 milliseconds of the Finnish Juho Valtanen (Kosmic-Vortex-Vega). There are going to be remarkable variations in the general standings, given that the British Benjamin Hanley (Croc-TM-Vega), the current leader of the Championship, is only 8th. In a similar condition are his fellow countryman, Tom Joyner (Zanardi-TM-Vega), and the Italian Felice Tiene (CRG-Parilla-Vega), currently 2. and 3. in the Championship.
Lappalainen is the fastest in KF-Junior
Four drivers within less than a tenth of a second: this is the output of KFJ Qualifying. Eventually, it was the Finnish Konsta Lappalainen who set the fastest time with 55"117. The Indonesian Presley Martono (both on Tony Kart-Vortex-LeCont) is only 40 milliseconds behind. Third position for the Swedish Rasmus Lindh (Ricciardo-Parilla-LeCont) and the British Clement Novalak (Tony Kart-Vortex-LeCont). In KFJ, too, the current leader, the Belgian Kenny Roosens (Kosmic-Parilla-LeCont), is far behind, and in the same situation are the Danish Christian Lundgaard (Tony Kart-Vortex-LeCont) and the Brazilian Caio Collet (Kosmic-Vortex-LeCont) respectively 2. and 3. in the Championship.