National Champion, Mike McAndrews, Prepped To Debut in Leopard Sr. Class in Shawano this Weekend
Birel Driver selected to fill in for an injured Darin Marcus on Fullerton chassis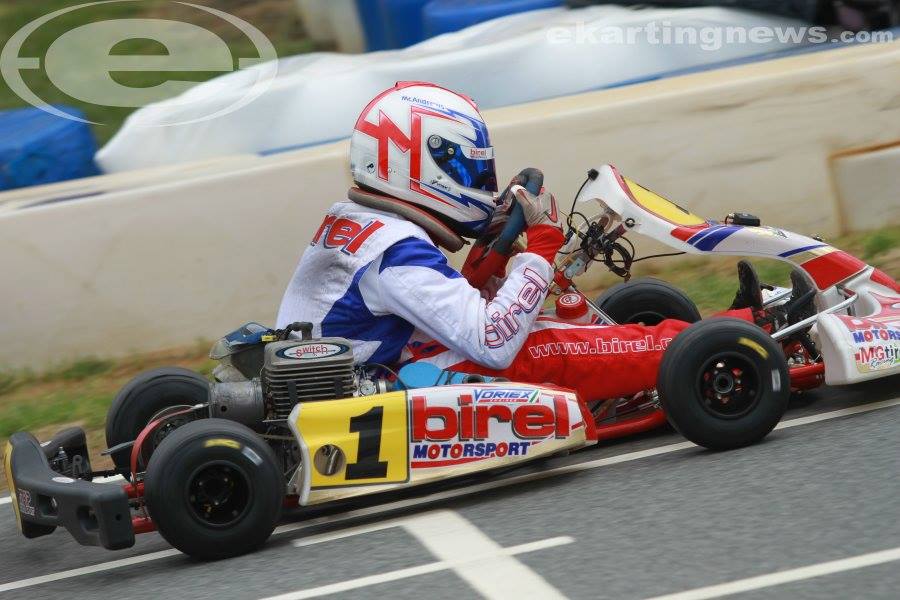 Mike McAndrews (Photo: EKN)
In motorsports opportunities come in all forms and when they decide to knock, you don't hesitate.  For perennial front runner and BirelART racer, Mike McAndrews, the opportunity to work directly with multi-time World Champion, Terry Fullerton, was impossible to pass up. The young driver nearly won last weekend's Route 66 Karting Championship Yamaha Senior final in his first year of Senior class competition aboard his regular seat in an MRP Motorsport prepared BirelART RY30-S7, but for this weekend's United States Pro Kart Series (USPKS) event in Shawano, WI, the champion racer will do double duty by subbing for the injured Darin Marcus on a Fullerton/Adkins Leopard Sr. package with help from Fullerton himself.
"This ranks up there as one of the coolest opportunities I've had in my career," said McAndrews. "Fullerton is a World Champion and considered to be one of the best kart racers in history. He was teammates with Ayrton Senna. It should be one of the greatest learning experiences of my life!"
While McAndrews has claimed four Midwest Sprint Series Championships, a Great Lakes Sprint Series Title a pair of WKA National Titles and a USPKS Championship in his last four seasons with Birel, this USPKS weekend will only be McAndrews' third race event as a driver in 2015 even though he has stayed active as a driver coach.
McAndrews also has the support of current sponsor, MRP Motorsport who will send Team Engineer, Chris Lobaugh, to Shawano to assist with his RY30-S7 chassis entered in the Yamaha Sr. category.
"We want the best for Mike and this will be an amazing experience for him to work with Fullerton and debut in a tough class like Leopard Sr.," said Lobaugh. "He has a lot going for him. He has zero expectations and he is not in the points hunt which really should give him the chance to focus on soaking up this experience and learning a lot."
You can keep track of the weekend's events by visiting www.ekartingnews.com or via the USPKS Facebook Fan Page at www.Facebook.com/uspks. Learn more about Mike McAndrews by visiting www.McAndrewsRacing.com