Script Plays Out for Connor at Te Puke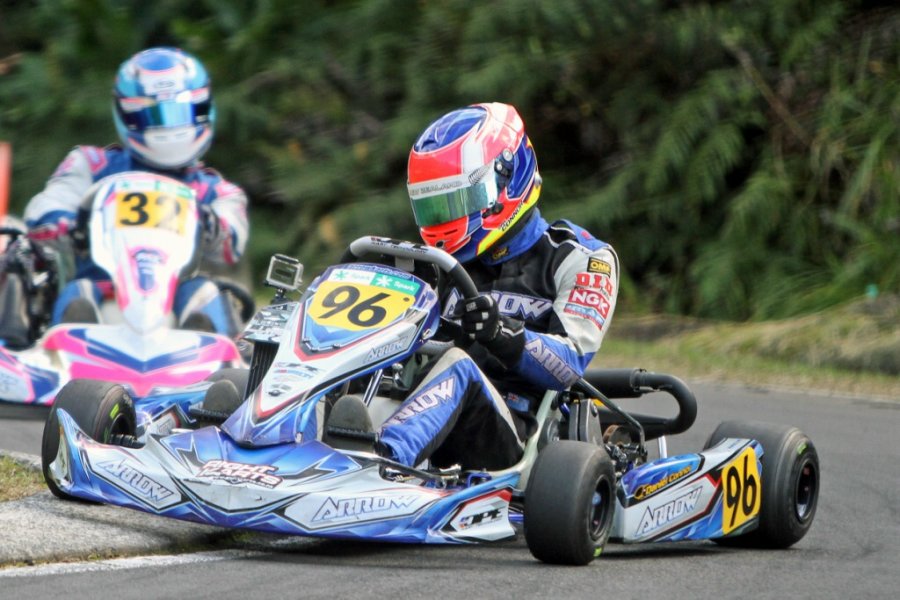 Daniel Connor (Photo: Fast Company/Graham Hughes)
He needed another top result and that's exactly what karter Daniel Connor got at the fourth round of the 2015 Logitech Rotax Max Challenge series in the Bay of Plenty over the weekend.
Long-time 125cc Rotax Max Light class contender Connor, from Muriwai on Auckland's west coast, has been on the comeback trail since battery failure at the series opener at Rotorua in January and he claimed his second class win in as many rounds at the KartSport Bay of Plenty club's Te Puke Auto Electric Raceway on Sunday,
He did it in style too, qualifying quickest, finishing second to Cambridge driver Andy Schofield in the heats on Saturday then winning both the Pre-Final and Final on Sunday.
Schofield was second in both, with class first round winner Josh Hart from Palmerston North qualifying third quickest and finishing third in each Lights class race – enough, as it turned out, to see him maintain his series points lead over Connor, albeit by just three points.
Results were mixed in the other Rotax categories as the cool, dry weather on Saturday was followed by rain showers at Finals time on Sunday.
Early on in the weekend the DD2 class looked set to be a battle between established class stars Daniel Kinsman – who qualified quickest and won the first heat  – and Daniel Bray, who won the second heat.
But Sunday's Pre-Final and Final were both won by 15-year-old  Taylor Harte from nearby Tauranga in only his second meeting out of the Junior grades.
Harte qualified third and after a 6-4 run through the heats was in the right place at the right time in the Pre-Final when Bray locked a wheel and ran off the track on the first corner, and Daniel Kinsman and Josh Hart tangled soon after.
All three were able to get back into the race but by the time they had made up most of the places they had lost, 15-year-old  Harte and fellow young guns Mason Armstrong and James Blair were too far in front to be caught.
That gave Harte pole position for the Final which he also used to good effect, shrugging off the changeable weather and track conditions to claim his second win as a Senior from another impressive teen, Jonathan Buxeda from Tuakau,  Armstrong  and a recovering Bray and Kinsman.
After a hiccup at the third series round at Tokoroa, it was a case of normal service resuming for DD2 Masters class series leader Ryan Urban at Te Puke.
Urban was again the quickest of the Masters in qualifying before going on to win both heats and the Pre-Final and Final. On Saturday the Aucklander was shadowed by Christchurch-based former British Rotax series DD2 champion Tiffany Chittenden.
But when she struggled in the changeable conditions on Sunday it was Palmerston North driver Fraser Hart and Aucklander Aarron Cunningham who took the battle to Urban in the Pre-Final – and former Rotax category Grand Final rep Stuart Marshall and Hart who chased him home in the Final after Cunningham dropped out with what turned out to be battery failure.
Australian ace Scott Howard, who scored an upset win in the class at the third series round in Tokoroa, qualified fourth and had a best race result of fifth in the Pre-Final before an early end to the Final after making the wrong tyre call in the tricky conditions.
Like Ryan Urban in the DD2 Masters class, defending class title holder Dylan Drysdale made it three round wins from four starts in Junior Max – his job made easier when first corner contact in the Pre-Final took both fastest qualifier and heat one winner Matthew Payne, and NZ#1 Jacob Cranston out of contention.
It also compromised visiting Australian driver Josh Fife's run but he was about to work his way back up to sixth.
Cranston and Payne weren't so lucky and had to start the Final where the finished the Pre-Final – 18th and 20 places respectively.
Complicating matters was the weather. The Final started in the dry with the field on slicks only for a rain shower to pass over the track, leaving the surface damp and slippery.
Drysdale used all his skill to win from Reece Hendl-Cox and, showing their class,  Jacob Cranston and Matthew Payne got back up to third and fourth places respectively.
This year's Logitech New Zealand Rotax Max Challenge Series is again twinned with the KZ2-based ProKart Series, with over 100 karters from as far afield as Dunedin and Whangarei making the trip to the KartSport Bay of Plenty club's Te Puke Auto Electric Raceway at Fagan's Rd Te Puke for the weekend meeting.
KartSport Auckland hosts the next (penultimate) rounds of both series on the August 15-16 weekend.
2015 New Zealand Rotax Max Challenge
125cc Rotax Max Light
Final
Daniel Connor; 2. Andy Schofield; 3. Josh Hart; 4. Caleb Huston; 5. Suvarn Naidoo; 6. Rhys Tinney; 7. Mathew Kinsman
Points after Rnd 4 of 6
Josh Hart 340 points; 2. Daniel Connor 337; 3. Andy Schofield 333; 4. Caleb Huston 314; 5. Mathew Kinsman 309; 6. Rhys Tinney 300
DD2
Final
Taylor Harte; 2. Jonathan Buxeda; 3. Mason Armstrong; 4. Daniel Bray; 5. Daniel Kinsman; 6. Josh Hart
Points after Rnd 4 of 6
Daniel Bray 334 points; 2. Daniel Kinsman 331; 3. Jonathan Buxeda 330; 4. Bradley Hicks 315; 5. Mason Armstrong 310; 6. James Blair 308
DD2 Masters
Final
 Ryan Urban; 2. Stuart Marshall; 3. Fraser Hart; 4. Brendon Hart; 5. Teddy Bassick; 6. Matthew Grant
Points after Rnd 4 of 6
Ryan Urban 364 points; 2. Fraser Hart 344; 3. Niki Urwin 320; 4. Tiffany Chittenden 312; 5. Aarron Cunningham 311; 6. Matthew Grant 298
Junior Max
Final
Dylan Drysdale; 2. Reece Hendl-Cox; 3. Jacob Cranston; 4. Matthew Payne; 5. Liam Lawson; 6. Joshua Fife
Points after Rnd 4 of 6
Dylan Drysdale 361 points; 2. Liam  Lawson 339; 3. Jacob Cranston 320; 4. Matthew Payne 316; 5. Reece Hendle-Cox 308; 6. Kaleb Ngatoa 302