Joseph Lamberth Continues to Impress
Lamberth silences naysayers with Rotax Junior results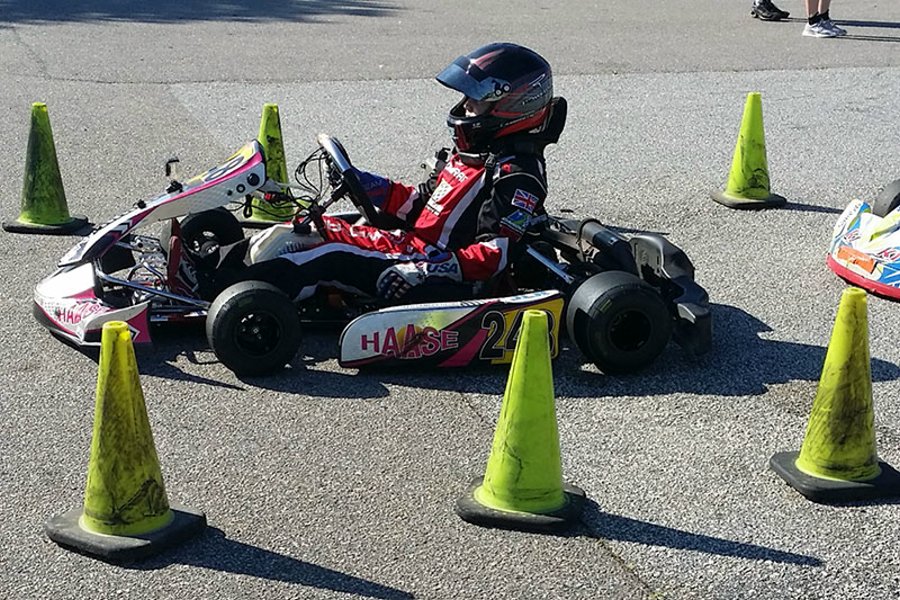 Lamberth readies himself in his Haase chassis on the grid at Carolina Motorsports Park (Photo: Brandy Lamberth)
This year, Joseph Lamberth's fourth year behind the wheel of high-powered competition racing karts, hemoved up to the Rotax Junior ranks after an impressive run in the Mini Max field where he was named the CMP Powerade champion for the past two seasons. Currently halfway through the season at Carolina Motorsports Park (CMP) in Kershaw, South Carolina, he's been able to pilot his Haase Spirit chassis to several impressive finishes.
"During his first Junior race, we heard people say, 'Joseph was great in Mini Max, but we don't expect him to do anything this season,'" said Brandy Lamberth, Joseph's mom. "He responded by going out and winning his very first race. I think his smile reached from ear to ear that day."
In the second race of the season, Joseph qualified third and raced hard in the heat, finishing second. In the main event, lots of pushing and bumping shuffled the field and left his kart damaged from the get-go. The damage made for fourteen long, hard-fought laps, and Joseph managed to secure a fourth place finish.
Race three offered mostly frustration for Joseph Lamberth Racing. After a strong practice run, Joseph qualified eighth and had very little time to make adjustments before the Rotax Junior prefinal. After making no progress in the heat race, Joseph's dad and grandfather made several more adjustments. Moving to fifth after the start, Joseph spent the entire race fighting with the kart. He finished the race in a disappointing eighth place.
Races four and five were a doubleheader weekend at CMP and Lamberth impressed in qualifying taking the pole for the heat race in the fourth event of the season. After some intense on-track action, he finished the heat in the eighth position. Joseph started outside row four, and after a great start, was in P2 by the exit of the first corner. After several laps jostling for position, he made his final pass in the closing stages of the event, securing a second place finish.
Race five took place on a hot and sticky day in Kershaw, South Carolina. Joseph found a way to stay cool in the heat and qualified on pole for the prefinal, which he won handily. Starting in the pole position for the main event, Lamberth was on a mission to bring home a victory, his 20th career victory. After a fantastic start, Joseph pulled away from the field, extending his lead slightly with every lap.
"We are so proud of Joseph," Brandy said. "And he wants to make sure all of his supporters and fans know how much he appreciates each and every one of you."
For updates on Joseph's racing career, join his Facebook Fan Page, Joseph Lamberth Racing, and follow him on Instagram @Josephlamberthracing