Grimshaw and Addy Continue Winning Ways in Whangarei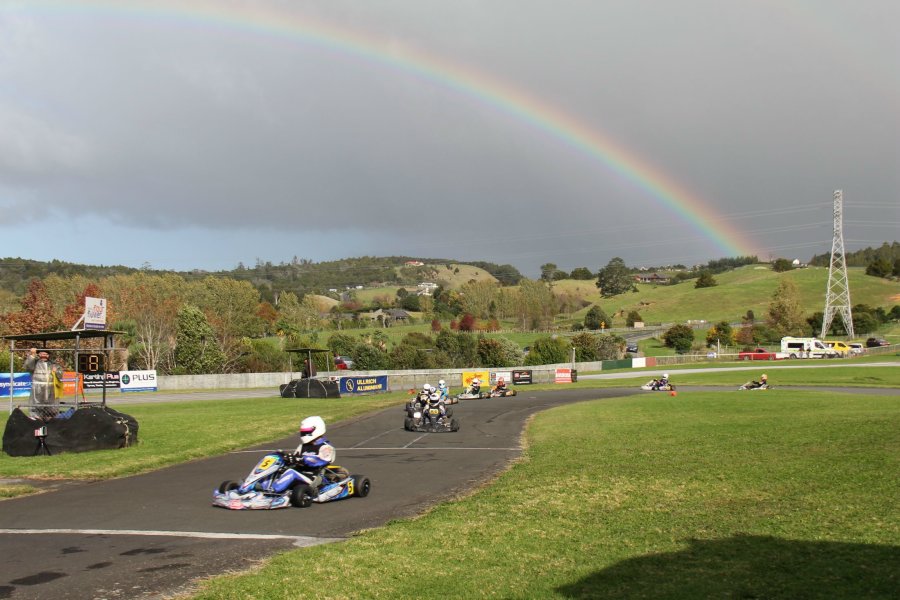 Corey Green (#5) claimed 125cc Rotax Max Light class honours (Photo: Fast Company/Alice Addy)
Karters Mike Grimshaw and Aston Addy continued on their winning ways at the second round of this year's CRC Speedshow-sponsored Top Half kart series at the KartSport Whangarei club's Business Coaching NZ Raceway on Sunday.
Despite changeable weather  conditions which saw drivers competing in wet and dry conditions, Grimshaw and Addy backed up their class wins at the opening round in Tokoroa last month with class wins again in Whangarei.
In 125cc Rotax Max Heavy, Grimshaw won three of the five heat races to end up with 245 points, two more than Caleb Hartley and Darren Walker, who won the other two heats with Nic McIndoe third.
In Cadet ROK, 10-year-old Addy also claimed the round class win by three points, but in his case he was just one of five heat winners. Heat 1 winner Clay Osborne ended up second for the day, heat 3 winner Liam Sceats third.
In the other Senior classes Corey Green won the day in 125cc Rotax Max Light from Samuel Carpenter and Rhys Tinney, and Richard Macey won ClubSport 120 from Dean Oliver and  Steve Carter.
In the other Junior ones, Dylan Hallberg claimed Formula Junior honours with three heat wins from Dylan Smith and Hunter Cheetham, and Ryan Crombie won Vortex Mini ROK after winning three of the five heats with the other heat winners – Brock Gilchrist heat 3 and Louis Redshaw heat 4 –  second and third respectively.
The KartSport Hamilton club hosts the next round of the 2015 CRC Speedshow Top Half series at its Agrisea Raceway on June 28. Auckland's KartSport Mt Wellington club then hosts the final at its Windward Properties Raceway on Sunday July 26.
CRC Speedshow is New Zealand's premier automotive and motorsport expo which this year will be held at Auckland's ASB Showgrounds over the July 18-19 weekend.
More information on this year's CRC Speedshow Top Half series can be found on KartSport New Zealand's website www.kartsport.org.nz/events/2015-top-half-series and Facebook page www.facebook.com/TopHalfSeries
2015 CRC Speedshow Top Half Series Rnd 2 Business Coaching NZ Raceway Whangarei Sunday May 24
Rotax Light sponsored by Pacific Kartsport
Round
Corey Green; 2. Samuel Carpenter; 3. Rhys Tinney; 4. Danjela Haigh; 5. Keith Wilkinson; 6. Aarron Cunningham.
Points after Rnd 2 of 4
Corey Green 487 points; 2. Rhys Tinney 478; 3. Keith Wilkinson 462; 4. Samuel Carpenter 459; 5. Danjela Haigh 456; 6. Nicholas Carpenter 449.
125cc Rotax Max Heavy sponsored by Right Karts
Round
Mike Grimshaw; 2=. Caleb Hartley & Darren Walker; 4. Nic McIndoe; 5. Ashton Baird; 6. Rohan Knowles.
Points after Rnd 2 of 4
Mike Grimshaw 495; 2. Darren Walker 490; 3. Caleb Hartley 486; 4. Ashton Baird 461; 5. Rohan Knowles 460; 6. Brendon Hart 196.
Racket 120 sponsored by WRB Karting Supplies
Round
Richard Macey; 2. Dean Oliver; 3. Steve Carter; 4. Rob Norman; 5. Stephen Muggeridge; 6. Cliff Walsh.
Points after Rnd 2 of 4
Steve Muggeridge 493; 2. Richard Macey 488; 3. Steve Carter 483; 4. Dean Oliver 482; 5. Cliff Walsh 475; 6. Brendon White 463
Formula Junior sponsored by Lascom Motorsport
Round
Dylan Hallberg; 2. Dylan Smith; 3. Hunter Cheetham; 4. Alex Newlove; 5. Adam Bell; 6. Cameron Hoskins.
Points after Rnd 2 of 4
Alex Newlove 486 points; 2. Dylan Hallberg 481; 3. Cameron Hoskins 470; 4. Dylan Smith 465; 5=. Hunter Cheetham & Rianna O'Meara-Hunt 463
Vortex Mini ROK sponsored by Spartan 4 Toyota
Round
Ryan Crombie, 2=. Brock Gilchrist, Louis Redshaw & Fynn Osborne; 5. Mitchell Frazer; 6. Blake Austin.
Points after Rnd 2 of 4
Fynn Osborne 489 points; 2. Ryan Crombie 487; 3. Louis Redshaw 477; 4. Brock Gilchrist 469; 5. Blake Austin 461; 6. Mitchell Frazer 460
Vortex Cadet ROK sponsored by Jeff Oliver Print Ltd
Round
Asten Addy; 2. Clay Osborne; 3. Liam Sceats; 4.  Keith Sait; 5. Ryan Bell; 6. Kaden Probst 222
Points after Rnd 2 of 4
Asten Addy 489 points; 2. Clay Osborne 488; 3. Liam Sceats 481; 4. Kaden Probst 476; 5. Logan Manson 469; 6. Ryan Hancock 459.