SSM Super One Series Round 3: Llandow May 23-24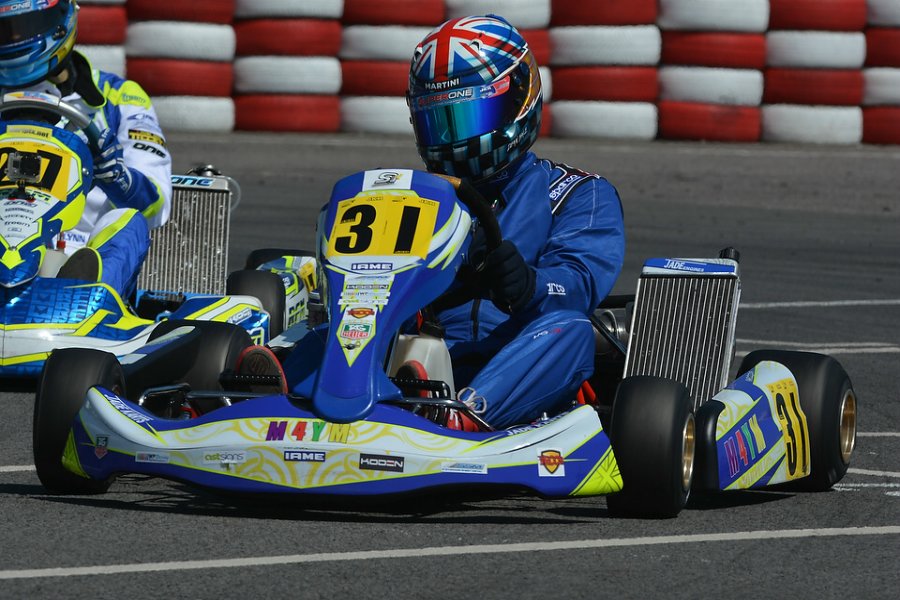 Dean Hale (Photo: kartpix.net)
The Series has made a hugely successful return to the Welsh circuit after an absence of seven years, promoter John Hoyle saying this was due to a request from the club and some sponsors.  He added that the move to an unfamiliar track for the majority of the entrants also spiced up the racing.  The final hairpin following a long straight produced many an exciting last chance pass.  It was also the first outing for the qualifying series for the IAME X30 classes, hoping to earn places in the IAME International Final later in the year.
MSA British Cadet Championship (IAME)
With a full grid of 34 karts for the UK's most prestigious Cadet championship, Georgi Dimitrov topped timed qualifying over Maxwell Dodds with Jonny Edgar languishing in eight place.  But Edgar soon recovered putting in two heat wins and going on for a solo breakaway in a damp first final, chased hard by Dexter Patterson and Lorcan Hanafin. Piers Henderson led Clayton Ravenscroft over the line for fourth, both rookies.  The second final proved much more of a battle for Edgar as he only narrowly beat an inspired Hanafin in a head to head duel.  They left Harry Thompson and Patterson some 5s in arrears whilst Ravenscroft lost his sixth place with a one lap penalty for driving standards.  Edgar holds a slender lead over Dexter Patterson in the points standings after his near perfect score at the weekend.
Final 1: 1 Jonny Edgar (Fusion Motorsport/Synergy); 2 Dexter Patterson (AIM Motorsport/ZIP); 3 Lorcan Hanafin (Ollie Walker Racing/ZIP); 4 Piers Henderson (KMS/ZIP); 5 Clayton Ravenscroft (AIM Motorsport/ZIP); 6 Harry Thompson (Fusion Motorsport/ZIP).
Final 2: 1 Edgar; 2 Hanafin; 3 Thompson; 4 Patterson; 5 Brandon Martland (AIM Motorsport/ZIP); 6 Joseph Taylor (Fusion Motorsport/Synergy).
MSA British Kart Championship for KZ1
Sam Webster proved the best adapted to the unfamiliar track stopping the best time in qualifying at 42.49s over Henry Easthope but he was then excluded from the first heat for making adjustments on the grid.  That left Easthope winning over Scott Allen and the latter went onto win the second heat over Adam Glear with Webster and Stephen Tyldsley both retiring.  So Allen would be on pole for the first final, but dropping to third whilst Webster stormed up to fourth.  Glear relieved Easthope of the lead early in the race and held him off to win. But then Glear stalled on the starting line for the second final but still managed third place whilst Easthope retired. Webster continued his progress to win over Shaun Slavin and Allen fell further back to sixth after being flagged in for a repair but still leads the championship.
Final 1: 1 Adam Glear (CRG UK/CRG); 2 Henry Easthope (Taylor International Motorsport/Sodi); 3 Scott Allen (Jade Karts/Gold); 4 Sam Webster (Zip Kart/Birel ART); 5 Shaun Slavin (CRG UK/CRG); 6 Dan Kelly (Andy Fairless Racing/Sodi).
Final 2: 1 Webster; 2 Slavin; 3 Glear; 4 Kelly; 5 Ben Blick (Taylor International Motorsport/Sodi); 6 Allen.
Honda Cadet ABkC National Championship
In a very close battle Oliver Bearman took pole for the heats with a 50.93s in timed qualifying, the top fifteen blanketed by a quarter second showing how competitive this class really is.  Bearman held his advantage for the first heat but had to settle for second to Nicholas Reeve in the second one.  From fourth on the grid Reeve established himself at the front mid race for the first final and held off Gary Cunnington to the flag whilst Bearman was sixth.  The second final produced the most thrilling finale with the top four crossing the line together. Oliver Clarke timed his run out of the final turn to perfection to go from fourth to first in the final metres and beat Harry Thompson, Dragan Pinsent and Reeve whilst Bearman went out at the start.  Clarke is now leading the championship.
Final 1: 1 Nicholas Reeve (ZIP Team/Zip); 2 Guy Cunnington (BRK Factory Team/BRK); 3 Oliver Clarke (BRK Factory Team/BRK); 4 Ben Kasperczak (BRK Factory Team/BRK); 5 Dragan Pinsent (Eclipse Motorsport/Project One); 6 Oliver Bearman (Evolution Racing/ZIP).
Final 2: 1 Clarke; 2 Harry Thompson (Cutting Edge Racing/Project One) +0.09s; 3 Pinsent; 4 Reeve; 5 Kasperczak; 6 Cunnington.
Junior TKM ABkC National Championship
Matthew Taylor convincingly topped timed qualifying and went onto win every heat and both finals for the first round of their series. Luckily the battling behind was quite frantic with privateer Bradley White taking second in the first final and local driver Ryan Edwards scoring his first S1 podium with a fighting runner-up effort in final two.  Joseph Reeves-Smith lined up second on the first final grid but fell to fifth in both finals but still holds second in the standings, showing how important good heat results are this year.  Matthew Graham had a 5 place penalty in the first final but appealed it successfully to have third place re-instated and a fourth in final two puts him fourth equal in the standings.
Final 1: 1 Matthew Taylor (Flex Motorsport/Tonykart); 2 Bradley White (Privateer/Jade); 3 Matthew Graham (Jade Karts/Jade); 4 Kristian Brierley (Privateer/Tonykart); 5 Joseph Reeves-Smith (Privateer/Jade); 6 Matthew Round-Garrido (Jade Karts/Jade).
Final 2: 1 Taylor; 2 Ryan Edwards (Red Racing/Tonykart); 3 Jack Davidson (Litchfield Motorsport/Tonykart); 4 Graham; 5 Reeves-Smith; 6 Sam Fowler (Jade Karts/Jade).
TKM Extreme ABkC National Championship
The privateer driver Matt England broke the track record en route to a double heat win after being fastest in timed qualifying too and looked to be cruising in the first final only to suffer a mechanical failure, leaving the door open for rookie Owain Rosser to take the win with Kyle Sproat as runner-up.  It was all the more creditable that England then stormed from the back to take his maiden win in the second final. He passed Al Patterson with five laps remaining then Patterson crashed trying to keep pace with England, leaving Rosser and defending champion Joe Forsdyke to complete the podium.  Despite his DNF England still leaves Wales leading the championship by a point from Sproat.
Final 1: 1 Owain Rosser (Jade Karts/Jade); 2 Kyle Sproat (Litchfield Motorsport/Tonykart); 3 Al Patterson (Privateer/Tonykart); 4 Joe Forsdyke (GFE Tal-Ko/Tal-Ko); 5 Grant Edgley (Privateer/Tal-Ko); 6 Andrew Ferguson (Hasinski Racing/Intrepid).
Final 2: 1 England; 2 Rosser; 3 Forsdyke; 4 Sproat; 5 Thomas McMurray (Privateer/Tonykart); 6 James Ogden (Klaassen Motorsport/Tonykart).
Junior X30 International Qualifier
Angus Fender had the measure of his opponents all of Saturday from timed qualifying and winning both heats but had to give way to Harry Platten for the first final win on Sunday, Ethan Pitt in second.  However the second final was more controversial and the result remains provisional subject to an appeal by Fender, who took the win on the road but was then docked a lap for contact. Platten inherited victory from Pitt and Matthew Hopcraft.  So provisionally Platten leads the points table.
Final 1: 1 Harry Platten (BRK Factory Team/Octane); 2 Angus Fender (Jade Karts/Gold); 3 Ethan Pitt (Jade Karts/Gold); 4 Harry Dyson (BRK Factory Team/Octane); 5 Matthew Hopcraft (Eclipse Motorsport/Energy); 6 Philip Hanson (BKC Racing/Tonykart).
Final 2: 1 Platten; 2 Pitt; 3 Hopcraft; 4 Thomas Pegram (BKC Racing/Tonykart); 5 Callum Barnett (Maranello UK/Maranello); 6 Bayley Gregory (BRK Factory Team/Octane).
Senior X30 International Qualifier
Local driver Josh Collings had swept all before him from timed qualifying through both heats and the first final, with Zachary Jones and Jamie Flynn behind.  But then his kart refused to fire up for the second final leaving him as a disconsolate spectator.  Collings' CRG UK teammates Zach Jones and Craig Mooney appeared to be the most likely successors but from the back of the grid after a DNF in final one it was Hale who emerged triumphant, passing Jamie Flynn with four laps to go to claim victory. Flynn held off Mooney to claim second with Jones slipping to fourth.  Even with the DNF Collings leads Jones by a point in the standings.
Final 1: 1 Josh Collings (CRG UK/CRG); 2 Zach Jones (CRG UK/CRG); 3 Jamie Flynn (Ricky Flynn Motorsport/Alonso); 4 Craig Mooney (CRG UK/CRG); 5 Euan Wilson (S8 Racing/Alonso); 6 Lewis Malin (Pro Tec Motorsport/Kosmic).
Final 2: 1 Dean Hale (Melliosport/Gold; 2 Flynn; 3 Mooney; 4 Jones; 5 Malin; 6 Max Goldsmith (Melliosport/Gold).