Sting Ray Robb: 2015 Mid-Season Review
Robb continues to dominate the junior ranks across the country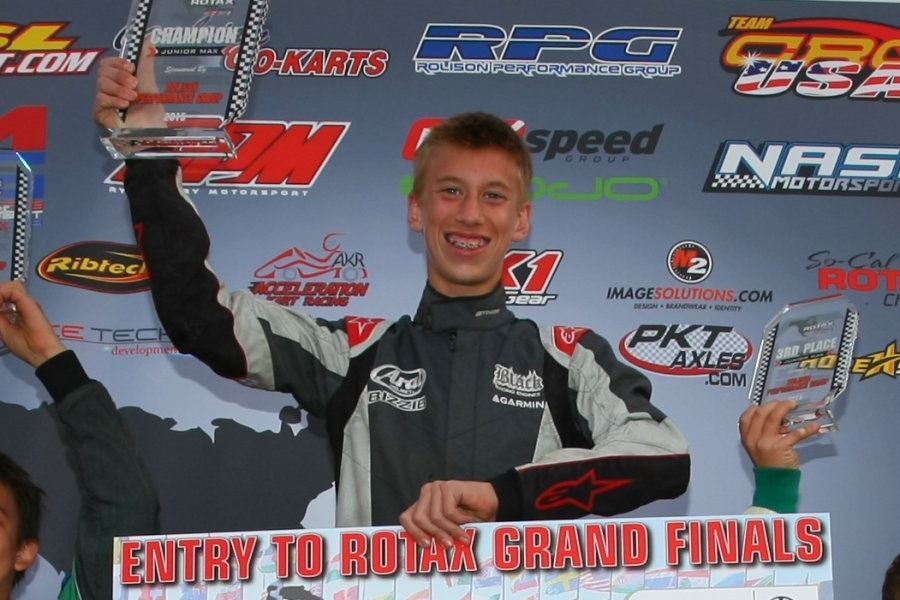 Robb was just crowed the Rotax Challenge of the Americas champion (Photo: SeanBuur.com)
Entering the 2015 karting season, Red Apple Racing's Sting Ray Robb was poised to have a breakout year. After a successful campaign in 2014, Robb would use this season to make a name for himself as would compete in the Rotax Junior class across the United States. With the hopes of attaining another invitation to join Team USA at the Rotax MAX Challenge Grand Finals later this season, Robb had completed his goal by the end of March and now continues to score race wins, podiums and championships as he builds his motorsports resume.
Robb started his 2015 season off with championships at both of the premier winter series. Taking the top honors in Rotax Junior at the Rotax Challenge of the Americas, the hungry Tony Kart travel would also travel east to the Cold Stone Florida Winter Tour where he once again was the driver to beat. Claiming the championships in both international campaigns, Robb secured his Team USA spot and will race for his country in Portimao, Portugal later this year.
Not only is the Tony Kart driving winning championships, he is showing great speed and determination in all wheel-to-wheel competition. Claiming multiple pole positions, heat race wins and main event victories along the way, Robb also garnered the SuperPole at the final round of the Florida Winter Tour in Ocala, Florida as well as the inside front row starting position at the inaugural US Open at the Dallas Karting Complex in Caddo Mills, Texas.
"Everything is going well in 2015," explained Sting Ray Robb. "My dad and I had big goals for this year and we are succeeding so far with both the Challenge of the Americas and the Florida Winter Tour championships."
Robb is also the current point leader of the Rotax Junior field for the US Open program on the strength of his pole position, two heat race wins and second place podium result in the main event.
A proven winner since a young age, Robb has always been at the front of the field. Now, only 13 years old, the Idaho resident started racing at the age of five and accumulated three national championships in the four-cycle ranks before reaching his tenth birthday. In 2011, he was ranked the number one Rotax Mini MAX driver in the United States.
Moving the talented Rotax Junior field last year at the age of twelve, Robb qualified to join Team USA in Spain at the Rotax MAX Challenge Grand Finals and qualified higher than any other Team USA driver and finished the event as the best placing North American competitor. A straight-A student in his time at home, Robb is a threat for race wins each and every time out.
For more information on Sting Ray Robb, please contact Larry Robb via e-mail to 6t6stingray@gmail.com.