Aussie News: Jenner Masters Monarto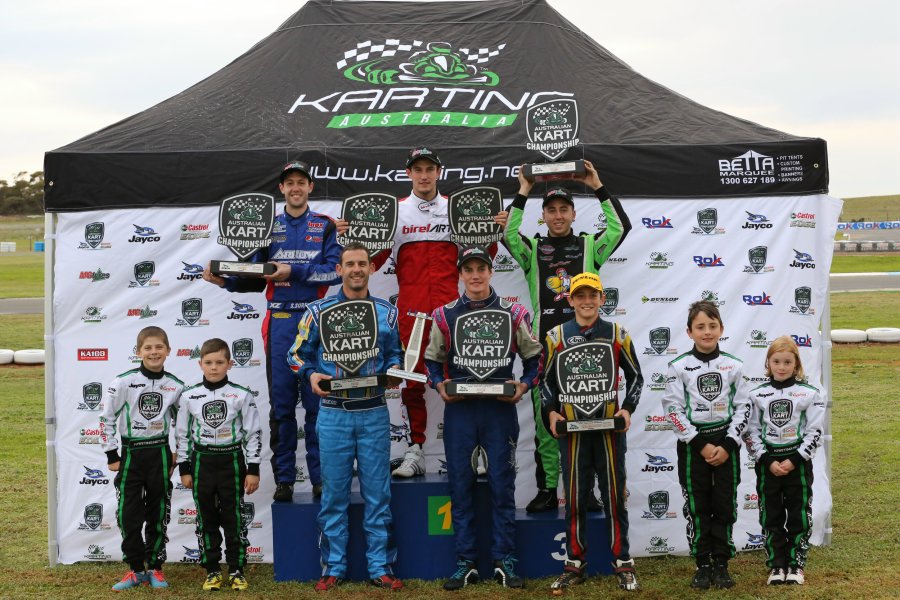 The winners at Round Two of the 2015 Australian Kart Championship
(Pic: Coopers Photography/Davidson)
Brad Jenner has taken a pair of victories in round two of the Australian Kart Championship presented by Jayco and Castrol EDGE at the Monarto Karting Complex in South Australia.
The Victorian stormed to victory in both the X30 and KA TaG categories aboard his BirelART kart and in the process took with him two South Australian State Championships.
His first victory was one of the toughest races of his career. Getting away from pole position in the lead, he was chased down by James Sera and Daniel Rochford. Leaving his run to just two corners from home, Rochford fired up the inside of Jenner taking Sera with him. The trio came to the line three-wide with just 0.093 covering the top three competitors. South Australian Morgan Feast walked away with a popular fourth placed finish.
In KA TaG Jenner was kept honest by double Australian Champion, Brendan Nelson. the Queenslander shadowed the 21 year-old for most of the distance, however Jenner was too strong winning from Nelson (Arrow) and round one winner Adam Lindstrom.
Another to record an epic victory was West Aussie KZ2 pilot, Jake Klarich. The driver of the Super Rooster TB Kart made it two events on the trot he's crossed the line first. Rather than chasing his prey as was the case at round one, Klarich had to fend off a spirited fight from Team CRG's Jaie Robson and Kyle Ensbey.
Robson started from pole while Ensbey fought his way from fifth to get into second. Robson – in just his second KZ2 event – got to within 10 laps to go and decided to edge past his team-mate. He took the fight right to Klarich, but in the end the round one winner was too strong.
KF3 produced a titanic battle from lights to chequer. The elite Junior category in Australia was taken to a handful of corners from home when the race was decided.
Local Kosmic driver Joshua Denton skipped away at the beginning of the race, however Reece Sidebottom elevated himself to position two. Sidebottom then systematically chipped away at Denton's one-second lead and hounded the local who has won a national and state Title at the venue.
Thomas Hughes was having his best KF3 run and caught both of the Kosmics in front to be in the mix late in the race. On the final lap, Sidebottom found a way past Denton, and as he did a gap also opened for Hughes to follow him through.
Denton would cross the line third behind new winner Sidebottom and Hughes – who had his best KF3 finish. It was Denton's best finish also.
In KF2 Queenslander Scott Sorensen scored a $1,000 cheque for taking a dominant win. Local hope Joshua Tynan was due to start on the outside front row, however suffered a fuel pump, then engine issue on the roll around laps and wouldn't take part.
Sorensen was able to take his Pepsi Max, Inox and Gearwrench supported Arrow to victory lane by almost eight seconds over Victorian Zac Soutar  and round one winner, Liam McLellan – who suffered a litany of issues throughout the course of the weekend.
In the KA1 category, James Sera was able to fight off Justin Francis and Toby Pope to win. Francis and Pope were on fire through the weekend, however the experience in the finals shone through for Sera who fought his way through to take the win. Pope had a tough battle on his hands for much of the race and salvaged a podium.
The KA Junior class was one of the most exciting classes of the weekend once more. Jack Doohan emerged at the top of the tree taking a memorable win after a very close battle with eventual second placed man Cory Arnett and Cooper Murray. Arnett, the Championship leader coming into the weekend fought back after a difficult run in qualifying and heat races to finish on the podium and protect his overall Championship position.
In KA12 – Jay Hanson crossed the line first to take the win over Cooper Webster and Sean Larkin. The three of them fought valiantly for the duration of what was an intriguing race.
Thus brings to an end of a tremendous second round of the Australian Kart Championships presented by Jayco and Castrol EDGE. The Championship will head north to the Ipswich Kart Club in Queensland on the first weekend in July.
2015 AUSTRALIAN KART CHAMPIONSHIP
presented by Jayco and Castrol EDGE
ROUND 2 – Monarto SA
KZ2
1. Jake Klarich (WA)
2. Jaie Robson (NSW)
3. Kyle Ensbey (QLD)
KF2
1. Scott Sorensen (QLD)
2. Zac Soutar (Victoria)
3. Liam McLellan (Victoria)
KF3
1. Reece Sidebottom (Victoria)
2. Thomas Hughes (Victoria)
3. Joshua Denton (SA)
X30
1. Bradley Jenner (Victoria)
2. James Sera (Victoria)
3. Daniel Rochford (Victoria)
KA TaG
1. Bradley Jenner (Victoria)
2. Brendan Nelson (Queensland)
3. Adam Lindstrom (Victoria)
KA1
1. James Sera (Victoria)
2. Justin Francis (Victoria)
3. Toby Pope (Victoria)
KA Junior
1. Jack Doohan (Queensland)
2. Cory Arnett (Victoria)
3. Cooper Murray (Victoria)
KA12
1. Jay Hanson (Victoria)
2. Cooper Webster (Victoria)
3. Sean Larkin (Victoria)
For the Full Results please click here.
CHAMPIONSHIP STANDINGS (Top Five)
After Round 2 of 5
KZ2
1 Jake KLARICH 90
2 Christopher HAYS 67
3 Jaie ROBSON 66
4 Matthew WALL 47
5 Troy BRETHERTON 40
KF2
1 Scott SORENSEN 103
2 Liam MCLELLAN 101
3 Zac SOUTAR 67
4 Joshua TYNAN 61
5 Bradley MARSH-STEPNEY 51
KF3
1 Oscar PIASTRI 90
2 Reece SIDEBOTTOM 87
3 Joshua DENTON 80
4 Zane MORSE 56
5 Thomas HUGHES 53
X30
1 Bradley JENNER 116
2 Brendan NELSON 69
3 Daniel ROCHFORD 66
4 James SERA 64
5 Leigh NICOLAOU 53
KA TaG
1 Adam LINDSTROM 104
2 Brendan NELSON 72
3 Dean FOSTER 71
4 Bradley JENNER 63
5 Troy MORRISSEY 60
KA1
1 James SERA 93
2 Justin FRANCIS 84
3 Matthew MCLEAN 64
4 Leigh NICOLAOU 64
5 Toby POPE 55
KA Junior
1 Jack DOOHAN 97
2 Cooper MURRAY 68
3 Cory ARNETT 50
4 Blake FARDELL 48
5 Angelo MOUZOURIS 42
KA12
1 Jay HANSON 106
2 Cooper WEBSTER 88
3 Emerson HARVEY 52
4 Tex STARR-MCKOY 50
5 George GOWER 42
For the Full Championship Standings click here