Alder, Crouse, Miller Headline Multiple Winners Heading to WKA Gold Cup Event at Kershaw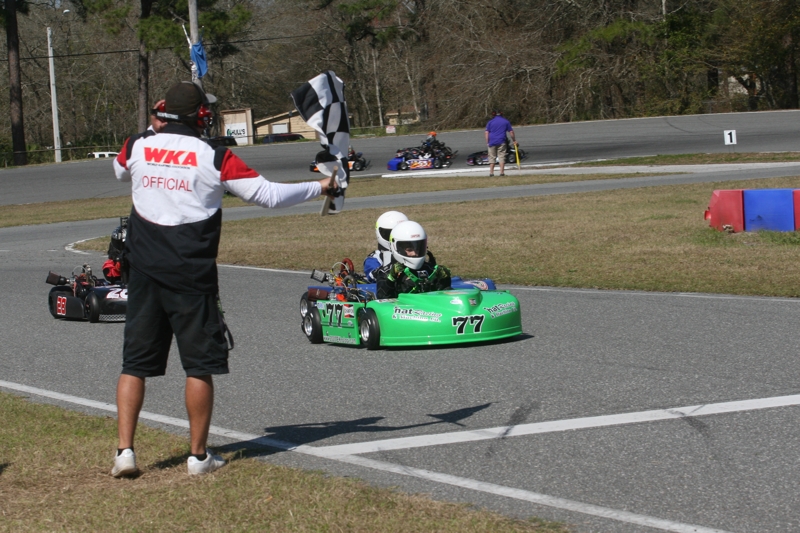 Jason Alder enters Kershaw riding off four victories at the Gold Cup opener in Jacksonville (Photo: Double Vision Photography)
Following a 2-month hiatus, the RLV Tuned Exhaust Products Gold Cup Series is prepared for their next 2 nationals within a month of each other. Before competitors make their way to G and J Kartway in Camden, Ohio July 4th weekend for the Michigan Kart Supply Nationals, there is quite a bit of unsettled business June 5-7 at Carolina Motorsports Park in Kershaw, South Carolina for the Kart City Performance Nationals.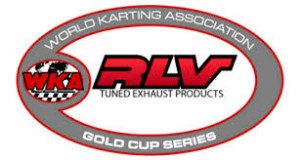 While the Ionic Edge Chassis Nationals in March in Jacksonville, Florida is a distant memory for some, many competitors, multiple winners at that, have been begging for the chance to hit the track for race #2 on the series.
Leading the charge is Jason Alder, a 4-time winner in Jacksonville in the Van K Wheels Junior Pro Gas Lite and Heavy, winning 2 mains a day in these respective classes which run each day of the nationals. Several heavyweights will be looking to unseat Alder, including Nash Duyn, Joshua Stark, Brian Van Cleve, Matt Miller, David Kalb Jr, Alex Vrabel, and a host of others.
Meanwhile, the battle for supremacy in the Tyler Sandmeyer sponsored Kid Kart Class is just as tough in Gold Cup as it is in the Bridgestone/Mazda Manufacturers Cup Series, where Brently Miller is looking to maintain his batting average at 1000%. After sweeping the 2 days of action in Florida, Miller is set to fend off the likes of multiple series competitor Caleb Gafrarar, as well as Owen Lloyd, Jax Walker, Blake Boon, Asher Johnson, and many others.
In the Razor Chassis Sportsman Pro Gas Lite and Heavy classes, Aiden Baker Crouse was just 2 positions away from the weekend sweep in Jacksonville as well, claiming 3 of 4 events, with the only thorn in his side being that of Andrew Willis. Looking to challenge in Kershaw will be Tanner Carter, Riley Kelley, Mark Steube, and Cale Hall to name a few.
Competition in the senior ranks found slightly more parity with Paul Headley and Jim Lipari splitting the Animal Medium mains, with Cayla Chapman another strong contender for the top spot in a couple weeks.
Animal Heavy Mix found Headley sweeping the weekends action in Florida, as he looks to continue the string of success at Kershaw.
The Coyote Motorsports Senior Pro Gas and Miller Welders LO 206 Heavy ranks found the toughest competition on the senior side. However in the end, nobody could match the toughness of Jacob Heavlow in the Pro Gas ranks. The challenge at Kershaw will be stout with Sean Meier, Tyler Smith, Zachary Linsell, Matthew Travis, Dustin Demattia, Haley Kummer, Aren Smith, Matt Mayes and others already set to challenge for the top shelf of the podium.
LO 206 Senior was one of the few classes that avoided a weekend sweep of competition in Florida with Evan Cowen and Eric Fagan taking the wins. Right on their heels both days in the runnerup spot was Austin Queen, with Patrick O'Neal, Brandon Murzynski, Matt Skaggs, Ryan Taylor, and a ton of other competitors ready to do battle.
Activities for the Kart City Performance Nationals get underway with a full day of practice Friday June 5 beginning at 8:30am. Once practice concludes at 4:30pm, the day is just beginning as both the Sportsman and Junior Pro Gas classes will have a 10-lap shootout, with the winner of each race taking home $200. Second place will get $100, while $50 will be awarded to 3rd. Trophies will also be available to the top 5 finishers. Following the 2-shootout races, fans will stay glued to the fence, as the Senior Pro Gas drivers will hit the track for their Money Race. Drivers will draw for their initial starting spots, and will line up for their standing start. At the halfway point of the event, the leader will draw a pill to determine the inversion, with the second half of the race for all the marbles.
Following the Shootout and Money races, the 2014 National Champions will be recognized for their efforts in a special presentation at the Palmetto Club on the speedway property. A barbecue style dinner will be made available at $6 per ticket. Special Awards to be given out include:
Manufacturer's Championship Trophy: Winning Chassis for 2014
Ann Kugler Award: Outstanding contribution by a female in the sport
Family of the Year
Sportsmanship Award
Most Improved Junior Driver
Most Improved Senior Driver
For reservations, contact Marie Borsuk at (704) 455-1606, extension 111.
Race weekend activities continue on Saturday and Sunday with a full slate of action starting at 8:30am both days.
For more information on the Kart City Performance Nationals, click here.
Please follow and like us: