The Final Rush for the CIK-FIA Championship Began in Zuera
Camponeschi, Hiltbrand and Garcia score victories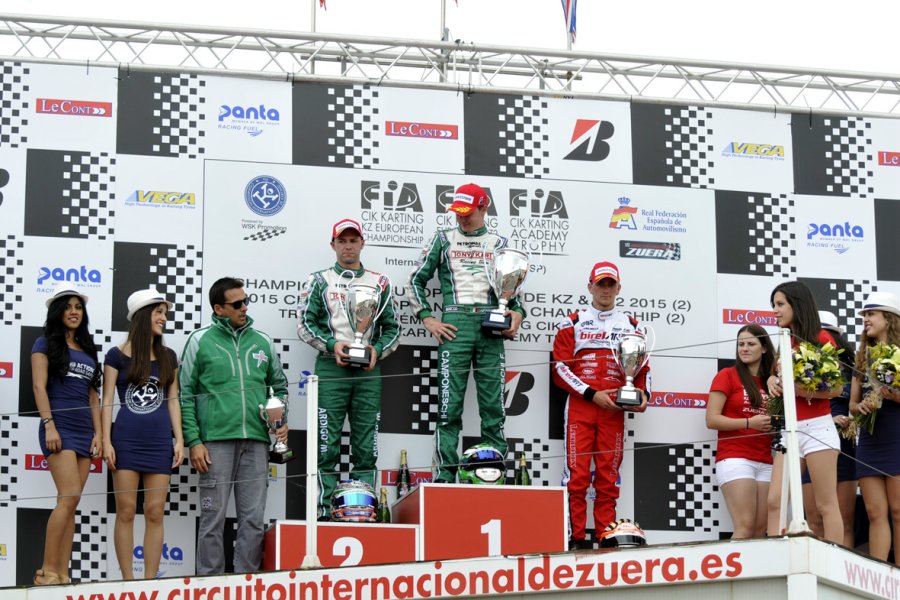 KZ podium (Photo: Press.net Images)
The mild climate of Aragon made the race for KZ and KZ2 as enjoyable as ever. Today, the facility in Zuera hosted the second out of three rounds of the European Championship. The 1,700 metres of the Spanish track were the perfect stage for the performance of the drivers coming from 39 different countries from all around the world. They fought to score as many points as possible before the final appointment in Genk, in Belgium. The two CIK-FIA gearbox categories raced together with the first event of the  CIK-FIA Karting Academy Trophy, the junior category for drivers at their debut at international level: the race was, as usual, surprising and exciting. The recap of the whole event on the special TV report on Motors TV next week.
The duel between the Tony Kart pair is won by Camponeschi
Italian Marco Ardigò took the lead during the first phases of the KZ Final, but his fellow countryman team-mate Flavio Camoneschi (both on Tony Kart-Vortex-Bridgestone) was immediatly behind. Their head-to-head duel was terrific. Camponeschi, the current leader of the Championship, was eventually the winner: he passed Ardigò during the final phases of the race, achieving his second win. Good result also for the British  Ben Hanley (Croc-TM-Bridgestone), who finished third ahead of his fellow countryman Jordon Lennox-Lamb (Birel Art-Parilla), 4th after a penalty.
Hiltbrand wins in front of his public in KZ2
Thrilling Final in  KZ2, where the Italian Francesco Celenta (Parolin-TM-LeCont) – the winner of the Prefinal – led the race from the beginning until the chequered flag. Behind him, close combat between the Spanish Pedro Hiltbrand (CRG-Maxter-LeCont), the Swedish Joel Johansson (Energy-TM-LeCont) and the French Paolo Besancenez (Tony Kart-Vortex-LeCont). They fought until the last lap and, after the end of the race, Celenta got hit by a 5 second penalty for jump start and finished in sixth position. So, the standing of the Final sees Hiltbrand, Joahnsson and Besancenez in the first three positions. They are also, in this order, the leaders of the Championship.
Marta Garcia on the first step of the podium in the Academy
The young Spanish driver Marta Garcia Lopez chose  her home circuit to score her maiden victory in the Academy Trophy Final.  The English Alfie Brown and the Russian Zakar Slutskiy (all on Parolin-FIM-Bridgestone) placed second and third. They also occupy the first three positions of the CIK-FIA Trophy.
Please follow and like us: