CIK-FIA Championship: Zuera Shaping Up for a Great Show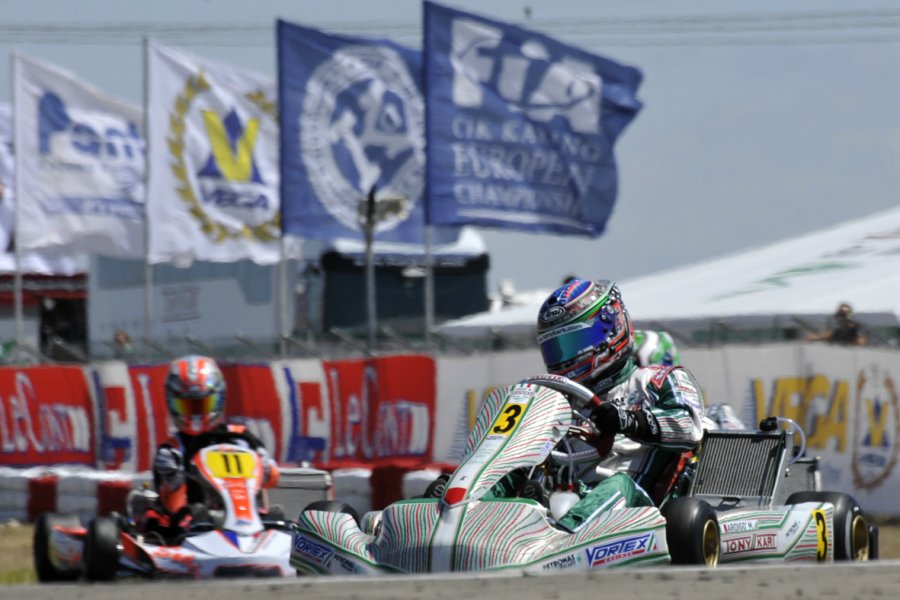 Marco Ardigo (Photo: Press.net Images)
The crucial moment is approaching fast: tomorrow, the International Circuit of Zuera, in Spain, is hosting the final phase of the European CIK-FIA Championship for the KZ and KZ2 categories. The starting grids for of the second round of the event are ready after the spectacular series of today's heats. Also the Academy Trophy, which is at its first out of three rounds on the circuit in Aragon, was characterized by the great performances put in by the very young drivers taking part in this single-make event. Don't miss the live streaming of the Prefinals and the Finals on cikfiachampionship.com and cikfia.tv. The recap of the whole event is on schedule next week, on the TV channel Motors TV.
In KZ Ardigò leads the qualifying session
Marco Ardigò (Tony Kart-Vortex-Bridgestone) leads after the session of heats thanks to two wins: he will be the pole-sitter of the Prefinal of tomorrow morning. The Italian will have his fellow countryman Flavio Camponeschi next to him in the front row. Camponeschi is the current leader of the Championship and he won today's third heat. In second row, the English Ben Hanley (Croc-TM-Bridgestone) is ready to attack as well as the French Armand Kozlinski (Sodi-TM-Bridgestone), who will fill the fourth slot.
Besancenez in pole with a hat-trick
In KZ2, Paolo Besancenez (Tony Kart-Vortex-LeCont) won all the four heats he took part in. The French driver will be the pole-sitter of the Pre-final, while the second slot will be filled by the Swedish Joel Johansson (Energy-TM-LeCont), who won twice. Good performance also for the Italian Francesco Celenta (Parolin-TM-LeCont): thanks to his victory he will start from the second row together with the Spanish Pedro Hiltbrand (CRG-Maxter-LeCont), who won once too.
In The Academy Trophy the pole goes to Brown
Thanks to two second places in the heats, the English Alfie Brown achieves the pole position in the Academy Trophy. The Spanish Alejandro Lahoz Lopez, with a first and fifth place, will fill the other slot of the front row. His fellow countryman Xavier Lloveras will start in second row, together with the Russian Zakhar Slutskiy.
Please follow and like us: