Trio Triple At AKRA/Vega Tire Road Race Opener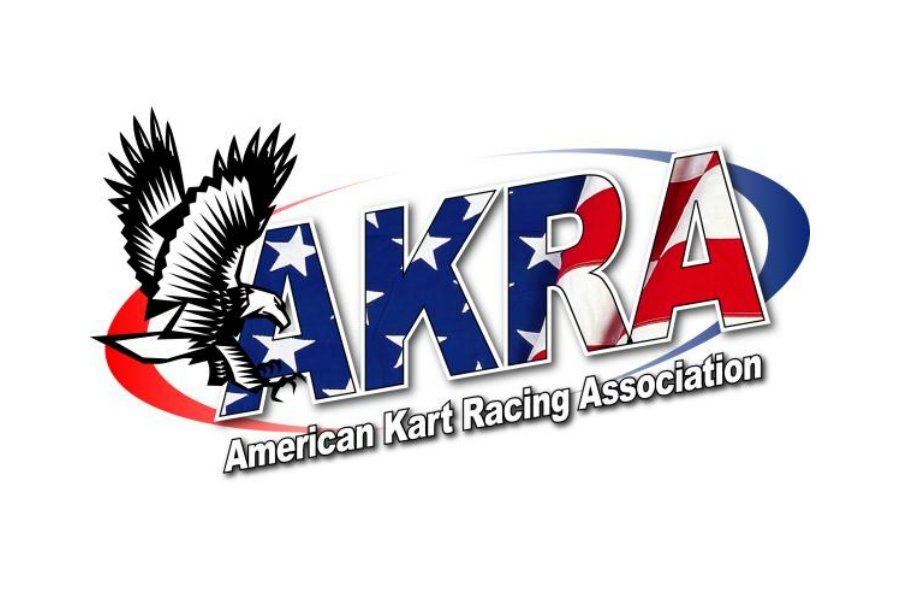 Racers in the AKRA/Dart Kart Club/Vega Tires sponsored Road Racing Series kicked off their season at Grattan Raceway Park in Grattan, Michigan last Saturday and Sunday (May 16-17). There racers competed in multiple classes racing in combined groups on the challenging picturesque 2-mile road course that boasts a 3,200 foot straightaway, a 160 degree hairpin turn, and a downhill reverse camber turn leading into a jump.  It is said, "If you can master Grattan, you can race anywhere."
Saturday three multi class timed races were held. Sunday it was five. "We offered an opportunity for everyone to race," explained AKRA Vice President Van Gilder.
When time expired racers rounded the course for the final lap battling for positions as they headed for the checkered flag.  Winners earned a prestigious letter of accomplishment, a plaque and a decal to display on their kart plus contingency prizes.
Vega Tires and Hoosier Tires offered winners, using their products, 2 tires based on entry counts.  Title sponsor Vega is offering $20,000 worth of their tires.  Their offer was to Sunday racers.  Hoosier's offer was for both days.
"AKRA acknowledges and appreciates the value of these companies offers to support their customers at our events," said Gilder.
Along with the challenge of racing, racers and Dart Kart Club officials had weather issues to contend with.  It rained both mornings forcing late starts.  Saturday it was 10 am before the track was safe to practice and compete on. Sunday they waited until 11 am before they could get on the track and a short rain delayed Sunday's features.
"Due to Dart Kart Club official's efforts, coupled with outstanding cooperation from racers even with challenging weather everyone was afforded lengthy practices each day, including Fridays practice sessions, and full length races," Gilder credited.
Adam Myers of New York, Rogers, AR racer Brian Wilhelm and Sunbury, OH based Jack Reall were the event standouts earning a trio of wins each.   Eight others were double winners. Piloting a Buck Keen Engines powered CKI kart Myers swept the Open Sprint 1 and 2 races then completed his hat trick with a win in Sunday's Piston Port Final 2.  In the first Open Sprint race he and Larry Cole were nearly door-to-door at the stripe with just 0.292 seconds separating them.  Sunday he beat Jerry Revely to Open Sprint 2's finish line.  Earlier that day he built a 19.509 cushion over Alex Frazer in Piston Port Sprint 2.
Wilhelm, like Myers, earned his first win Saturday following with two wins Sunday.  Saturday Wilhelm won Formula 125 with a comfortable 54.939 seconds advantage over Mitch White. Sunday he completed his sweep of the Formula 125 features with a win over Jeremy Baldi in the third race.  Later that day, in the fifth race, Wilhelm beat White again this time in Unlimited.
Reall ruled Saturday's Animal Sprint Heavy Final 1 taking the final flag ahead of, Kenosha, WI, based brothers Kainan and Keith.  Sunday Reall completed his hat trick with wins in Animal Sprint Medium Final 1 and Animal Sprint Lite Final 2.  Saturday Reall's brother, Bryce, bested the Animal Sprint Lite 1 field. Sunday Bryce bagged Animal Sprint Medium.
Double winner Bob Cole, of Wyoming, MI, tamed the Leopard classes.  Saturday he won Stock Leopard Sprint Final 1 and then Sunday he completed his sweep with a win in Stock Leopard Sprint Final 2 where his fastest lap was the third time around in 03:36.753 minutes.
Sean Oshea showed Controlled Spec 1 and Controlled Spec 2 racers across the stripe.  Gary Mikusch was behind him in Saturday's race trailing by 47.320 seconds.  Sunday Jason Lorang followed him across the stripe.
Al Gierz, of Kentwood, MI, was also a double winner that weekend. Gierz grabbed both Yamaha Sprint offerings.  Saturday he beat Dennis Cole to Yamaha Sprint 1's finish line. Tory Kamerling trailed in third followed by Scott Edwards in fourth.  Sunday Edwards was Gierz's closest pursuer.  Edwards was 7:47.793 minutes late at the stripe.  Following Edwards in the top four were Cole and Kamerling.
Camden Losch, of Kenosha, WI, captured Animal Junior Sprint's checkered flag Saturday returning Sunday to do the same in Sunday's Animal Junior Sprint 2's Final.
Mallory D'Augustine, of Canton, posted the Classic Enduro wins.  Sunday she turned a 1:32.376 minutes on lap 20 of 21.
Ted Steffke topped Stock Honda 1 in Saturday's first race. In Saturday's second race Scott Grenier produced the Yamaha Pipe 1 Final, Eric Cole won Yamaha Sportsman Heavy Final 1 and Taylor Collins was the Yamaha Junior Enduro Final 1 winner.
Saturday's third race saw Aaron Snyder topped TaG Medium's podium.  Ted Carbonaro piloted his way into Piston Port's victory lane.  Jeff Leighninger led the way in Yamaha Sportsman Sprint.  Kassie McClean did it in Pro Gas.
Sean Swisz was first across the stripe in Sunday's first race for TaG Medium 2's win.  Andy Leighninger followed him getting the checkered flag in Yamaha Sportsman Sprint.
Sunday's second race saw Amanda Holewski lead the way in Yamaha Sportsman Medium. Steve Pasteiner produced Yamaha Pipe's win in the third race.
In Sunday's fourth features Adrian Dale dominated TaG Heavy Final 2 that also saw Eric Cole capturing Yamaha Sportsman Final 2's checkered flag. Todd Hayden topped Controlled Spec. 2's field, Eric Chappell capped the 125 Shifter Final. Allen Hollinger showed Super Kart 230 racers across the stripe in the fifth race ending the event.
AKRA/Vega Tires/Hoosier Tires Road Racers only have 4 weeks left to get ready for their next national event.  That event will be held June 19-21 at Mid-Ohio Sports Car Course in Lexington, OH.  For more information visit akrainc.com or call Van Gilder at: (229) 848-0483.
Please follow and like us: