Mid-American Sprint Series puts a $100 Bounty out on Cole Peschang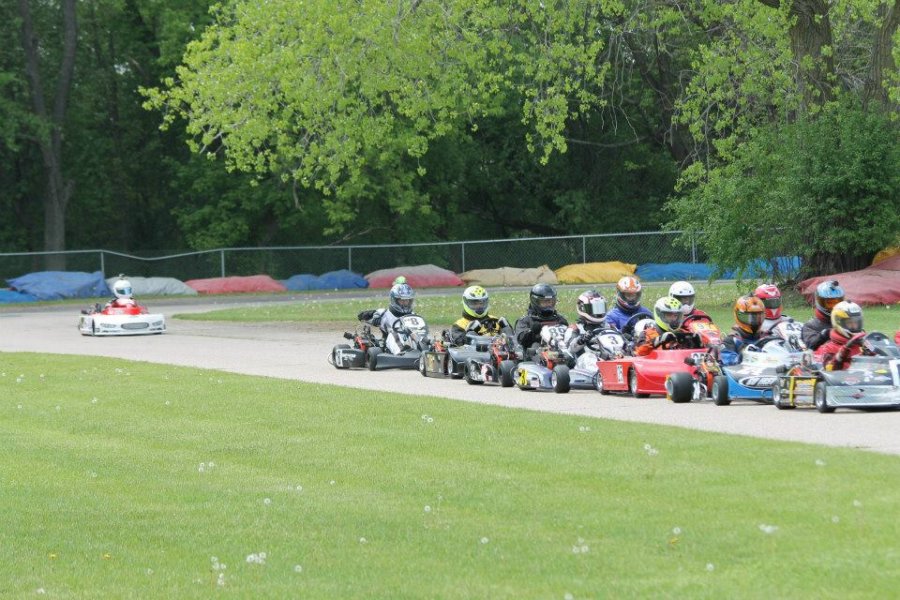 Cole trailing the Senior LO206 field at Dousman before the start of the main event
South Beloit, Illinois 13 year old Cole Peschang cannot find anyone to race with him in the Mid-American Sprint Series LO206 JR Class.  May 16 -17 were Races 3 and 4  of the Series at Briggs and Stratton Raceway Park in Dousman, WI.  Director Scott Vielgut told Cole's family that he thinks teams hear the # 21 kart is going to be racing and it scares them off . So he was going to put out a $100 Bounty on Cole with hopes of finding some other LO206 Junior racers who would take the challenge and hopefully bring in some other karters from the local tracks .  The MASS series had a record number of LO206 Seniors at Races 3 and 4. With 13 showing up. Alan Borntreger took the win on Saturday while Logan Christel scored the win Sunday in the Senior Class.
Saturday started out with rain so the racing started later than usual. The track dried off by 1 PM . When it was time to race Cole found out there were no other LO206 Juniors. Scott told Cole he could run with the Senior class. Cole liked that idea. That way he could watch Gio Bromonte and Brandon Lemke race in the class before his own race.
Cole was to start behind the Seniors and give them 100 yards of space between himself and the senior field. By the end of lap 1 in the Pre-Finals and Finals he was already passing other karts. Cole finished 4th overall on Saturday and 3rd Overall on Sunday.
The next races for the Series will be at US Air Motorsports Raceway in Shawano, WI on June 6-7.
The next races for Cole will be at Blackhawk Farms Raceway in South Beloit , IL in the Championship Enduro Series on May 30-31.
Please follow and like us: