CRG Continues With Huge Success at U.S. Open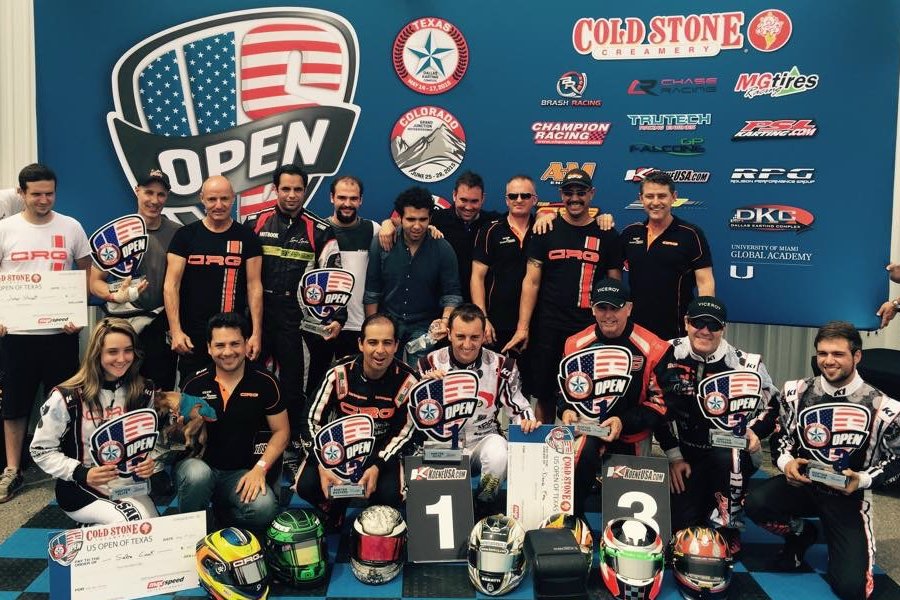 (Photo: CRG USA)
The first round of the U.S. Open located at the Dallas Karting Complex proved that CRG chassis can win in various conditions. With three wins and nine podiums during Sunday's finals, CRG's proved that whatever conditions Mother Nature through at them, the CRG chassis can handle it all.
In rainy conditions, Cody Jolly came through with the win in Shifter Senior. Cody recently made the switch from another brand to CRG and instantly wins one of the biggest races of the year.  Cody followed up his win with the fastest lap of the race. Look for Cody to continue running races this year as the RPM Motorsports driver strives for more victories. Also in Shifter Senior was Colby Yardley from Utah's CRG dealer Yardley Racing. Colby had a fine podium finish with a third place result.
Shifter Masters was run mostly in the dry as CRG USA's driver Victor Jimenez came through in 3rd position in his CRG Road Rebel Zuera chassis. In the same run group was Shifter Ventern in which CRG swept all the steps on the podium. Jet Davis was P1, David Levy was P2, followed by Hugh Templeman in 3rd. This category was the only class that a chassis swept the entire podium.
The premier class, Shifter Elite proved a battle among factory drivers. Back and forth heat wins throughout the weekend created a stir in the paddock for the big final on Sunday. In the end CRG driver Davide Fore' blistered the field by winning the race by over 2 seconds while a wicked battle took place behind him for the final step on the podium. Again it was CRG USA's driver Sabre' Cook who held off teammate Joey Wimsett to take home third. All three drivers were on board the 2015 CRG Road Rebel Zuera chassis.
In all CRG drivers and chassis showed that CRG's are the ones to beat for the remainder of the season. For your CRG needs, please contact your local dealer or CRG Nations for details on your new chassis.
About CRG Nations
CRG Nations was born out of necessity to improve the distribution and marketing of the CRG brand in North America. With its solid base of personnel, which combine to over 60 years of racing experience, CRG Nation's goals are well set to grow the brand awareness of CRG and grow the sport of karting as a whole. CRG Nations leverages its knowledge (gained of the past 11 years of running the ultra-successful K1 Speed indoor centers) to bring structure and consistency to the CRG dealers in North America. CRG Nations works closely with its national race team, CRG USA, to compete and win with the CRG brand at the track and to support the CRG dealers and racers that attend. To find out how to become a CRG driver or CRG dealer, please contact sales@crgnations.com or call +1 (760) 690-7178.
Please follow and like us: