d'Orlando Brothers Head to Lone Star State for Round One of the US Open Series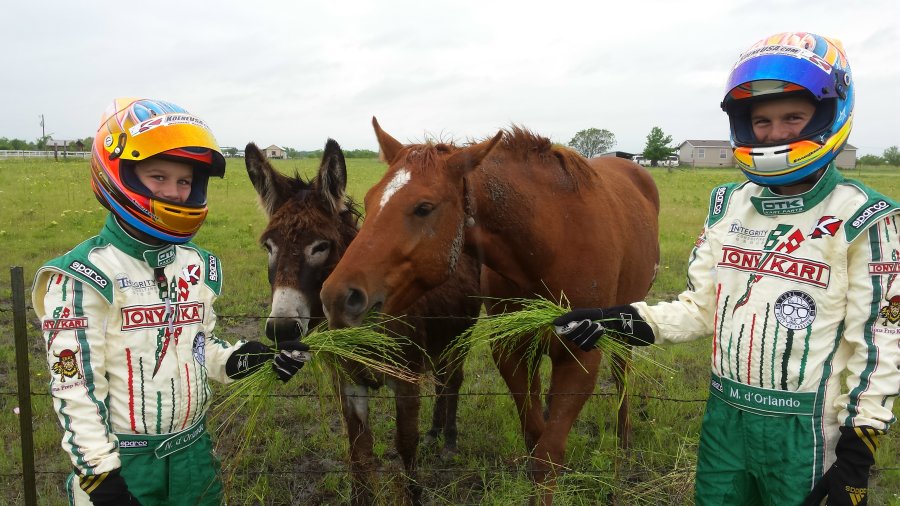 Michael and Nicholas d'Orlando head to the Lone Star State this weekend to compete in the inaugural Rotax US Open series at the Dallas Karting Complex (DKC) in Caddo Mills, Texas. This weekend will kick off round one of MAXSpeed Entertainment's newly formed three race program that will see stops in Caddo Mills, Texas, and Grand Junction, Colorado and end on "The Strip" in famous Las Vegas, Nevada for the Championship Finale.  With Michael competing in Junior Max and Nicholas in Mini Max class of the Rotax MAX series, the best of the best will have their eyes on championship cash prizes and the all-expense paid trip to the Rotax MAX Challenge Grand Finals (RMCGF) as a member of Team USA in November.
Michael and Nicholas will be looking for big results at the Dallas Karting Complex (DKC). They are no strangers to the 0.8 mile long race track and its 17 impressive sharp turns as they have had success here in the past.
After a very impressive USPKS debut sweeping rounds one & two at GoPro Motorplex in Mooresville, NC, Nicholas looks to carry that momentum forward but knows it is a whole new ball game heading into Dallas.
"I feel really good going into this weekend's race" said Nicholas. "I raced there last year. It is a track that you need to have a very good handling kart because this place has a lot grip. We will be running the new EVO Rotax motor package for the first time, along with the Mojo D1 tires which are different than the tire we ran at GoPro Motorplex. I know I will have to be on my A game as the competition will be very tough here."
With this being Michael's first year in the Junior class, his confidence and success has been growing more and more and feels really confident going into this weekend. With a very strong top-10 showing a few weeks ago at the GoPro Motorplex in his USPKS debut, Michael comes into this weekend's US Open Junior Max class feeling he can win, especially at a track that fits his driving style and is no stranger to victory lane.
"I have raced at the Dallas Karting Complex before and I know the track," said Michael. "I have had success here. It is a handling race track and I like that kind of track.  We will also be running the new EVO Rotax motor package for the first time.  The Mojo D1 tires will also be a different tire than we ran at GoPro Motorplex. My main goal for the weekend is to win and I feel really confident that I can do that this weekend.  Junior has been a big step up for me. I feel more and more confident with each race. What better and bigger place to try to get my first win in Junior than at the Dallas Karting Complex in this weekend's US Open series."
For more information on Michael or Nicholas d'Orlando, please visit www.dorlandoracing.com. Be sure to follow Michael and Nicholas on Facebook (Michael d'Orlando Racing or Nicholas d'Orlando Racing), Twitter (@dorlandoracing) and Instagram (@dorlandoracing) to stay up to date on news, information, photos and results.
Please follow and like us: