More New Winners at Third ProKart Series Round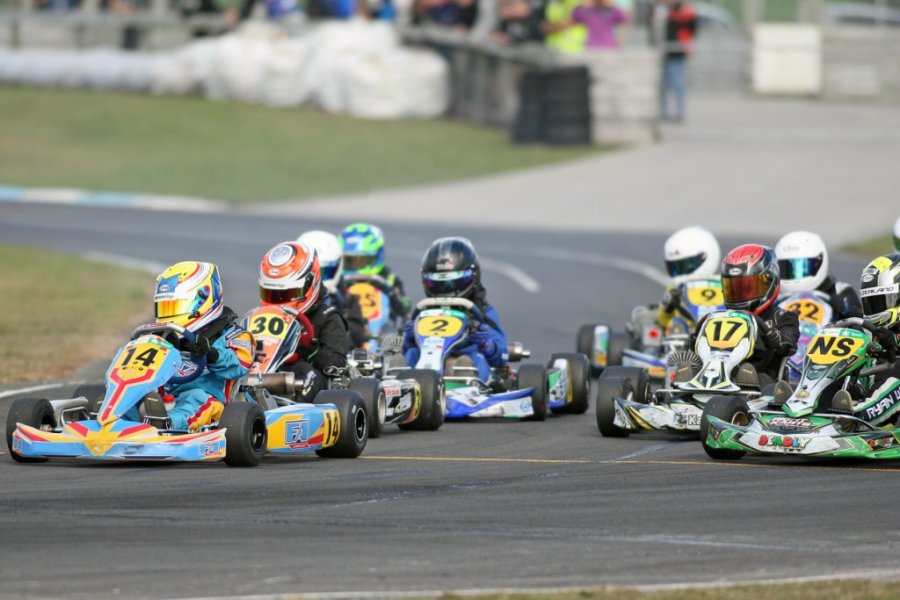 (Photo: Fast Company/Graham Hughes)
Local hero Brad Tremain spearheaded a trio of new class winners at the third round of this year's ProKart Series at Tokoroa's Holsters Trade Zone Raceway over the weekend.
Young gun Tremain turned the tables on visiting Australian driver Josh Smith and multi-time class champion Ryan Grant to qualify quickest then finished second in each heat and third in both the Pre-Final and Final to win the round from Smith and South Island class champion Chris Cox with Grant and Final winner Graeme Smyth fourth equal and fellow Aucklander Aaron Wilson sixth.
Tremain is now the third KZ2 class winner in as many rounds, the first round in Rotorua in January going to Smyth, the second in the Hawke's Bay in February to Grant.
Smyth still leads the class series points standings (from Grant and Chris Cox who are now tried for second) and having had to work back from breaking a gear linkage in the qualifying session, finished second to his teammate Grant in the Pre-Final then put on one of the drives of the meeting to beat Grant to the line in the Final.
The pair were neck and neck for most of the race and spent the second half of the final lap running side by side, Smyth's advantage at the chequered flag just 00.071 of a second.
Queenslander Josh Smith also made quite an impression in only his second KZ2 class race meeting, finishing third in each heat then  fourth in the Pre-Final and sixth in the Final.
Former class champion Tom Curran is also feeling the heat in the KZ2 Masters class, the Hawke's Bay driver pipped for pole in qualifying at Tokoroa by Aucklander Steve Brown and beaten to the line in both the Pre-Final and Final by one of the new faces in the increasingly competitive class, Jared MacKenzie, with Mark Lane third in the Pre-Final and Steve Brown third in the Final.
The result was that MacKenzie became the third class round winner in as many rounds and is now second in the series points standings, just four points behind Curran.
The Vortex Mini ROK class also produced its third round winner in as many rounds, this time victory going to Fynn Osborne from Hamilton.
Osborne was in cracking form, qualifying quickest and going on – despite intense competition from class National Schools champion and series class points leader Ryan Wood, Palmerston North ace Jackson Rooney, second round class winner Connor Davison and Billy Frazer.
The only class to see the status quo remain was KZ2 Restricted, where defending class title holder Garry Cullum claimed his third round win in as many rounds; albeit not until after young Auckland driver Connor Adam pipped him for top spot in qualifying and Shaun Curran beat him to the line in the first heat.
Adam and Curran then finished first and second respectively in the second heat before Cullum stepped up to win both the Pre-Final and Final.
This year's ProKart Series is again twinned with the New Zealand Rotax Max Challenge, with over 100 karters from as far afield as Dunedin and Whangarei making the trip to Tokoroa to compete across the two series over the weekend.
KartSport Bay of Plenty hosts the next round of the two series at Fagan's Valley Raceway near Te Puke over the Jun 13-14 weekend.
2015 ProKart Series
Cable Systems KZ2
Round
Brad Tremain; 2. Josh Smith; 3. Chris Cox; 4=. Ryan Grant & Graeme Smyth; 6. Aaron Wilson.
Points after Rnd 3 of 6
Graeme Smyth 265 points; 2=. Ryan Grant & Chris Cox 260; 4=. Rollo Davies & Aaron Wilson 250; 6. Mitch Brown 248.
KZ2 Masters
Round
Jared Mackenzie; 2. Tom Curran; 3. Mark Lane; 4. Steve Brown; 5. Mark Wheeler; 6. Andrew Hunt.
Points after Rnd 3 of 6
Tom Curran 266 points; 2. Jared Mackenzie 262; 3. Mark Wheeler 260; 4=. Graeme Lambert & Steve Brown 250; 6. Grant Kugener 248
KZ2 Restricted
Round
Garry Cullum; 2. Connor Adam; 3. Shaun Curran; 4. Gerhard Benadie.
Points after Rnd 3 of 6
Garry Cullum 275 points; 2. Connor Adam 265; 3. Gerhard Benadie 257; 4. Shaun Curran 257; 5. Simon Adam 84
Vortex Mini ROK
Round
Fynn Osborne; 2. Ryan Wood; 3. Jackson Rooney; 4=. Callum Hedge & Billy Frazer; 6. Connor Davison
Series after Rnd 3 of 6
Ryan Wood 365 points; 2. Fynn Osborne 262; 3. Connor Davison 257; 4. Billy Frazer 257; 5. Callum Hedge 250; 6. Jack Proctor  241
Please follow and like us: