EKN Driver Diary: Kyle Kalish – SKUSA Fikse Wheels Pro Tour SpringNationals
Franklin Motorsports / Merlin driver takes on first ever Pro Tour event in shifterkart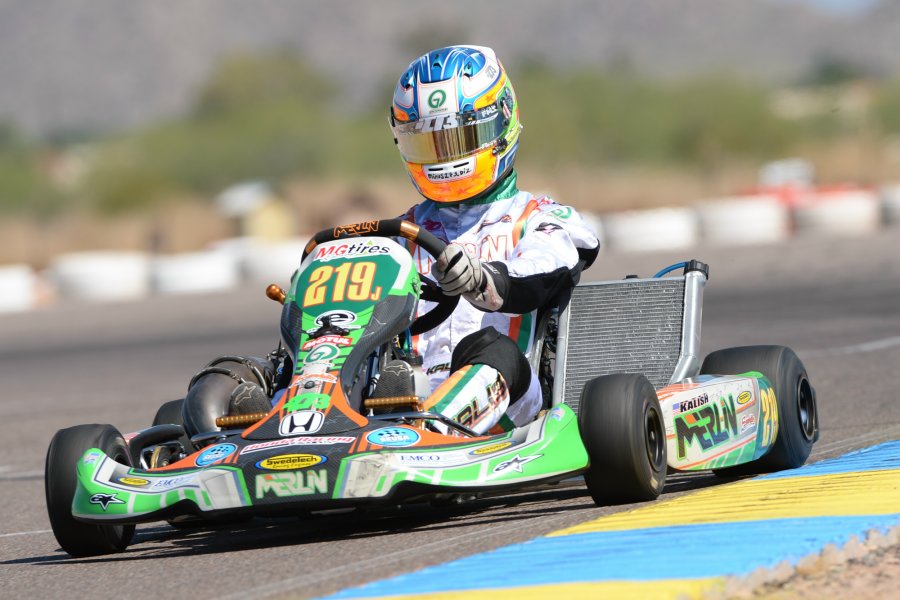 Kyle Kalish (Photo: On Track Promotions - otp.ca)
This year, Franklin Motorsports / Merlin driver Kyle Kalish is taking on a new category. The inaugural United States Pro Kart Series Leopard Pro champion is moving from one gear to six, taking on the challenge that is shifterkart racing. The 18-year-old from Wauconda, Illinois began racing when he was five, and has earned championships from club, regional and national. Throughout 2015, eKartingNews.com will give readers an inside look into the adjustments of going from a single-speed background to racing a Stock Moto at the national level, along with providing the great father/son relationship Kyle and his father Scott enjoy racing together.
For the first installment of the Kyle Kalish Driver Diary from the WKA Daytona KartWeek event, click HERE.
Preparation:
Because of the great weather that the midwest sees in the winter time, I wasn't able to get back in the kart until about the beginning of April. But once the weather cleared up and the sun came out, my dad and I made sure we were ready to get at it. Now there was no way of simulating the weather and grip conditions that were seen in Phoenix, it was all about just getting laps in the kart so that I could once again feel comfortable. We were only able to get on track 3 days between Daytona and Phoenix, but we made the most of them. In the meantime, I was enjoying the last few weeks of my senior year of high school.
First Impressions:
My dad and I flew into Phoenix Thursday night, so I didn't get to see the track until Friday morning. As my dad finished prepping up the kart, I took advantage of the time I had to spare and went for a track walk with a few guys from the team. At first look, I knew that the PKRA track was going to be very technical and there was going to be a big learning curve for me, but I was excited to hit the track as it looked like it was going to be a blast.
We were given six sessions on Friday to get everything in tune, but it took about three of those sessions for me to start getting comfortable. Since I have never been to the track before and the fact that I still don't have that much experience with the shifter kart, it took a little longer than I usually would like to start really hitting my points correctly and getting into a rhythm.
Once I felt comfortable with my driving, we started to focus on maximizing the potential of both the chassis and engine. In sessions four and five, we experimented with some changes in the rear and focusing on getting the engine tuned properly. The biggest challenge for us at the moment is getting the engine tuned properly because the concept of jetting rather than working with a needle is something my dad hasn't worked with since he raced motocross when he was a kid. Once the final session came around, we seemed to have found a good spot and ended the day in P6. We felt really good going into the first day of racing and I was really enjoying driving this track! It was fast and flowing, but had some good hard braking turns that kept everything exciting and made sure I was busy throughout the entire lap.
Race Day 1:
We started off the day with morning warm up and were struggling for overall grip. After the warm up, we were sitting deep in the field and about 7 tenths off. We knew we had to try something in order to qualify up front, so we took some chances on the set up with the front end by changing the ackerman to see if it would give us the grip we needed.
We went out for qualifying, and we had grip! Sadly, it was a little more than we were looking for. I was able to put us on the inside line, but it was 13th place. But based on how the kart was performing in qualifying, we had a good feeling that we would be able to get the kart in a good spot for the first heat. After qualifying, we went back to the standard position for the heat races. I was happy with how the front end of the kart was performing and just needed a little more rear grip to be able to get the power down. We just narrowed up the rear a bit and then fine tuned with tire pressures.
As we lined up for the first heat, I knew I was going to have to really focus on getting a good start. The standing starts are still tricky for me, but I just made sure to get off the line. While I didn't have the greatest jump off the line, I took advantage of some people trying to rough each other up and was able to move into about 12th place by the end of lap one. Sadly, it was short lived. As I was looking to get into the top 10 towards the beginning of the race, the driver directly in front of me spun and left me with no where to go. I was able to keep going, but was only able to salvage a 16th place finish after bending both the steering shaft and spindle.
Starting straight in the middle of the field for the second heat, I knew I just needed to get a good start and keep my nose clean. Starting on the outside was a little rough, but I held strong and only fell down to 17th. As the field started to spread, I progressed up to 13th, which brought me right back to where I qualified. It put me in a good position to have a strong finish for the final.
Starting the final 13th, I got a decent start and rolled past the line in 15th in the first circuit. Slowly but surely, I kept focus, stayed out of carnage, and made strong passes as I was moving up the field. By lap 11, I was up into 8th place and was showing really good speed. As I was going to pass for 6th place, a freak thing caused me and the other driver connected and get stuck together. It was so bizarre and still don't really know exactly how we got stuck! Sadly it lost both of us a lot of time, and I was only able to recover to 15th. After penalties, I finished 14th in my first S2 main event. While I was pretty disappointed that my mistake cost me a shot at a top 5, I ended the race with the 4th fastest time, only two hundredths off of the fast time. We looked to use that momentum and that speed to have a better day on Sunday. It would all start on getting a good qualifying position and making a strong movement throughout the heat races.
Race Day 2:
In the morning warm up, we started off with the right foot forward. While we were still 4-5 tenths off fast time, we knew exactly what we needed to do in order to qualify up front. We had the exact changes we wanted to make for qualifying, and got right to it. The only changes we made throughout the day were adjusting the tire pressures and a slight narrowing of the rear. The biggest change was trying a different brake pad compound. We went to a more aggressive brake to try and get an advantage going into the corners, and it worked like charm.
Right away in qualifying, we knew we were going to be strong. I went out there and threw down some fast laps that put me 3rd place for a majority of the session. As time ran down, I ended up 6th place, a huge improvement over Saturday.
Lined up on the outside of row 3, we had a good jump right off the grid and got into 5th. The racing was tight and very even, which made it very hard to pass! Passing with the shifter is something very new to me, so every race session I felt myself improving and was becoming more comfortable with my race craft. It is so much different than passing and racing in the TaG or anything else that I have raced. As the checkered flags flew, I was able to cross the line in 4th place, which put us in another good position for heat 2.
As the lights went out for heat two, I slotted into 5th place going into the first turn. But I didn't wait very long to take back my lost position, grabbing 4th place on the first lap. I had a great battle for 2nd-4th between Alan Michel, Fernando Casillas Jr., and myself for a majority of the heat race. I drove aggressive yet smart, knowing that any one of those spots would line me up in a good spot for the final, I was able to secure 3rd place. A second row inside line starting spot for the final would give me a great chance at taking the fight for the win. We had speed all day and the Merlin kart was really strong in the long run, so I knew that as long as the leaders stayed in sight, I would be able to fight for the win.
Starting 3rd for the final, I was so excited and pumped up for the 16 lap main event. But, things didn't go as planned. On the starting line, as the lights dropped, my engine died on me. For once, it wasn't my fault that I didn't get off the line! The engine would not fire and I was forced to watch for the sidelines. Once we got back to the pits, we discovered that it was some type of top-end mechanical failure, which left the piston to be completely locked. While we are still waiting on the official diagnosis, we know it was some type of freak failure.
Not being able to race in the final was heartbreaking. Watching Carter Williams run away with the win was so hard to watch because I really felt that I had the speed to be fighting for that trophy. But as I sat there disappointed, I started to reflect on the weekend that we had. I came into this weekend with a total of about 6 collective days in a shifter kart, I've never raced at the PKRA circuit, and had only raced in one other shifter event. And as much experience as I gained at Daytona earlier this year, racing SKUSA was a whole new beast and it was a big mountain to climb. Even with all that, we ended the weekend showing we had the ability to run up front against one of the biggest and most competitive fields at SpringNationals. I was not only able to fight up front in S2, but I was running pretty comparable times with a lot of the S1 drivers. For my second shifter race and my first at an event this big, I was really proud of myself and to the entire team. The results at the end of the day didn't reflect how much we accomplished. It was a huge confidence boost for myself and I really can't wait to head to familiar territory at New Castle for SummerNationals and battle for the win.
If it weren't for my dad, Jamie Sieracki, and Cale Wyse, my driving wouldn't have developed so quickly this weekend. They were there to help me throughout the entire weekend in every aspect of my driving, and I can't thank them enough for everything they did for me! They also helped so much with getting and keeping my kart exactly where I wanted it and they had the Merlin LM30 on rails this weekend! In addition to them, I would also like to thank all the great guys at SwedeTech for giving me the power I needed. My Honda had some wicked horsepower this weekend and they really helped complete the solid package that we had this weekend.
I would also like to thank all my sponsors and supporters for helping me get to this point and helping me continue to progress. As always, thank you to: my dad and my family, Franklin Motorsports, Merlin Racing Karts, EMCO Chemical Distributors, GO Designs, SwedeTech Racing Engines, Minus 273, ONE Race Gear, Alpinestars, and Race Ready Engineering. I have some of the best people in the business behind me and I can't thank them enough!
Please follow and like us: