Conner and Drysdale Stamp Their Authority on Latest Rotax Round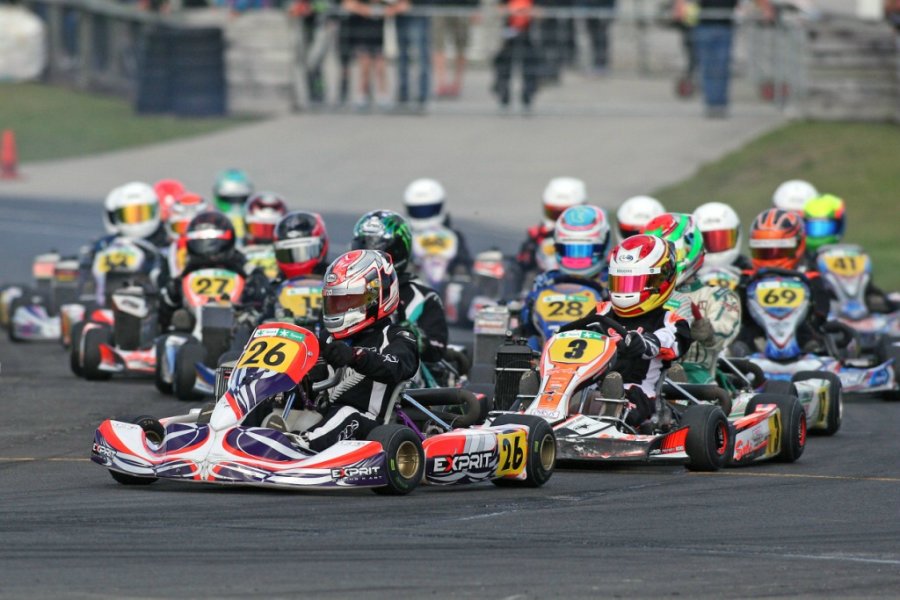 Dylan Drysdale (Photo: Fast Company/Graham Hughes)
Daniel Connor from Auckland and Dylan Drysdale from Palmerston North stamped their authority on their respective classes at the latest round of the Logitech New Zealand Rotax Max Challenge kart series at Tokoroa's Holsters Trade Zone Raceway over the weekend.
After battery failure sidelined him in the Final at the opening 2015 series round in Rotorua in January, Connor, from Muriwai on Auckland's west coast, has been on the comeback trail in the 125cc Rotax Max Light class.
He was runner-up to Cambridge ace Andy Schofield at the second Challenge series round in Hawkes' Bay in February then qualified quickest and completed a clean sweep of the Lights' class heats, Pre-Final and Final to claim a confidence-boosting round win at Tokoroa on Sunday from defending class title holder Mathew Kinsman and young gun Caleb Huston.
In doing so he made up another place in the series points standings, moving from third to second equal with Andy Schofield (who finished sixth at Tokoroa) behind first round class winner Josh Hart (who finished fourth).
Defending Rotax Junior class title-holder Dylan Drysdale put together the other clean sweep at the meeting, making it two round wins out of three so far this season.
Drysdale claimed pole in qualifying from recently crowned class New Zealand Sprint champion Jacob Cranston and round two class winner Liam Lawson, then won the two heats and Pre-Final from Matthew Payne, and the Final from Lawson, Cranston and top female driver, Madeline Stewart.
In doing so Drysdale further extended his class series lead from Lawson, Cranston and Payne.
Had it not been for Aucklander Aarron Cunningham putting in the quickest lap in his qualifying session, there would have been a clean sweep in the DD2 Masters class as well, top Australian driver Scott Howard winning both class heats as well as the class Pre-Final and Final.
Defending class title holder, and previous rounds' winner Ryan Urban ended up second, having been forced to play catch-up all weekend after a DQ in qualifying for being underweight.
With the Masters running in the same field as the open DD2 drivers that meant Ryan had to start the two heats from the back row of the grid (P28) but he made it back to sixth in class in the first heat, fifth in the second and second behind Howard in both the Pre-Final and Final.
Former UK series class winner Tiffany Chittenden ended up third, Palmertson North driver Fraser Hart fifth and Aarron Cunningham sixth.
Also forced to work his way from the back of the field, this time to round victory, was Auckland-based international Daniel Bray, who claimed his second class win on the trot in the main DD2 category.
Bray set the second quickest lap time in qualifying, was relegated to second in the first heat after a time penalty was levied for a jumped start, won the second heat and started the Pre-Final from pole.
However, after contact saw him spin at the first corner, he had to work his way back through the combined DD2/DD2 Masters field from the back of the pack, crossing the finish line in the Pre-Final in 11th position, then working his way from P11 on the grid to pass Josh Hart (who at Tokoroa contested both the Lights and DD2 classes) for the lead with nine laps of the 24-lap Final still to go.
Hart held second to the line (to go with his fourth place finish in the Lights) with class young guns CJ Sinclair and Jonathan Buxeda third and fourth respectively.
The win sees Bray now take the lead in the DD2 class series points standings from Daniel Kinsman with Jonathan Buxeda and CJ Sinclair still just two points apart in third and fourth respectively.
This year's Logitech New Zealand Rotax Max Challenge Series is again twinned with the KZ2-based ProKart Series, with over 100 karters from as far afield as Dunedin and Whangarei making the trip to Tokoroa to compete over the weekend.
2015 New Zealand Rotax Max Challenge
125cc Rotax Max Light  
Final
Daniel Connor; 2. Mathew Kinsman; 3. Caleb Huston; 4. Josh Hart; 5. Rhys Tinney; 6. Andy Schofield
Points after Rnd 3 of 6
Josh Hart 256; 2=.Daniel Connor & Andy Schofield 246; 4. Caleb Huston 232; 5. Mathew Kinsman 232; 6. Rhys Tinney 227
DD2
Final
Daniel Bray; 2. Josh Hart; 3. CJ Sinclair; 4. Jonathan Buxeda; 5. Bradley Hicks; 6. James Blair
Points after Rnd 3 of 6
Daniel Bray 254; 2. Daniel Kinsman 251; 3. Jonathan Buxeda 245; 4. CJ Sinclair 243; 5. Bradley Hicks 241; 6. Mitchell Beach 231.
DD2 Masters
Final
Scott Howard; 2. Ryan Urban; 3. Tiffany Chittenden; 4. Fraser Hart; 5. Aarron Cunningham; 6. Niki Urwin.
Points after Rnd 3 of 6
Ryan Urban 273; 2. Fraser Hart 259; 3. Niki Urwin 242; 4. Tiffany Chittenden 240; 5. Aarron Cunningham 236; 6. Matthew Grant 228.
Junior Max
Final
Dylan Drysdale; 2. Liam Lawson; 3. Jacob Cranston; 4. Madeline Stewart; 5. Kaleb Ngatoa; 6. Rianna O'Meara-Hunt
Points after Rnd 3 of 6
Dylan Drysdale 270; 2. Liam Lawson 256; 3.Jacob Cranston 250; 4. Matthew Payne 248; 5=. Kaleb Ngatoa & Reece Hendl-Cox 224
Please follow and like us: