Top Kart USA Heads West for SKUSA Pro Tour
Drivers finish strong in nearly every class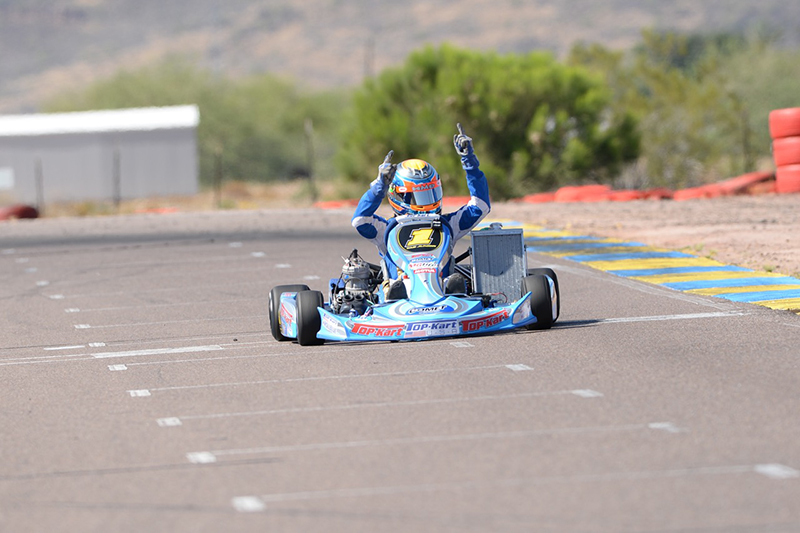 David Malukas added to Top Kart's 2015 win total in TaG Junior (Photo: On Track Promotions)
For the first time since the Superkarts! USA (SKUSA) Super Nationals, Indianapolis-based Top Kart USA loaded up the hauler and headed west to the Phoenix Kart Racing Association (PKRA) facility in Phoenix, Arizona for the annual Fikse Wheels Pro Tour SpringNationals. Under sweltering heat and in difficult conditions, the blue chassis brand was once again a force at the front of the field as they kicked off the 2015 SKUSA karting season.
"Bringing our team out west for some racing really helps our drivers diversify their skills, while learning new track conditions and temperatures," said Blake Deister, co-owner of Top Kart USA. "They never really see these conditions out east, where most of our racing takes place. With temperatures over 100 degrees, we saw how well our chassis works in these conditions. We are very pleased with the results."
Top Kart USA brought home two victories and had a strong showing in nearly every class – Top Kart was one of only two manufacturers to score a victory in two separate classes during the race weekend.
Jason Welage brought home a victory in TaG Cadet, adding another win to an already impressive resume. Teammates Riley Erickson and Henry Williams also showed speed and consistency all weekend.
"The difference in weather over the past two weekends of racing has forced us to change up the chassis," said Greg Welage, father of Jason. "After the first practice day, we figured out the setup with minimal chassis adjustments and let the track come to us. The biggest hurdle was the number of cadet karts on track to move through in Saturday's main, but on Sunday, we were within the top-ten all day. With times in the top-three in each heat, we were able to push to the front for the victory!"
In TaG Junior, David Malukas fought hard all weekend, recording a win, a pole position and a third place finish. Teammates JP Southern Jr., Zach Holden, Jack Miller and Savannah Fitzgerald all brought home at least one finish in the top-13, rounding out an impressive effort by Top Kart USA in the class.
In TaG Senior, Matteo Vigano, Nick Ramirez, Mason Chelootz and Bill McLaughlin Jr. all showed consistency throughout a tough weekend of racing, claiming a top-ten and a handful of top-25 finishes between them in a stout field of Senior competitors.
Three Top Kart drivers competed in shifter kart classes during the weekend. Jonathan Kotyk competed in S1, bringing home two top-ten results. In S5, Josh Early earned a top-five and a top-ten finish. Making his shifter debut, David Malukas showed promise and will look forward to the second event weekend at the New Castle Motorsports Park in July.
"With this event being David's first ever race or practice in a shifter kart, he performed exceptionally well," said Henry Malukas, David's father. "Having the second fastest kart on track, we knew we had the speed and drive to bring home a win. The starts are not our strongest point, but we will be back fighting for a victory come Summer Nationals at New Castle Motorsports Park."
Please follow and like us: