Cranston Seals Bayley's Goldstar Series Class Win in the Bay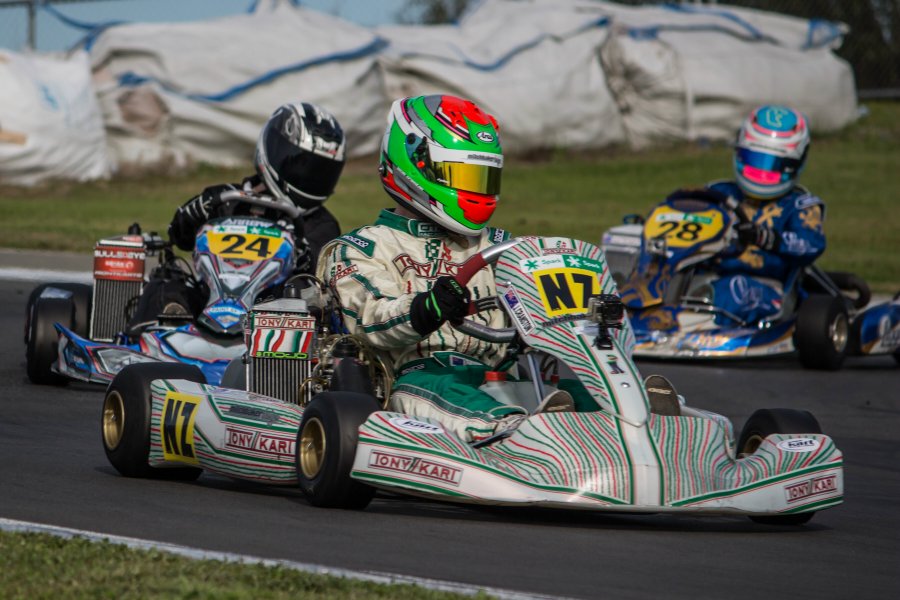 Cranston (NZ) leads local driver Cameron Spargo (#24) and Madeline Stewart (#28) from Wellington (Photo: Fast Company/Vicky Jack)
Recently crowned New Zealand 125cc Rotax Max Junior class champion Jacob Cranston was one of three drivers to seal class wins in the 2014/15 Bayleys WPKA Goldstar karting series with round wins at the final in Hawke's Bay over the weekend.
With class wins at the third (Taranaki) and final (Hastings) rounds the 15-year-old from Palmerston North claimed the 2014/15 series' Formula Junior title with 236 points, six more than KartSport Manawatu clubmate Kaleb Ngatoa who claimed the win at his home round and the class's top-finishing female driver, Madeline Stewart from Wellington who finished the series with 223 points.
Cranston and Ngatoa were two of three Formula Junior class winners over the Bayley's-backed 2014/15 series with one of their other clubmates, reigning New Zealand Junior 100cc Yamaha class champion Dylan Drysdale beating them to the top spot at the opening round in Wellington late last year but not contesting the other rounds this year.
The other three drivers to claim series wins with class victory at the Hawke's Bay final were local hero Zach Zaloum in 125c Rotax Max Heavy, National Schools class champion Ryan Wood in Vortex Mini ROK, and seven-year-old Louis Sharp in Cadet ROK.
Zaloum was the dominant figure in the class which he has enjoyed success at an Island and National level for so long, winning it at three of the four Bayley's series rounds and finishing second to the only other class round winner, Jordan McDonnell – who didn't contest the Hawke's Bay round.
Second overall for the series was Taranaki's Aaron de Ridder who finished third at each round, third the first of the class's Masters category competitors, Brent Melhop from Wellington.
KartSport Wellington clubmate Ryan Wood had a harder job winning the hotly contested Vortex Mini ROK title. He won his class at two of the four rounds (Manawatu and Hawke's Bay) but only ended up five points up on second placed Tom Greig who in turn was only five points ahead of clubmates Riley Jack, the other class round winner.
Then there was seven-year-old Louis Sharp from Christchurch, racing for the KartSport Wellington club. With TV show Seven Sharp taking an interest in his fast-rising career young Louis sealed class victory with a 12 point buffer over joint second placed Daniel Austin representing the Manawatu club and Logan Smith the Taranaki one.
Sharp was another to combine speed and consistency and when he wasn't winning a round (two) he finished second.
In the other classes round victory in 125cc Rotax Max Light remained in the hands of long-time points leader Brad Still from Taranaki despite a final round-winning flourish from class South Island champ Chris Cox who is from Rangiora but was representing the Hawke's Bay club in the Bayley's series.
Still only won one round (the first) but was second at the other three behind three different winners, Travis Day at Rnd 2, Andy Schofield at Rnd 3 and Cox at the Final round. Day and Schofield were worthy adversaries but each only did one round of the series.
In the other Senior class, top Masters' category competitor John Paddy from Palmerston did enough at earlier rounds (with a win, a second and a third) to claim the series title from final round winner Simon Frater from Hawke's Bay.
Frater won his class at two of the rounds (the first and the last) but lacked Paddy's consistency at the others.
Finally, Bayley Walker edged home local hero Ronan Murphy in the Junior 100cc Yamaha class after both were beaten to the round win by Wellington driver Ethan Hourigan.
Single race Senior, Junior, Vortex Mini ROK and Cadet ROK Grand Prix races are also held at each WPKA event and scored separately.
At Hastings Chris Cox also won the Senior Grand Prix race from Brad Still and Michael McCulloch with Zach Zaloum the first 125cc Heavy class entrant home, but Brad Still won the series' Senior Grand Prix title from John Wallace and Zachary Thompson.
Jacob Cranston won both the Junior Grand Prix race at Hastings – from Rianna O'Meara-Hunt and Kaleb Ngatoa – and the series' Junior Grand Prix title from Madeline Stewart and fellow Wellingtonian Josh Donohue.
Vortex Mini ROK class winner Ryan Wood was also a double event/series' Grand Prix winner in the Vortex Mini ROK class, while in Cadet ROK Louis Sharp won the class Grand Prix on the day but Logan Manson pipped him to the series' GP title.
Karters from all over the country joined Wellington Provincial Karting Association (WPKA) clubs so that they could contest this season's series with rounds regularly attracting over 100 entrants.
The weekend's round was the final in a four round series, but KartSport Wellington will also host the series' annual standalone 'Bayley's WPKA Championship' meeting in Wellington over the May 30 and 31 weekend.
Further information is available on facebook 'GoldStar Series' and at www.wpka.org.nz
Please follow and like us: